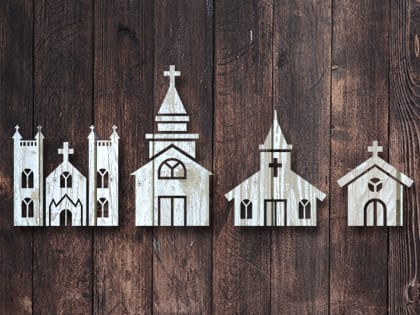 Is there an ideal church size that we should be shooting for? What are the pros and cons of small and large churches?
The title to this article is a trick question, of course. The "ideal size" when it comes to churches is whatever God calls you to be. That said, whether large or small, congregations of different sizes offer both challenges and blessings to all involved. Being aware of these strengths and weaknesses is more important to the health of churches than one might initially realize.
Although we may not always think about it, our physical spaces can have a significant impact on the ministries in our churches. However, if we are aware of the strengths and challenges that come with our church sizes, then we will be more likely to intentionally plan to address areas of weakness and play our strengths to their fullest potential.
Large churches have their own set of challenges and blessings. When it comes to physical size, for instance, when your church building is large, you may often have large spaces that are blocked off. This can send a message that you are not filling up the building that you do have. For some people, this can be demoralizing.
A large church building also limits your options as far as worship times and spaces. If you have many empty seats every Sunday, you cannot go to two services. Your congregation would need to be very large in order to fill such a large space twice a Sunday. You also cannot go to a multi-site model. After all, why would you build another location when you have so much open space?
The statement "we're not even filling up the building that we have" can be demoralizing, it can also be motivating. Having a church building with empty seats can increase the urgency with which people share the gospel; after all, it is a consistent reminder that there is work to be done. (In contrast, it may be easier for members to feel content in smaller churches where the facility is more full from week to week. They may settle with how many people are present, forgetting that although their church may be reaching capacity, its mission is always to continue to grow and reach more people.)
Another advantage of large churches is that your facility probably will not get completely full. When a space that seats 200 has close to 200 in it, people start to get uncomfortable and it can feel overcrowded. Congregants may start dropping out after six months because it feels too full.
It is critical, in these times, to have a plan to expand in some way. Typically, churches will go to two services or multiple sites. This dilutes the strength of the crowd for a time, but it offers opportunity for growth.
Another advantage for churches of over 100 is the anonymity factor. Visitors and new attendees are able to come in and sit towards the back or in a place where they are most comfortable. They don't have to sit right next to a stranger or walk to the front of the church to find an empty row.
Of course, there may be disadvantages to this as well. People may visit your church for weeks and go completely unnoticed because of the size. This is very unhelpful for the health and growth of the church. If you sense this is an issue in your church, it is time for you to form a plan make sure people feel seen and welcomed when they visit you.
It can also be more difficult for people to visit churches with less than 100 seats. Small congregations may feel more like cliques, drawing attention to the fact that visitors are "outsiders" who are new to the group. If you are a smaller church, how are you handling this? If you don't have a plan to welcome people in without making them feel uncomfortable, it is time to make one. In such a small church size, you need to work hard to make people feel welcome and show that you love them.
SO WHAT?
Whether your church facility is large or small, there will be advantages and disadvantages. If you are already settled in a church building, find ways to maximize the space you have. If you are moving into a new building, set aside time to carefully consider how the physical space will affect your church and how the various pros and cons fit with your individual congregation.
Ultimately, there is no "ideal church size"—only ideal ways to maximize what we have and welcome everyone into the household of God. We can best serve our churches, whatever their size, by being aware that our physical space has an impact on our ministries.
Just as you can't ignore the culture of the community surrounding your church (e.g., rural or urban; southern or northern), neither can you ignore the size of your church. Armed with the knowledge of your church size's strengths and weaknesses, you can harness the potential of your church to have the greatest impact for the kingdom.
Ed Stetzer, an Outreach magazine contributing editor, holds the Billy Graham distinguished chair of church, mission and evangelism at Wheaton College and the Wheaton Grad School, where he also oversees the Billy Graham Center for Evangelism. This article originally appeared on The Exchange.