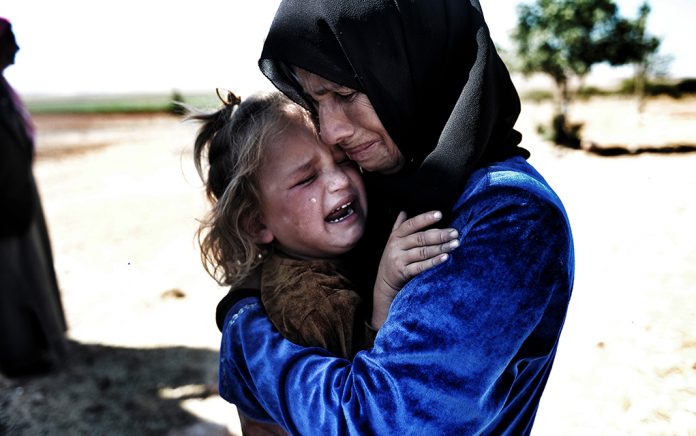 How should we respond to crises involving the global persecuted church?
Five years ago, U.S. troops were deployed to help combat the Islamic State in Iraq and Syria. Last week, about 1,000 U.S. troops who had been partnering with Kurdish fighters in northern Syria were pulled out of the region. Since then, the nation of Turkey has launched military campaigns against the Kurds—and by extension, the Syrian Christians they have been protecting—in northeastern Syria.
We caught up with David Curry, president and CEO of Open Doors USA, to discuss the crisis and what churches can do to support the persecuted church both in Syria and around the world.
Tell us a little bit about what's happening in northeastern Syria.
What we see is that the Kurdish community, which has been protecting Christians in the northern part of Syria, has been under attack from Turkey. That's put at risk and really mobilized about 40 to 50 thousand Christians. Some of them are living in communities that are actively being shelled. That's created the need for some crisis relief, and perhaps, if it develops further, some major humanitarian aid.
This is the same group, these Syrian Christians, who were caught between the Assad regime and ISIS in the Syrian civil war. Many of them were in refugee camps, and now have come back to their homes. They're trying to resettle. But this is another really difficult moment for them.
How has Open Doors been involved in bringing relief to that area?
We have partners throughout the region. We've been there since before the civil war. Right now we're seeing a need for relief in the way of food, shelter, clothing, medical care, hygiene kits, etc. And we're just doing the best we can to make sure that the Christians under pressure are able to get those things.
Please be in prayer for these folks. It's a day-by-day, hour-by-hour thing. First and foremost, let's pray for these people every day. Pray for God's safety and some peace and that they'd be able to resume their normal life.
Why should the local church in America get involved in this?
I think I understand with all the bad news on a daily basis that it's hard sometimes for people to prioritize. But here's what I like to remind people: There's a biblical call to care for Christians who are under persecution or in chains for the name of Jesus as if it were our own family (Heb. 13:3).
So that's how I look at it. These are our brothers and sisters in the faith being persecuted and under tremendous pressure. And in the larger context, it's the Kurds and the entire region who are under attack. Syrian Christians are a vulnerable community; we don't want to see this group be displaced again. These Christians have been here for a long, long time. We think it's important for Christians (in the U.S.) to help support the church, first to survive in that area, and then to thrive.
How should the church think about global issues that are affecting the persecuted church?
Persecution of Christians—and the rising intolerance of Christians in the Western world—is the issue we're going to be facing for the next decade and beyond. And I think we're going to need to adjust to that. We in the West feel somewhat insulated, though we see a rising intolerance from the secular community and university settings.
But, of course, in the worldwide context it's much, much greater than that. It's something, frankly, that the church in America needs to wake up to. These episodes like what's happening in Syria, what happened before with ISIS in Syria and Iraq—these are episodes that people will remember, but frankly, this persecution is happening on a daily basis around the world.
What do you think the Western church can learn from nations and people in the persecuted church who are experiencing persecution on a daily basis?
One of the things the Syrian church has learned through the civil war is unity—that whether they're Orthodox, Catholic, Protestant, they really have pulled together, and see each other as family, brothers and sisters in Christ regardless of the theological issues they may have between them.
These are people who are dying for the name of Jesus. They're our brothers and sisters.
I think that unity is an encouraging thing that can happen, though it doesn't always happen in the face of persecution. I think their devotion to their faith is also inspiring. These are people who have counted the cost. And I think that's an encouragement to us in our faith and our walk, as well: the way they treasure Scripture under pressure, and their relationship with the Lord. And they'll stand to the point of death.
There's a church in Qamishli, a city that's been bombarded with missiles for the last week. Saturday night they got together. Their pastor led them in the discussion: Are we going to stay or are we going to go? They'd already lost one person and had more injured in missile strikes. Eight families decided to leave. The rest are staying. They want to be salt and light in their community. I think we need to do everything we can to help them in their efforts to fulfill their calling.
How can ministry leaders keep the issue of persecution in front of the church on an ongoing basis?
I really call on pastors and church leaders to make this a part of their agenda every week—every church, every Sunday—praying about the persecuted church and believers. Now that could be many parts of the world: Africa, Asia, Middle East. People are facing incredible pressure. We need to get really serious about educating ourselves on what's happening on a daily basis—the opposition, resistance and hatred of believers around the world just because of their faith. And what it means for us.
And as we discussed already, there are lessons for us in our faith walk when we see these heroes who are standing, maybe in the face of losing their life and their home and all of their possessions because of their faith. These are heroic people.
Visit OpenDoorsUSA.org to learn more about the situation in Syria and to donate.