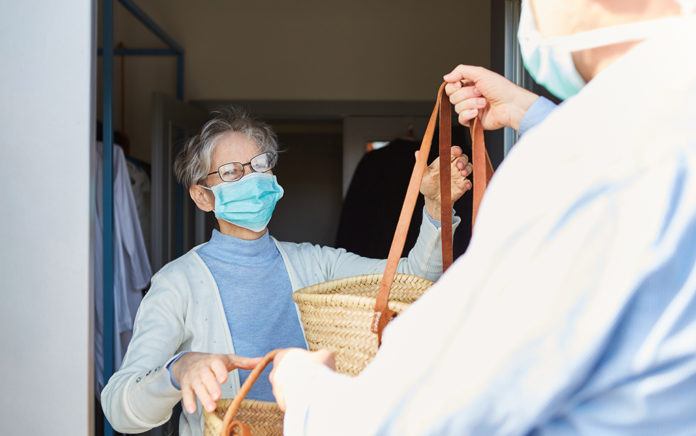 How to leverage the opportunity we've been given to reach the lost.
The current crisis has created a lot of movement for the church, especially in the case of churches (many of which were not prepared) scrambling to go completely digital. As my colleague Ed Stetzer has voiced, "Moving your church online isn't the crisis."
I would echo his sentiments. Moving your church to a digital platform isn't the crisis. The real crisis is the spiritual darkness of a nation (and world) drowning in a sea of hopelessness. The real crisis (and thus opportunity) is a people far from God seeking real answers regarding how a "good" God could allow such chaos and destruction.
The real crisis is a nation without a metanarrative seeking to see if there's a larger narrative where the story of the coronavirus and their life makes sense.
The real crisis is the social brokenness that will exist in many cities and communities as hospitals are overloaded, frontline people (i.e., doctors, nurses and techs) become weary, massive deaths are recorded, funeral homes become crowded and an increased number of people need grief and mental illness counseling.
The real crisis will also exist culturally. There will continue to be a rise of unemployment, the struggle of small businesses and a nation still polarized politically. As such, our nation will be more tired coming out of this crisis then it was going in.
In light of the real crises that are coming, this is the moment for our churches to be on mission—to be missional. But keep in mind, the crisis and the coming crises don't automatically make churches missional. Being missional requires intentionality.
Missional isn't a tack-on church program; it is a posture. Therefore, if you're not intentional in moving to a missional posture that's towards and for the world, you'll find yourself continuing to do church as usual—although on a digital platform.
In leading our churches to be missional during this crisis, with the hopes that this missional momentum will continue when things return to normal sometime in the future, I offer four missional ideas for this moment.
First, serve your community through mercy ministries but realize that doesn't make you fully missional.
I'm all for ministries of mercy. While I believe they are part of the mission of God as his people embody the eschatological future in the present—that there will be no more division, disease, pain, death, etc.—we have to realize two other elements are at work today.
First, there's the baggage of the social gospel movement where the good word (the gospel) can be eclipsed by good works—or just become obsolete altogether. In other words, the temptation is to become only deed people, not word. The deeds of the gospel seem to be more palatable to a world that doesn't adhere to absolute truth. But we must remember, the church is both deed and word people.
Second, we live in a culture that offers up some form of philanthropy—more so than existed from pagans living in the Roman Empire. I'm sure Rodney Stark has been quoted more over the last few weeks then he has over the last few years.
Stark, as a church historian, has written extensively about how the church ran to the plague-infested cities to care for the sick while the healthy (pagans) ran out, and how the church cared for the poor, the widow and the orphan when no one else would. That cultural environment doesn't exist particularly in America.
What we might find today, especially amid the COVID-19 crisis, is our churches working alongside the federal and state governments, hospitals, as well as other organizations and nonprofits that aren't necessarily Christian. And while we work alongside of them understanding why we do what we do, we ultimately partner with them for the common good and the well-being (shalom) of our nation, states, cities and communities.
So, my exhortation is serve—and serve well. But just know that our ministries of mercy don't make us fully missional.
Second, as you move to your digital platforms, do so with those far from God in mind.
I'm hearing from pastors all over the U.S. how they have seen an uptick in viewers compared to their normal (average) attendance. While I'm sure that increased number reflects many of the people who call that particular church home (but just don't attend every week), that number also includes friends, family, neighbors and co-workers who have seen the Facebook feeds of their friends and followers who are tuning in to their church's online worship.
Let me encourage you, if you haven't already, build out your online digital worship platform with the lost in mind.
In all honesty, I've watched many church services online over the past two weeks, and it's mixed. Some churches continued to do online what they were doing in person without much thought of leveraging the digital platform missionally. Some, on the other hand, interrupted their ordinary schedule to speak to everyone.
This is such a crucial time, especially while many states are in a "shelter in place" (and others are soon to follow). We must leverage this time and the digital platform the way the apostle Paul leveraged Mars Hill.
In short, the online digital platform should be viewed as the new Mars Hill.
So, how can you build out your online digital worship platform with the lost in mind? Here are some suggestions:
• Have a 2- to 3-week miniseries that is geared towards seekers and nominals that could equip the saints to talk to their lost friends.
• Offer a time of Q&A after the teaching (sermon) time. (I love what Tim Keller did early on at Redeemer. He held a Q&A after the Sunday evening service. This is a great time to implement that. Many people don't have anywhere to run off to.)
• After the teaching time, invite people into a Zoom chat if they have more questions about God or the Christian faith.
• Round up counselors (volunteer and professional) so that you can communicate to those watching if they need to talk to someone during this crisis contact this number or email address.
• Launch virtual Alpha or QPlace groups during the week for seekers.
• Host watch parties where you watch an apologist (or you, if you're comfortable) tackle the big questions people are asking right now.
The key is, don't waste this crisis! This is prime time (on so many different levels) to reach people far from God.
Third, talk (or learn to talk) in a way those far from God would understand.
This suggestion coincides with the above point, but is different enough to stand on its own. Before I flesh this idea out, let me note a couple things of which I am aware. I understand there's an ongoing debate on expository verses topical sermons. And I also understand there is a debate regarding who corporate worship is for—the saints, or the saints and seekers?
With that said, this point isn't about solving these debates. Regardless of where you stand on the style of biblical teaching or who corporate worship is for, I believe the onus is still on church leaders to be able to communicate biblical truth in the heart language of the people you are attempting to reach.
As a missiologist, I constantly find myself encouraging Bible communicators to look at Acts 17 where Paul speaks to a group of sophisticated, philosophical pagans. I understand he wasn't in a corporate worship environment, and that to compare what he did with what should take place in a corporate worship setting might be different for some. Nevertheless, Paul crafted the story of God into a framework that pagans in that time could understand—even though many thought he was crazy to bring up the notion of resurrection.
Church, we have a short window of opportunity to reach many people who would otherwise not darken the doors of our church buildings. In this crisis, people will be more receptive at tuning into the church's teaching—especially via a social media invite. As they tune in, my exhortation would be to work hard against speaking "Christianese" and rather try to contextualize your teaching to be able to speak "pagan."
What does it look like to speak in a way others will understand? Think about what Jesus did in his use of parables and word pictures and what Paul did in his use of pagan poets—both of which resonated with their cultural audience.
The key to communicating God's truth for an unbelieving audience is to contextually resonate with them. Good news cannot be good news if it is not communicated in the heart language of the people you are trying to reach.
This might mean a few things:
• Beware of using theological words without explanation
• Use known movies, tv shows, songs, or personal stories to illustrate a point
• Don't try to impress your audience with big $5 words that they have to ask Siri to define
• Make sure to speak to everyone, not just the believer
• If possible, make the sermon outline more personally applicable rather than commentary-like (which sometimes takes a bit more work)
I believe with all my heart that the churches that can speak (or learn to speak) in way others will hear will be the ones emerging from this crisis experiencing an increased (in-person) attendance of seekers. Talk about a way to revitalize a church!
Fourth, find ways to partner, collaborate, and cooperate with other churches.
Even though we may not want to admit it, the church and the church leader in America have a tendency to feel as though they are in competition with one another. A trend in church growth (and church decline) today is the swapping of church members. Thus, competition creep is a real thing in our churches.
The emergence of this crisis presents an opportunity for the church to embody—universally, not just independently—the body of Christ.
Recently, Ed Stetzer tweeted, "What is your church doing to reach out to the local community, the poor, and marginalized during this time…?" As I read the responses, I was blown away by what churches are doing to serve those in need. After finishing reading the tweets, my prayer was (and continues to be) that the engagement in our nation, cities, and communities wouldn't be about any one church, but the church.
Jesus prayed in John 17, "My prayer is not for them alone. I pray also for those who will believe in me through their message, that all of them may be one, Father, just as you are in me and I am in you. May they also be in us so that the world may believe that you have sent me" (John 17:20–21).
One of the most effective missional practices the church can engage in today is unity.
If you're not already, pray and ask the Spirit of God to give you wisdom, discernment, and creativity for how your church can unite with another church (or other churches) for the glory of God and the good of the world in and through this crisis?
A CHURCH FOR THE WORLD, NOT JUST A CHURCH IN THE WORLD
Church, this is our moment to be mobilized for such a time as this. But, if we aren't careful and if we aren't intentional, we will squander the opportunity to show ourselves as the church for the world.
We serve a God for the world, do we not? God was for the world, which prompted him to send his Son. May we be the church that so loves the world we live sent by preparing for the real crisis coming, engaging in more than just mercy ministries, planning our digital platforms with lost people in mind, learning to talk pagan, and uniting together under the banner of Christ.