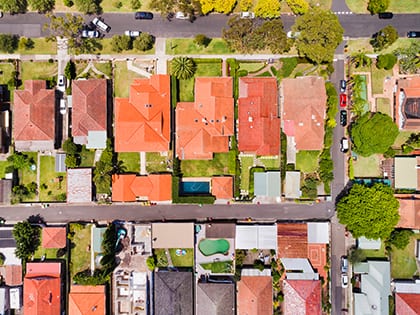 To reach the suburbs with the gospel you have to understand how and why they are the way they are. Here's a quick rundown.
When you hear the word "suburbia," what's your first thought?
Quiet, tree-lined streets? Isolation and a lack of connectivity? Kids' sports games and white-picket fences?
And where is God in all of this anyways?
My Irish Catholic family progressively moved from an urban context to a suburban one. My mother was born in the Bronx and my father in Queens. When I was born, my parents took me home to Floral Park, which is right on the edge of the city and the rest of Long Island.
When I was a child, my parents moved to a place called Levittown.
And, Levittown was the quintessential American suburb, and the very definition of what would be seen by many as the souless suburb.
Though our ministry journey has taken us to the inner city of Buffalo, New York, and to rural Georgia, we live in Chicago's western suburbs today.
SOME IMPORTANT HISTORY
One of the reasons many people today see the suburbs as "soulless" is that most suburbs separate people from others who are different than them. And, we can't talk about the missiological implications without first considering some history.
You see, suburbs do exist to keep you away from, well, undesirable realities. And, part of that reality has a tragic racist underpinning—many suburbs (like Levittown) even had covenants to keep African Americans from living in the town.
Of course, suburbs thrived for many reasons (the automobile and interstate highways, for example), but they certainly existed (at least in part) to give what people perceived to be a better place to live—which often meant removing you from proximity to the poor, people who were different, minorities and much more.
In the book Our Kids, Robert Putnam (who is also the author of Bowling Alone) discusses what he calls the American dream in crisis. He highlights what he calls the scissoring of society—how the rich are getting richer and the poor are getting poorer, yes, but they are doing it in increasingly separated communities.
Middle to upper-class people in our society tend to increase in their wealth, while the poor are often trapped in a cycle of poverty, devoid of generational wealth.
Regarding Levittown, the New York Times explained:
"Whenever historians, planners and sociologists plumb the lessons of Levittown, race always looms. The debate is not simple or comfortable, especially for people here. Early Levittowners moved here under rules favoring them that they did not make. Later arrivals inherited a history that they did not create."
And, such patterns did (and do) exist.
THE SAMENESS AND SOULLESSNESS
Robert Putnam grew up in Port Clinton, Ohio, there were people of different socioeconomic backgrounds nearby. So early on, those in communities like ours were able to see the different ways people live. They were exposed to others on the opposite end of the spectrum.
Putnam chronicles how this has changed and why it matters.
Nowadays in suburbia, you end up with people like you.
People see rows of houses, box after box after box of land, white picket fence after white picket fence. And in the houses are people who are also similar.
Pete Seeger even covered a song about Levittown called, "Little Boxes," explaining the sameness and soullessness.
Those white picket fences are there for a reason; they keep the "wrong" people out and only allow the "right" people in. Why? Well, many would say because people want the best for their children. Parents want to keep their kids in the better schools, with lower crime.
Those aren't bad things, but, as we've seen, that's not the whole story.
TAKING A DIFFERENT PATH
Regardless, the end result is we sometimes end up in what could be perceived as the soullessness of the suburbs. And we must be intentional to not allow a default way of being overcome us. As Christians, we must remember that the gospel travels to all and calls us to be in community with all, for the sake of Jesus.
I am not a suburb hater. I now live in a suburb. What I've discovered is that the people here are real and face real struggles where the gospel is needed. The suburbs aren't all happy; no, they too are filled with pain and realities that must be met with love and compassion.
Indeed, God is as much at work in suburbia as he is in any rural or urban area. Many times, people can see the "soullessness" and forget the mission. We must be aware of the separation while at the same time we don't forget the mission.
All of those in the suburbs need Jesus.
They have hurts and struggles, many times which are less overt than you may find in other places. There's a lot of brokenness, sadness, confusion and loneliness. There's a great need for the gospel and, as in any context, there are unique ways to go about sharing it.
BREAKING OUT OF INTENTIONAL ISOLATION
Suburbia is designed to isolate us in ways that are not possible in most urban communities. We need to overcome this isolation in order to build true relationships with people and share the Good News of Jesus Christ with those around us. We need to get to know our neighbors to be able to love them well.
Furthermore, we need to ask, "Who is my neighbor?" and find ways to connect with people of different backgrounds, races and ethnicities.
In other words, the question becomes: How can you break out of this intentional isolation?
Start by reaching out to your close neighbors—those who live next door and down your street. Get to know them. Serve them. Push against the soullessness.
But don't stop there.
Remember that the suburbs often physically separate us from those who are different than us. Build bridges across socioeconomic or racial or ethnic gaps. Push against the isolation that makes you and your family separate from your community. Seek to live on mission in suburbia.
The deep power of the hope of Jesus Christ can overcome any amount of separation, not matter how soulless the forces of safety and economics push our communities to be.
Ed Stetzer, an Outreach magazine contributing editor, holds the Billy Graham distinguished chair of church, mission and evangelism at Wheaton College and the Wheaton Grad School, where he also oversees the Billy Graham Center. This article originally appeared on The Exchange.