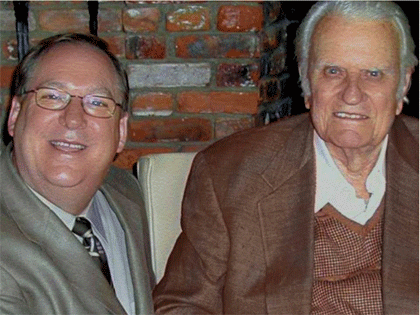 4 Things I learned about life and ministry from my relationship with Billy Graham (Photo courtesy of Rick Warren)
NOTE: The day Billy died, I ended up spending the entire day answering a dozen media interview requests about his impact on my life. At the end of the day, I wrote this below. The photo is from one of my many trips to my mentor's home over the years.
Billy Graham was the most influential Christian leader of the 20th century. He preached in person to more people than anyone else in history—over 215 million. With a global ministry that spanned 60 years, only Pope John Paul II and Mother Teresa would be as well known around the world.
Billy's message was simple and clear, and it never varied: No matter who you are or what you've done, God has never stopped loving you and he has a good plan and purpose for your life. Because none of us is perfect, we all need a Savior in order to have our sins forgiven, understand our purpose for living and gain a home in heaven. That's why God sent Jesus to die for our sins. God's offer of forgiveness and freedom is available to anyone who humbly repents and accepts the grace of God through Jesus, regardless of your ethnic or religious background.
Growing up in a Baptist home, Billy Graham was our pope. I read my first Billy Graham book, Peace with God when I was in the 6th grade. When I was 16, I felt called by God to serve in ministry, and I began preaching in churches and crusades on the West Coast each weekend while still in high school. Billy was my hero and model. My grandmother was quite a woman of prayer, so when I began preaching as a teenager she would often tell me, "The two people I pray for every day are Billy Graham and you."
Then, in 1971, when I was 17, I heard Billy speak in person at the Oakland, California, crusade. I still remember the thrill of it. Three years later at the 1974 Los Angeles crusade when I was 20 years old, I met Billy for the first time. By that time, I had preached over 120 youth crusades and Billy somehow heard about my young evangelistic efforts, and he took an interest in me. That began a mentoring relationship that stretched over the next 40 years. It would be hard to overestimate Billy Graham's impact on my own life and ministry, on Saddleback church and the Purpose Driven network around the world.
As a mentor, Billy taught me different things at different stages of my life. As a teenager, he was my model for preaching and inviting people to faith in Jesus. But in my 20s, it was Billy's personal character—his integrity, humility, and generosity—that profoundly influenced me.
Then, in my 30s, I began to see and appreciate how strategic Billy was in how he organized his ministry, how he innovated, how he used new technologies and how he built relational bridges to different groups.
Finally, in my 50s, Billy taught me about how to be a statesman in international settings, and how to work with governments without being co-opted by any political group. He even taught me the danger of signing public statements.
I could easily write a book about all the ways Billy Graham shaped my life and approach to ministry. He taught me many lessons through conversations and correspondence, but I also caught many lessons simply by watching his private habits, his public manners, how he answered questions, how he led meetings and especially, how he related to people with different beliefs, lifestyles and cultures. Billy led a life worth studying.
It was never my goal to copy his calling, but to learn his character. God called Billy to be an evangelist, traveling the world to witness to unbelievers, while God called me to plant and pastor a single congregation for life. Most of my global travel has been to train other pastors and lead our P.E.A.C.E. plan. Still, many of the skills and convictions needed in both callings are the same.
The Book of Job says, "Ask the former generation. Pay attention to the experience of our ancestors. For we were born but yesterday and know so little. But those who came before us will teach you. They will teach you from the wisdom of former generations" (8:8–10).
Anyone who has completed 60 years of ministry without any moral failure or scandal should be studied. Many people start off well but they don't end well. How was Billy Graham able to finish well? Of course, Billy built his life and ministry on the unshakable foundation of God's Word. He preached God's truth, not human opinion. But he made many other smart choices. Let me just mention four:
1. To last in ministry and finish well, build your life on integrity, humility and generosity.
It is character, not talent, that you need to make it to the finish line. I have a framed newspaper headline from 25 years ago in my office that says, "Billy Graham Turns 75 With His Integrity Intact." I framed it because, to me, that is a definition of true success and finishing well. Billy finished well because of his character. He lived with humility, integrity and generosity, which are the antidotes to the 3 most common traps of leadership pride, sex and money.
Billy modeled humility. He never forgot his farm boy roots, his small town values and the fact that everything he had was a gift from God. Humble people are gracious people and Billy was always gracious to everyone. Great people make other people feel great, while little people belittle people. Billy taught me to ignore both the flatterers and the attackers, the cheers and the jeers from the sidelines, and instead focus on finishing the race God has called you to run.
Billy modeled the truth that personal integrity is a daily choice. He established clear moral and financial boundaries around his life and ministry that I unashamedly copied. Our Saddleback staff's 10 Moral Guidelines are based on the same boundaries Billy set up with his team. We've used them for nearly 40 years.
Billy modeled generosity. The list of other ministries and causes that Billy funded is quite long and wide.
2. To last in ministry and finish well, be a bridge-builder, not a wall-builder. Be a unifier, not a divider.
In the 1950s and 60s, Billy insisted that all his crusades be integrated. In some southern cities in America the Graham crusades were the first public events to be racially integrated. But Billy also insisted that his crusades be religiously integrated. He put Catholics and Protestants, Calvinists and Charismatics, Fundamentalists and Evangelicals, Liberals and Conservatives, all on the platform together. He was criticized for it, but he knew that God blesses unity and harmony.
By not getting involved in partisan fights, Billy was able to minister to all kinds of politicians and to both sides of the aisle. By staying out of denominational fights and competition, he was able to serve every denomination. Billy Graham was loved by the whole world because he loved the whole world! He was gracious Christian statesman.
Billy was always more interested in the eternity of nonbelievers than in the favor of narrow-minded believers who didn't want him associating with "unholy" groups of people. But as an evangelist, you spend most of your time talking with people who don't believe or live as you do.
Billy taught me that to reach people without Christ, you must sometimes ignore religious and political divisions. To be a bridge-builder you must walk across the line. When Billy accepted invitations to preach in Russia, North Korea and other countries that were led by Communists, he was ruthlessly criticized by people who considered politics more important than the gospel. Critics said "They will use you as a pawn of their propaganda," but I happen to know that Billy's attitude was, that might happen, but he would also use them to get the gospel out, and the gospel of Christ's love is far more powerful than any political paradigm.
I have been attacked and misunderstood for accepting invitations to speak to groups of Muslims, Buddhists, atheists, LGBTQ, secular liberals and fundamentalist Christians. But I am called by God to share the Good News wherever I can, and you cannot bring your enemies to Christ, only your friends.
Before you can help others trust Jesus, they must trust you. Before they accept that the Bible is credible, they want to know whether you are credible. To be used by God as a bridge-builder for the gospel you must be willing to be unpopular with those who only want to build walls. Billy taught me that we must take the gospel wherever we can, even if that means being misunderstood or criticized or accused of guilt by association.
3. To last in ministry and finish well, be an encourager, not a critic.
Everybody needs encouragement, and there were times in my ministry that Billy's encouragement came at just the moment I needed it.
Some of the most valuable possessions I own are the letters and personal notes that Billy wrote to encourage me over the years. One note he sent me came after he watched the first time I was interviewed on the Larry King show. His words of encouragement are framed on a wall in my office between letters from Martin Luther King, Jr. and Mother Teresa. I'm sure there are many others who received similar notes because it was Billy's nature to encourage others in ministry.
Another time, Billy asked me to fly to his home to give him an update on our Purpose Driven Global P.E.A.C.E. plan in 197 nations. His praise was effusive hyperbole but it encouraged me. After sharing a two-hour report, Billy said with tears in his eyes, "Rick, this is the greatest vision I've ever heard. I just wish I was around long enough to see it happen!" That was trademark Graham encouragement, and it filled my eyes with tears too.
4. To last in ministry and finish well, share your platform with the next generation.
We must take the long view, realizing that our ministries are just one brief phase of a long line of servants of God. Many have served God before us, and many will serve after we're gone. Part of each generation's responsibility is to set up the next generation for effectiveness. I watched Billy do this over and over, not only with me, but with many others.
While in college, I wrote my first book called Warren's Bible Study Methods. Billy got a copy of it, and in the early 80s when he organized his Global Congress for Evangelists—a 10-day training conference in Amsterdam—Billy called me up and said "Rick, I want you to come teach 13,000 evangelists from 190 nations how to study the Bible for themselves. He bought my book in 17 languages and gave a free copy to all 13,000 attendees.
At that time, I was only in my 20s and I had very little confidence in my writing ability, but when Billy shared his platform with me I thought, "Well, If Billy thinks my writing is good enough to give to all these leaders, maybe I should keep writing!" The Purpose Driven Life might have never been written if Billy Graham had not believed in me. So now, I am always looking for ways to encourage young writers and pastors and share my platform with them.
Decades later, when I was invited to pray the invocation at the start of President George Bush's inauguration week, and then again four years later at President Obama's inauguration, Billy's private advice was invaluable. He even gave me the hat that he wore when he prayed at previous inaugurations. He mailed it to me as a surprise along with a warm personal note that said, "Rick, it's your time now. I believe in you! Wear the hat! Love, Billy." So I did.
People often ask "Who will be the next Billy Graham?" and my answer is always the same: There will never be a replacement! Not only is Billy irreplaceable, but the world has changed dramatically. In each generation God raises up new women and men to do his will in new ways. My life verse is Acts 13:36, but I think it is also a great description of Billy Graham's life and ministry. Speaking of King David it says, "David served God's purpose in his generation, and then he died." To me, this is the finest definition of a successful life: serving God's purpose (that which is timeless) in your generation (in a timely way). To do what is permanent and unchanging in a world that is constantly changing is the highest purpose of life, and it is the only thing that will last forever.
As we celebrate the life and legacy of this giant of faith, I urge you to get to know the Jesus Christ that Billy spoke of for over 60 years, and then I urge you to commit to "serving God's purpose in your generation" just as Billy did.
Rick Warren, an Outreach magazine consulting editor, is the founder and senior pastor of Saddleback Church in Lake Forest, California. This article was originally posted on Facebook.