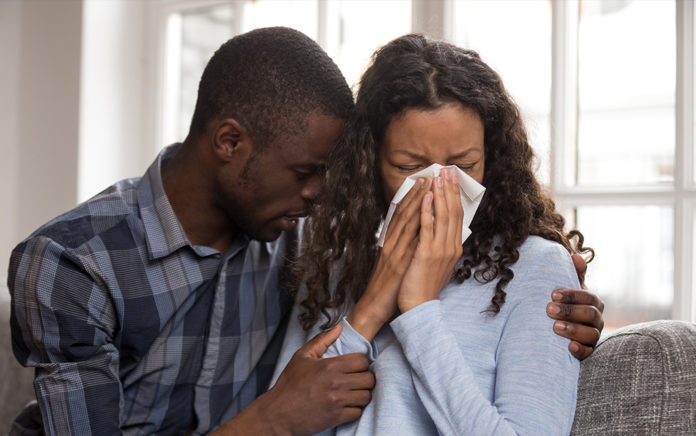 For the church to respond rightly to miscarriage, we must first see and feel the grief of suffering parents and the biblical truths it illuminates. I began to understand this grief six years ago. We rejoiced when we learned that my brother and sister-in-law were pregnant at the same time as us. About to take […]
For the church to respond rightly to miscarriage, we must first see and feel the grief of suffering parents and the biblical truths it illuminates. I began to understand this grief six years ago.
We rejoiced when we learned that my brother and sister-in-law were pregnant at the same time as us. About to take our maiden voyage into parenthood, both couples relished the idea of sharing in the joyous unknowns to come, especially since our little ones were due in the same month. For a few weeks, my wife, Rachael, and sister-in-law, Emily, shared stories of morning sickness, fears about labor and dreams of holding their little ones.
Then, the phone call came.
I typed away in my office, afraid to stop working because I had just found my groove. So, when my phone lit up, I barely noticed until the third round of buzzing. "Adam" appeared on the screen, and I answered without thinking that it was a strange time of day for him to call.
His tone forced my fingers to a stop. Though barely louder than a whisper, his voice roared of brokenness: "There's no heartbeat."
My own heart wept before my eyes caught up, my stomach filling with panic as the reality hit my brain. I knew nothing I could say would make it better, and I did not have the words anyway, so I remained largely silent.
Four months later, my wife and I were revealing the gender of our little one with Adam and Emily among the family present. They had consented to the reveal, explaining they wanted to celebrate our baby with us.
"We are having a boy", I exclaimed, and cheers erupted around the room. The smiles, hugs, and well wishes soon followed, but as I embraced my mother, I could see Emily holding on tightly to Adam, her face red and tear-stained. She burrowed her head in Adam's chest trying to hide the emotion, but months later, the wound remained too raw to conceal.
Our culture treats fetal death as a unique kind of death that we avoid in conversation, using terms like "fetal demise" to blunt the edge of that sword. But even as society promulgates miscarriage as a lesser tragedy, numerous research studies confirm that people grieve similarly to the loss of a child in the womb as they do to other deaths.
C.S. Lewis famously said that "God whispers to us in our pleasures, speaks in our conscience, but shouts in our pain: It is his megaphone to rouse a deaf world." Sometimes, he screams to entire cultures through tragedy, and in the grief of loss parents, God projects two biblical truths that have implications for how we respond to the suffering as a church.
MISCARRIAGE IS THE DEATH OF A CHILD
First, a miscarriage is the death of a son or daughter, a person made in God's image. These families grieve as they do because they mourn real death: the colossal weight of losing a child. God forms us in the womb (Ps. 139:13) and ordains our days (Ps. 139:16), however short they might be. Parents have lost more than future plans, and the intensity of their grief reflects this reality.
As image bearers, these children have immeasurable value. They are precious to God, and their deaths are every bit as tragic as the passing of our elders. Even in their tiny state, children in the womb "display or reflect or communicate" the greatness of God and who He is. Because they are image bearers, we must treat these children with dignity, a respect that we do not give nature, animals or simple clumps of cells.
Parents often honor the children they lose in the womb. Some give him or her a name to emphasize the humanity of the child. Others might hang an ornament at Christmas or write letters to their little one. They not only know the truth, that they have lost a son or daughter of immense value, they feel it and act accordingly.
The church must do likewise, reinforcing the worth of the child, an image bearer who should be celebrated instead of forgotten. Just like parents, the church family needs to see the worth of these children with the eyes of their hearts (Eph. 1:17–18); we should feel it in a way that spurs us to action.
We have rituals for remembering and celebrating the dead: flowers, cards, gifts of remembrance. The important thing is that the grieving parents know that we, the church, recognize the magnitude of the loss. When we do so, we not only play a small part in the mending of their hearts, we glorify God by treasuring His good design.
THE CHURCH MUST GRIEVE ALONGSIDE THE BROKEN, BEARING THEIR BURDENS
Second, miscarriage reinforces the biblical notion that people need to grieve in community. An overwhelming number of loss parents rate support from family and friends as helpful during the healing process. That should come as no surprise. The Bible exhorts us to weep with those who weep (Rom. 12:15) and bear each other's burdens (Gal. 6:2). When we see weakness, we help instead of exploit (1 Thess. 5:14).
And parents suffering after miscarriage are burdened; they are weakened – physically, emotionally, and spiritually. This weakness is not a lapse in character. It is evidence of a crushed spirit, the kind that makes normal activities a burden. Grieving parents must still make meals, mow their lawn, and shovel snowy driveways. They have work to complete inside and outside the home, to pay their bills and keep some semblance of order amidst the chaos.
Below the surface, parents wrestle with undue guilt and a broken spirit. Mothers are walking tombs, and fathers agonize over what they are supposed to feel, say, and do. Those wounds are deep and often persist. They remind parents of the emptiness of the crib and very real presence of the grave. Biblically, this pain was never meant to be experienced in isolation.
And yet, parents are too often isolated after miscarriage. Our culture feels uncomfortable even talking about the subject, let alone grieving alongside parents. The church should be counter cultural to this reaction.
To weep with those who weep, we must again feel the weight of the tragedy, entering their world as we seek to help. Just showing that we care, that loss parents are not alone is part of satisfying our biblical mandate. A loving community functions as a healing balm to a lacerated heart.
Each member of the church community has a role to play. Some will do yard work, and some will cry with the parents. Some will make meals, and some will share their own miscarriage stories. All should pray. The burdens are many and thus, the response will be vast.
A DEEP, APPROPRIATE PAIN
After our announcement, I hugged Adam, whispering that I was sorry. "We're okay", he responded, his shaky voice betraying him. I embraced Emily as my chest throbbed, my soul aching not just for my bereaved brother and sister-in-law but for the niece or nephew I would never hold. It hurt, but it hurt rightly.
After miscarriage, parents are burdened and grieve as if they have lost a child. They have. Instead of pretending they should return to life as normal, the church must celebrate the short life of the child and attend to the many needs of suffering parents. To do so will not only give dignity to the child and some relief to parents, it will shine a light on important biblical truths about life and the need for community as we grieve.
For more go to the Early Pregnancy Loss Association Website at MiscarriageCare.com.
Read more about the professional writing program at Cedarville.