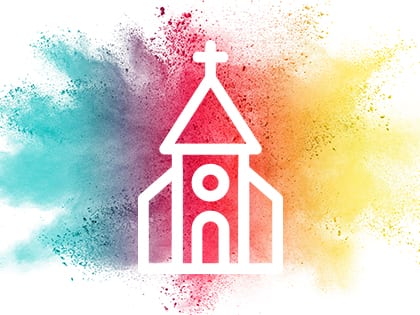 We can learn quite a bit from past church planting movements.
Church planting is an important and broad topic. It seems that most people have an opinion on church planting—some have several opinions! If you want to see some excitement, ask a group of church planters or church leaders in general what an explosive church planting movement looks like.
Many are praying for and developing practices that would encourage such a movement. At the Billy Graham Center, we even have an institute dedicated to church planting leadership and missiology—the Send Institute.
I have planted multiple churches, and written much about church planting. And, sometimes people ask me what a movement looks like.
Successful church planting is built upon spiritual principles and practices such as prayer, biblical leadership, etc. But there are also natural observations we can make about what works well in church planting movements. We've been doing this for a couple of thousand years. So it is smart to recognize best practices, even if they don't mesh with what we are doing today.
A few months ago, I was the guest editor of a history journal, the American Baptist Quarterly. You can find the issue I edited—focused on missions—at this link. In that article, I wrote a very long analysis of Methodists and Baptists on the western frontier. You can order the issue at that link, if you are so inclined. There are several excellent contributions there.
In that article, I explain how, from the late 1700s into the early 1800s, there was a move of God in the growing American frontier that resulted in the planting of thousands of churches over the course of approximately 15 years. This primarily occurred though the Methodists and Baptists. This was before church planting conferences, church planter tracks in seminaries, assessments, and networks. Those numbers would be impressive today, so how did it happen before modern technology and training?
Well, I wrote about it in 45 pages with over 17,000 words and 238 footnotes. But, someone asked me how I'd summarize it and I will point out three characteristics.
First, permission.
The Methodists and the Baptists gave people permission to start churches. That permission came in different ways, but they had the freedom to plant and plant again.
In those early days on the expanding western frontier, people were being converted and started up groups and small chapels. These groups were sprouting up in rural areas at an increasing rate with farmers who felt the call to preach. While the Methodists had more of a leadership hierarchy that would oversee such groups, the Baptists did not. These farmer/preacher boys didn't ask anyone if they could start a church. They just answered the call. Ultimately, they were licensed for the work. But they didn't ask permission of a board or of a bishop to start a church. They just got the blessing from a mother church (for the baptists) or got under a circuit riding pastor (for the methodists).
Second, training.
Not only did they forego the permission part of the process, but they weren't seminary trained. Now I'm not against education. I have multiple degrees, and I have taught at (and now work at!) several institutions of higher learning. But, you can't tell the history without telling the truth—they did not receive formal training, but rather received it on the job, either from other pastors or from a circuit rider.
These part-time preachers did learn—often immersing themselves in the Scriptures and learning from others in community. But they did not go away to seminary. They just started leading while learning on the job and through their peers, other churches, and mentors.
Third, vocation.
For the most part, these pioneer church planters were still farmers (or some related profession) for most of the week and preachers on the weekend. They didn't quit their jobs. They would receive gifts from time to time as a "thank you" from the people they served. But they were not paid clergy. This enabled churches to be formed and pastored where there otherwise may not be one due to lack of finances for a full-time pastor.
Bivocationalism was not the exception. On the frontier, bivocationalism was the norm.
Where Is This Happening Today?
These three elements enabled a quickly expanding church planting movement in a time when revival (not church planting) was the focus. I'm not suggesting that we abandon our current practices and go back to this, but we can learn from them. And, we can make a greater emphasis on raising up such pastors from the harvest.
While things have changed a lot since the turn of the 19th century, we can find similar explosions in overseas fields like Asia and Africa. And we also see it in the Pentecostal movement earlier in the last century, or the Vineyard, Calvary Chapel and Hope Chapel movements in the 70s and 80s.
This "fast track" to church planting is not the only way to do it. But it is possibly the primary way we have seen church planting movements, historically in North America and around the world today.
May God lead us to develop better systems that reflect the best in kingdom expansion.
Ed Stetzer, an Outreach magazine contributing editor, holds the Billy Graham distinguished chair of church, mission and evangelism at Wheaton College and the Wheaton Grad School, where he also oversees the Billy Graham Center for Evangelism. This article originally appeared on The Exchange.