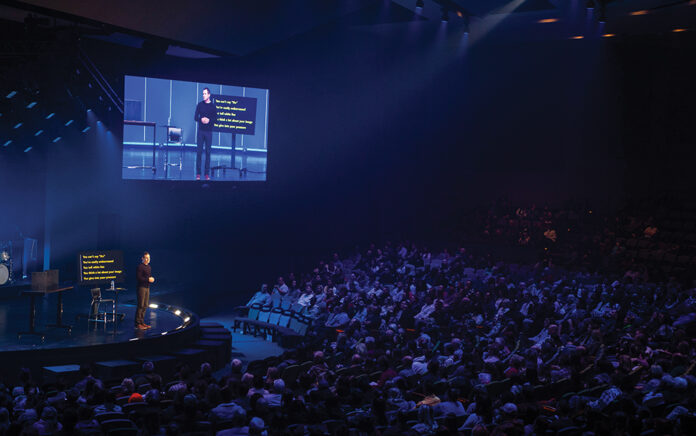 "I want people to know that I'm a real person just like them, that I'm not up here, and they're down there."
Don't miss Part 1 of our interview, where Jason Strand talks about his calling into ministry, how he ended up at Eagle Brook, and when he stepped into the senior pastor role—at the beginning of a pandemic.
Once that vital point was clarified, what other factors contributed to what has been happening at Eagle Brook?
First, a nuanced understanding about the nature of true growth. Attendance is an indicator of health and growth, but it's not the most important thing for us. Instead, we track and celebrate how many people have made a decision for Christ, and how things are going with our groups. 
Part of the reason why we had a great year was because we had our best year in groups ever, by far. That lifts everything. We have the highest number of people connected into biblical community with other people that we have ever had. We have had to ask, How do we connect with people? And we had to go a step further, asking, How do we connect with people online? 
As people have increased their online attendance, you may have regular online attendees who live several hours from your church or in a different state. Or maybe you have an online attendee who lives near your church but for whatever reason chooses not to come. We as pastors must stress, "OK, that's great. We're grateful you're watching the message, that you're connected to the services. But we want something more for you." 
How do we get that person connected? How do we encourage them to become a disciple of Christ, not just an online attendee? I think that's one of the biggest questions. 
How have you worked to answer them?
We have these things we call viewing groups. Not a great name, but it is what they are. Since the pandemic, particularly all through the Midwest, churches in small towns are closing their doors. Everywhere in our five-state area, there are tons of churches closing their doors. Something that started organically was that people began to find places where they could livestream and project the Eagle Brook service. It could be at the American Legion, it could be at an old church, it could be in someone's living room, but people could show our services and then invite others to come. 
Today we have 30 of these now throughout the country, the smallest at eight people, and the largest at 250 people. Anybody who has a heart to reach their town for Christ can do that. One of the coolest stories? There is a bar in Wisconsin called The Booze Bar.
Isn't that name a little redundant? 
For sure [laughs]. Anyway, the owner started showing our services on Monday nights. Now 70 people are coming. Then the Baptist church in their town closed down, and so this guy bought the Baptist church and has launched a church where they show Eagle Brook services. 
Henry Blackaby used to say, "Join God where he's working." So that's what we're trying to do. We have a goal to increase the number of viewing groups we have and are investing in our online experience. We do think that is the front door where people check out your church these days, so we are putting a lot into our online experience—and how that can lead to connecting people through groups and other kinds of communities.
Much of the growth that Eagle Brook has experienced is with those online attendees or members. As a pastor, how do you think about their process of discipleship? What are some of the principles or practices you want to follow?
I don't think we have a final answer for that. We're right in the process of figuring that out. Still, I would say a couple things. This is similar to multisite in one sense. Since I can't have a physical relationship with everyone at all of our multisite campuses, we have pastoral staff members that are there to care for those people and to help them grow. In that spirit, we have a pastor devoted to our online community and have added staff, basically like a small-groups pastor, for online church. The goal is real connection. That has helped. 
There is a sense of hybrid discipleship here. You would think that when in-person attendance goes down that online would go up, but we haven't noticed that. We've noticed that they'll both go up at the same time, and they'll both go down at the same time. In fact, I think the prevailing wisdom is wrong—I don't think they're competing with each other much at all. In fact, many people that I talk to are watching online one week, and the next are physically at a campus. They are adapting to new realities too and seem to be connecting in different ways and different forms. 
The bottom line is that we're trying to reach people with physical locations and connect them there as much as we can. If they're online, we're really trying to push them to be part of a campus and a community, if they're close enough. And then if they're not, we're trying to create an online community for them to join.
You've referenced the difficulties of the past two years, and I know you're not alone in feeling them. Burnout and clergy exhaustion have become pressing issues. What are you doing to take care of yourself and your staff, particularly in the pressures of aggressive growth? 
Well, we don't have it perfect. Far from it. I talk to pastors who have been in ministry way longer than I have been, and they say, "This is the hardest season of ministry I've ever been in." There is stress around criticism and the polarized, political nature of our culture, and the pressure in the church around social issues. All the things you see on social media make their way into the pastor's inbox. It's hard.  
For our staff, a couple of things have helped. First, we have this phrase we repeat: "Who you are is more important than what you do." We do really try to help our staff to know that we care about them personally. I want to set the tone of a culture that comes alongside people and helps them in their lives. 
But that only really takes shape when you get practical. With that in mind, last December we gave an inflation raise. We took the inflation percentage and gave that number as a percentage raise to all of our employees. We also have given them a flex day to work from home. We give, I think, decently generous vacation time—four weeks when you first start, six weeks if you've been around for 10 years or more. And we encourage people to take their vacation days. 
Those steps all have helped. We have also had an increased emphasis on discipleship even in our staff meetings and our times with our staff, through teaching, worship and so on. We are trying to help our staff have a growing, thriving relationship with Christ. Without that, of course, ministry would quickly get too heavy. 
Based on the trajectory of the past couple years, how are you thinking about the pastoral challenges coming in the future?
Based on present trends, we can expect for fewer people to be going to church. If your goal is to try to reach people who already go to church, just from the numbers (let alone our missional call), that pool is shrinking. I am convinced that the churches that are going to really thrive, as far as a growth standpoint is concerned, are the churches committed to reaching people who don't go to church. I believe for most of us, that's going to require doing church differently. 
When I teach, I'm very cognizant of the fact that there is a 19-year-old college student out there who is like I used to be. I remember when I was first invited to a Bible study—the only time I ever got invited to anything faith-related, by the way—and the Bible study leader saying, "Open up to Matthew." I had no clue what he was talking about. I didn't even know what I was supposed to open (some sort of book, maybe?), and I didn't know how to find this Matthew where I was supposed to open to. We simply can't assume that people know even the basics of what we are talking about.
When I teach, I work to show why our teaching topics are important—I don't just assume that people are with me. I also try to use terms that everybody's going to understand. If you don't hear a word on ESPN, you should probably define it for people when you're preaching. For example, if I were to speak on righteousness, I would want to define what righteousness is, because I'm not assuming that people know that. Those are some of the things that we try to do from a teaching standpoint that's at least going to help that person who's never been to church before to think, Oh, I actually understand this. 
For me, in this last year when everything was so uncertain, I said, OK, let's just go back. What do I know? What are the core truths I know? 
Whatever the future holds, I think it looks like finding new ways to get back to the basics. 
Paul J. Pastor is editor-at-large of Outreach and author of several books. He lives in Oregon.