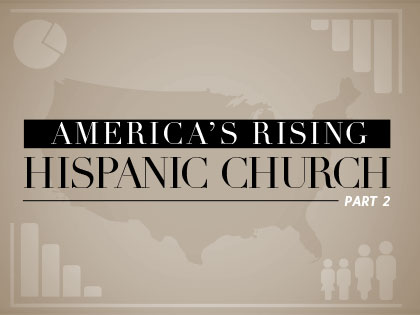 The Church, Immigration Reform, and Community Outreach: A Call to the Church
"When the American church understands that it carries the spiritual and legal authority to assist the immigrant, the church may emerge as the only trustworthy institution in the community."
—Samuel Rodriguez in The Lamb's Agenda: Why Jesus Is Calling You to a Life of Righteousness and Justice. Rodriguez is senior pastor of New Season Christian Worship Center in Sacramento, Calif., and president of the National Hispanic Christian Leadership Conference.
The Church and Immigration Reform
Misconceptions:
1 out of 3
Americans inaccurately think most Hispanics are undocumented. According to a poll released by National Hispanic Media Coalition, more than 30 percent of non-Hispanics believe that more than half of Hispanics are undocumented. The actual figure is around 18 percent, and only 37 percent of Hispanics are immigrants, according to the Pew Hispanic Center.
—NBC

58%of Protestant pastors favor immigration reform that includes a path to citizenship for those who are currently living in the country illegally.
51% of Protestant pastors say immigration reform will help their church, denomination or movement reach Hispanic Americans.
27% of Protestant pastors say immigration reform would help church members.
A number of denominations, including the Southern Baptist Convention and the United Methodist Church, have passed resolutions in favor of immigration reform in recent years. Mainline pastors are more likely to support reform (82 percent) and say it would help church members (42 percent). By contrast, 54 percent of evangelical pastors support reform, while 21 percent say it would help church members.
—LifeWay Research
Building Bridges
What can the church do to help meet the needs of the Hispanic community? In his book, Hispanic Realities Impacting America: Implications for Evangelism and Missions, Daniel Sanchez reports on a survey of Hispanic pastors, in which they suggest various needs that could be met, ranked in order. The central point of the book: Hispanics are showing more receptivity to the evangelical message than ever before. Reach out. Build bridges.
68% Helping persons get jobs or better jobs
61% Helping new immigrants establish themselves
61% Helping persons to have better access to basic social services (health care, Social Security, Medicare)
61% Counseling programs
59% Ministry-based evangelism, such as block parties
58% English or citizenship classes
57% Evangelistic services
53% Helping students to stay in school
52% Church/community sports programs
50% Job training
49% After-school programs for teenagers
45% Drug/alcoholic rehabilitation programs
45% Daycare or childcare programs
41% Reduce violence among families
38% Food distribution
32% Programs for the elderly
31% Providing shelter for the homeless
29% Reduce violence in the community
26% Adequate housing
21% Voter registration
For additional resources on Hispanic ministry >>
"Our strength lies in our ability to rise up in unison and answer the cry of the world. You are the answer. You're a carrier of God's Spirit, a revolutionary set apart to do his will. Your home, your church and your community need you to step into your destiny."
—Sergio De La Mora in The Heart Revolution: Experience the Power of a Turned Heart.
De La Mora is senior pastor of Cornerstone Church of San Diego, Calif., a 2013 Outreach 100, No. 33 Fastest-Growing, No. 91 Largest.