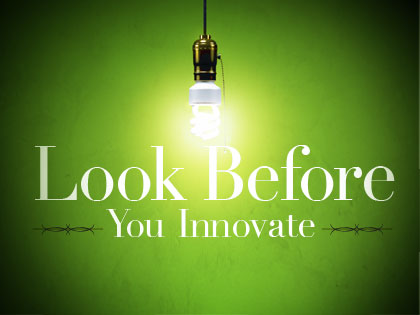 If innovation is not constrained by biblical essentials and confessional convictions, we can innovate away what "church" really is.
Innovation is great—but not all innovation. The question for the church is what innovations we should pursue.
Innovation Has Always Mattered
Christianity has been innovating since its beginning. All present traditions were once innovations. Meeting on Sundays was an innovation of the early church. Meeting in buildings was a second century innovation. Yes, those aren't as cutting edge as multisite, data projectors and church apps, but they all were innovations.
We can easily look back through church history and judge which innovations proved beneficial and remained biblical, but what about the choices churches face today? How can we best determine whether a proposed change should be considered or rejected immediately?
We need some discernment to know what should and should not be innovated. But let's be honest: Not everything needs to be innovated. The question is, How do we know what to innovate? How do we decide? I think the answer is that some things in church should be essential, some convictional, and some things simply preferential.
Essential, Convictional and Preferential
To look at innovation with discernment, it might be helpful to see three levels where innovation could occur with different degrees of "weight."
Some issues are essential—commands that a church must do or cease doing to be a true church. Some issues are convictional—things we hold as true but that other believers may not, yet both views are still considered part of a true church. Some are preferential—ways we would rather live out the practice of church. This is of less importance and should be more open to innovation, unlike the essential and the convictional.
The challenge is that many churches hold everything to be essential. This is the danger of undiscerning fundamentalism, where there is no ability to disagree on the nonessentials. When every conviction is essential, we can't recognize that Presbyterians (who baptize babies) are still Christians, even though they are not like Baptists (who only baptize believers).
The same is true at the "preferential" level.. When we view these issues as essential, we are tempted to be judgmental, critical and harsh toward innovative churches, accusing them of "watering down the essentials" because they don't use hymnals and sit on pews. Before we criticize any ministry that's trying to lead people to Christ, however, we must understand where they stand on the essentials (and their convictions).