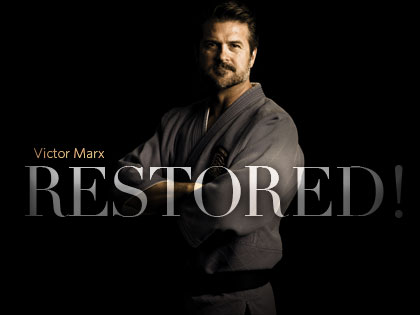 "People will admire you for your success, but they will relate to you because of your pain."
Growing up, I suffered abuse.
I was left in a cooler to die at 5 years old. I was molested. I was tortured by a sadistic stepfather. His methods included suffocating, electrocution, drowning, sleep deprivation and extreme physical pain.
One time he held me under water, and I awoke to him breathing in my mouth to resuscitate me. He looked at me and said, "Boy, I am the one who gives you life—don't ever forget it."
I started drugs in sixth grade. I attended 14 schools, lived in 17 houses. My grandfather killed his wife and shot himself in public. My mom was diagnosed with multiple personality disorder. By the time I was in eighth grade she had married four men.
I never got help as a kid; I was taught to just move forward.
At 18, I joined the Marines to get away. While in the corps I received a letter from my biological dad. He said, I know I was never there for you as a father, and I know you think I am crazy—he'd spent time in a mental hospital for homicidal tendencies—but he said, I'm crazy for Jesus Christ. The letter was very compelling. I flew to visit him. He invited me to go to church, and I heard a very simple gospel message. I had heard it before; I knew all about Jesus. But that day, June 22, 1986, I gave my life to Christ. I was 20.
I was stationed at Camp Pendleton and started going to Calvary Chapel Vista (Calif.). That's where I met my wife, Eileen. We became friends, and one Sunday morning she gave her life to Christ. We were married in 1988.
I already had a martial arts background, and she was in fitness, so we started a training center teaching Keichu-Do karate, from Louisiana. It's our family's self-defense system. My dad developed and taught it, and my grandfather was a professional fighter before him.
We had 120 students in the first two weeks, and that is primarily what we did most of our adult lives until we went into ministry.
I have trained more than 30 world champions and people from different military units: Navy Seals, Delta Force, plus professional and collegiate athletes. We ended up living in Hawaii and had probably one of the largest martial arts schools there. I was known as a Christian martial artist.
My wife and I decided to take a three-month missionary trip and to do it by faith, so we didn't take a credit card or money to bail us out. We lived in a beautiful house in Hawaii, but we knew the trip would be good for our family. We took our three kids to the mainland and traveled in a van. My wife and I did karate demonstrations and shared testimonies in parks, churches—anywhere. At one point we were literally down to 23 cents. I was at a church to speak, and the offering plate came around. The Lord said, "Put your money in it." I said, "Lord, it's all I've got left," but I did. That night there was a check on our windshield.
After that trip, Focus on the Family approached me about working with them. I didn't want to do it, but God wanted me to, and I knew I needed to. I began representing the ministry, traveling and speaking.
I started to deal with my past, and the layers of the onion started to peel away. I was having flashbacks; I couldn't sleep at night. I visited a trauma specialist 123 times in nine months. It was a long, good healing journey. I am still on it, but boy, God and his love pursued me. I was so messed up.