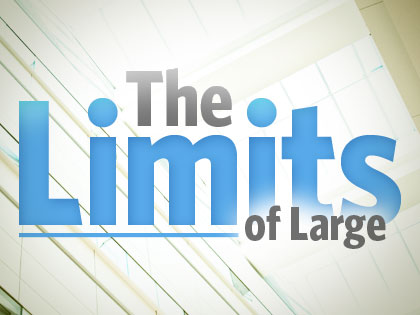 Eugene Cho: "Numbers don't guide us—the Holy Spirit does."
Full disclosure: I'm 5'7" and have always wished I were bigger. Growth has always been an issue for me.
My wife and I planted Quest Church 12 years ago. For months we struggled as our attendance ranged from five to 20. In fact, we never exceeded 100 people during the first year. As with my physical size, I found myself constantly envying other churches and comparing us to them. Even today, Quest is not a megachurch.
So why am I writing a column entitled, "My One Issue With Megachurches"?
After all, there's much to appreciate about them. It's amazing how so many people can gather in one space to (hopefully) take steps in the larger mission of that local church and the kingdom at large. If people at megachurches are growing in Christ and are going out to bring in others, what's not to like?
An Incomplete Picture
It's been said that megachurches only comprise about 1 percent of North American churches. So why do the majority of church, ministry and leadership conferences revolve around megachurches and their pastors?
I think megachurches and their leaders are doing phenomenal ministry. I really do. My concern is that we've elevated this 1 percent to be the face of "successful" ministry and created a machine of conferences, publishers, books and networks based on this very limited expression.
Like others, I'm interested in hearing from the "big hitters" in the megachurch movement. But if we limit the church's expressions to this small fraction, what message are we conveying?
We should also be learning from the many wonderful, faithful pastors who don't have a megachurch platform. And if you happen to be one of those, I am grateful for you. Thank you for your ministry, faithfulness and leadership. Thank you for seeking to embody Christ. We need you.
Small but Mighty
During my two years on staff at a 25,000-member church in Seoul, Korea, I grew enamored of the church and its senior pastor, Yong-Jo Hah. Pastor Hah knew I would have a short tenure in that megachurch and he wanted to convey to me not to be too influenced by it. So one week he sent me away on a "vision trip" and arranged for me to visit small, rural churches in remote areas of South Korea. Some of these churches only had 10 to 20 parishioners. He told me: "Meet with these pastors. Be humble. Learn from them. Ask them questions. Learn the amazing and profound ways they are advancing God's kingdom."
Big church or small, megachurch or house church, urban, suburban or rural—we all matter and are important to the body of Christ.
Dear pastors and leaders, you don't have to be the most influential in the nation. Just seek to be the most influential and loving pastor and leader to the church and community where you're called. That is not likely to get you on any special lists, but you'll serve your people well. You'll be faithful to your flock and calling.
Metrics have their place. But don't allow numbers and metrics to rule your thinking. Numbers don't guide us—the Holy Spirit does. Be faithful.