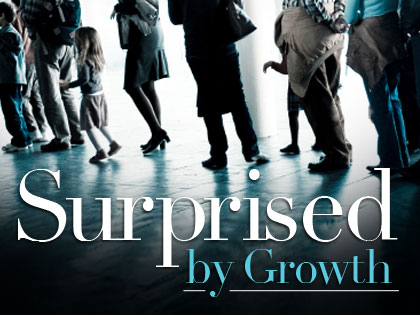 Bobby Gruenewald: "If we can accomplish it in our own strength, it's not big enough."
In the earliest days of LifeChurch.tv, our best technology was the air conditioning. And it barely worked.
Since that time God has used our church to leverage technology in ways we could not have imagined then. Church Online reached 4.8 million unique visitors last year, and ministries around the globe are using the Church Online Platform to reach millions more. Church leaders have downloaded more than 3.5 million copies of our free resources from Open.LifeChurch.tv. And this summer we are celebrating the Bible App being installed on 100 million mobile devices worldwide.
Boundless Vision
We didn't set out to do any of that. Focusing on technology and reaching 7- or 8-figure milestones wasn't in our long-term plans, not even as big, hairy, audacious goals.
But the core group that launched LifeChurch.tv (or "Life Covenant Church" back then) did have a vision that was much larger than that small team: to do anything short of sin to reach people for Christ. We wanted to try things no one else was doing to reach people no one else was reaching.
God used our passion to do just that, and each week more people showed up and joined the vision. Though we quickly outgrew our space and couldn't afford to build, our vision wasn't limited by how many people could fit in one building. We added more services until we outpaced our capacity there as well.
We realized technology might be able to help us reach more people, but our staff didn't have the know-how. So we started looking to the people in our church who had those gifts. Not coincidentally, I made the transition from a volunteer to full-time staff at that time.
I joined the team during an exciting season. New initiatives were set in motion, new buildings were built and new experiences were launched, all fueled by people who were inspired by the vision or change they had experienced personally. Every time God grew us, the vision—and our faith—would grow even more.