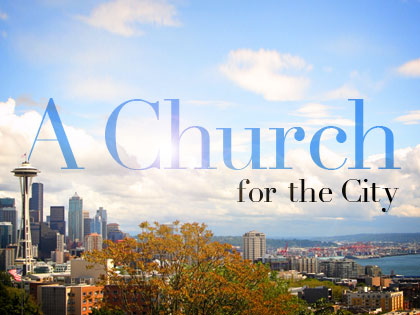 Eugene Cho: "If we reduce church to a program, we've forgotten our identity as a 'sent' people."
About a dozen years ago, I had an epiphany that changed the trajectory of my personal discipleship and my theology as a pastor. It changed the trajectory of how I seek to live, pastor and lead. By then, I had been in ministry for about 10 years and serving in Seattle for about three. At the time I was so busy with ministry. I was continually immersed in all things church. Almost exclusively church. I was so engrossed with my responsibilities as one of the associate pastors and the pressure to build, grow, sustain, scale, maximize and catalyze that it was difficult to see what was going on — outside of my church.
It was hard to feel and sense how God was working in my neighborhood, the larger city and in the larger world. In others words, I felt like I was doing the business of church but not necessarily engaging in the full mission of the church. So, what happened? I went kayaking one day, and it changed everything. Yes, kayaking.
It was a beautiful and sunny Seattle summer day. It was such a perfect day that it inspired me to get in a kayak on a large lake in the middle of Seattle called Lake Union. The surrounding views were postcard-esque with mountain ranges and peaks everywhere I turned. The view left me breathless. But strangely, as I marveled at the beautiful lake, boats, mountains, buildings, parks, cars driving along the freeway and the people that inhabited the entire city … something very unexpected happened.
I started crying. And I couldn't stop. I know, I know, I'm a hack. I know there's a similar story in the Bible in Luke 14:41–44 where Jesus weeps over the city of Jerusalem. I'm not trying to imply that I'm like Jesus, but my kayak experience gave me a little glimpse of what He may have experienced that day as "[Jesus] drew near and saw the city and wept."
That day, I believe the Holy Spirit opened my eyes, broke my heart, caused a stirring and yearning for the welfare of the city and infused a profound love for the people of Seattle. Till then, I just lived in Seattle. Now I live and love this city. Till then, I only focused on the affairs of our church. Now I still care for the affairs of our church, but I also care about my neighbors and neighborhood. I care for the affairs of our city and its citizens. Till then, I prayed exclusively for my church and my ministries. Now I still pray for my church, but I also pray for the welfare and shalom of my city. I want to lead, instruct, inspire and model for my church what it means to seek the welfare, peace, good and prosperity of the city (Jeremiah 29:7).
The Church — the bride of Christ with all of its imperfections — is a beautiful thing, but if we reduce church to a 75-minute service, we have forgotten our purpose. If we reduce church to a program, we've forgotten our identity as a "sent" people. If we reduce church to a building where people come to an event, we've truly lost our way. We've forgotten that our God is a missional God who gives His people a mission that's intertwined with His identity. And His identity informs our identity, our discipleship and our purpose.
At this point, the near end of the column, you might be wondering, "How do we become more effective in engaging our community and city?" There isn't a neat answer with three points or a secret formula to share. It's much more complex and relational than that. I only hope that God — in His love and grace — might rebuke you, stir you, awaken and move you to both deep tears and profound love for your community and city. The rest will follow.