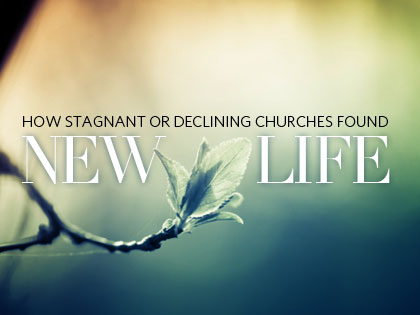 Five pastors tell how they helped churches overcome adversity and engage the unchurched in their communities.
While many churches in a variety of settings nationwide find themselves stagnating or declining, they may find glimmers of hope from other churches that once were in the same situation before turning a corner. These churches successfully rebounded to find new vitality as they reached out to their communities. Here, from the archives of Outreach magazine, are the stories of five such churches—in their pastors' words—that have been revived.
Relaunching With a New Name and New Focus
The Summit Church
Formerly Homestead Heights Baptist Church
Durham, North Carolina
A 2015 Outreach 100 Church (No. 28 Fastest-Growing, No. 47 Largest)
Lead Pastor J.D. Greear
While I was studying for my Ph.D., I got involved in Homestead Heights Baptist Church as a way to pay the bills and led the college ministry for a couple of years. In 2002, the church called me to be the lead pastor. My wife and I were planning on going to Florida and planting a church. This was not what we were expecting.
In the three and a half years before I became the lead pastor, the church had gone through a lot of people leaving, dissension and division. Out of 450 people, 150 did not want to shift toward doing what it took to reach people. That group left about two or thee months before the church called me to be the pastor, but calling me ensured they weren't coming back. In 2001, the church had just about gone bankrupt. Still, from the time I became the official pastor, a core of the people who stayed were ready to get involved.
The third Sunday I was there, I told the congregation that the vision God had given me was to change our name and relaunch the church. I had read that in older, established churches like ours, it took 90 people to get one person to Christ, but in a church plant, it took three. The idea was, What if we could relaunch like a church plant but retain some of the benefits of having a piece of property and 300 people as a core group?
One of the first milestones we experienced after we relaunched was an infusion of college students [from nearby Duke University and the University of North Carolina]. I spoke to various campus ministries in the area, and a few college students who already were attending began to spread the word. They began inviting their friends to come with them on Sunday mornings, and within two or three weeks, attendance grew from about 600 to 1,000.
Three years into leading the church, God really spoke to me and our leadership team. I had just returned from a mission trip to Southeast Asia, where I'd previously lived and planted a church before coming here. I remembered how I had felt like God had given me a responsibility for that Southeast Asian city I was in, and I asked myself, Why don't I feel like that about Durham? I realized that we, the pastors and elders, were almost trying to use the city to build this church. So we repented, and I told the congregation, "We're going to bless this city. They may not understand why we believe what we believe, but we want them to say, 'Thank God The Summit Church is there.'" We started this massive community-blessing ministry and outreach.
In 2007, we went to a multicampus strategy out of necessity. Over the next 18 months, our elders began to study the multicampus movement, and we decided to make that part of our strategy to reach the city. On an average Sunday, we run from 3,200 to 3,500 people in three locations. And we feel like God has given us the mission to plant 1,000 churches in the next 30 years, so we've been aggressively pursuing that goal. We have a church-plant training center and several church plants in Asia.
I try to tell other guys from more traditional Baptist churches that it wasn't like I came in and spoke some magic words and everybody fell under my spell. I was part of a movement God was doing in this church. I was not the cause of it.