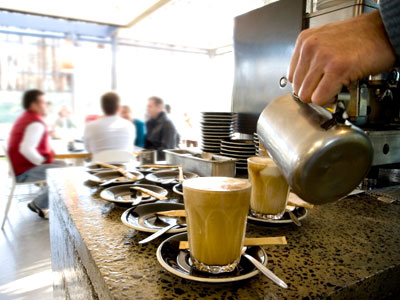 How Substance Church in Roseville, Minn., quickly connects new attendees with friends and a ministry
The Church: Substance Church, Roseville, Minn.
The Challenge: Help people connect with the mission of the church
One Key Idea: Have volunteers or staff serve as "guidance counselors" who help people find small groups and ministries that match their interests, life experience, etc.
Outreach magazine spoke with Lead Pastor Peter Haas, who says matching guests with friends and a ministry right away is essential. Here are highlights from the conversation.
Substance is known as a young, hip church. How do you tailor connections to the under-34 crowd?
We're incredibly intentional. That is the hallmark of our entire church. Yes, we're ultracontemporary, and everybody's talking about the deejay in our worship experience or new ways to do a video venue. But we are totally and completely committed to getting each visitor four to seven new friends and a starter ministry within three months of attending our church. We know that the No. 1 cause of spiritual transformation is how many Christian friends you're doing life with at any given moment. You can preach God's Word at two different people, and the people with the most Christian friends are most likely to apply it.
What's your strategy for finding people friends and a ministry?
Our assimilation process is called our Empowerment Track, and it includes three steps: Start, Shift and Launch. When people Start, they first meet with the pastoral staff. Then, they Shift, or sit down with a personal guidance counselor to integrate them into the Substance movement. When people see our 200 small groups, it's like, "Where do I even start?" So a counselor will say, "Who are you? What are your needs?" Some of our groups are ideal for a 30-year-old with kids, others for the over-50 range, etc. Then the counselor says, "Here are the top five small groups you need to visit first." The counselor gives each family a custom-designed track showing the quickest, most ideal way for their family to integrate.
If the counselor is sitting down with a new believer, we'll throw the Alpha Course into the top five. For a long-term Christian, we'll fast track them to our deeper experiences. During the Shift process, people also get matched to a starter ministry, but if it's not right for them, they can change it during Launch. That's when they again sit down with a counselor to find the ministry that really gets them passionate for the Lord—their true calling.
How do you measure success?
We have an acronym, S.P.A.C.E., that summarizes what we believe it really means to be the church: Same gender, Prayer, Accountability and Confession with people of Equal passion. We evaluate ourselves according to whether people are fully participating in the S.P.A.C.E. experience.
Practically, we use programs like The Table, an online membership software we developed that can integrate with Facebook and Twitter, to really assess how connected people are—like whether they have found a small group and a starter ministry at our church. We can see ongoing, active involvement by observing how many small groups are actively using The Table to deepen their intimacy. In the last six months, we've had 30,000 people post prayers on the site. We can measure to see how people are doing, what kinds of people are involved in what kinds of groups. Who is being well-pastored in our church and who is not? We can also map out where our people are in the city to find out if we have enough groups meeting in that area.
MORE ABOUT SUBSTANCE CHURCH
Launched: 2004
Weekend Attendance: 2,500
Key Connection Points: Four campuses, seven weekend worship experiences, Subgroups (200; 90% of church attends one), Empowerment Track, The Table
Substance Church is a 2011 Outreach 100 church (No. 21 Fastest-Growing)
This article originally appeared in the September/October 2011 issue of Outreach.