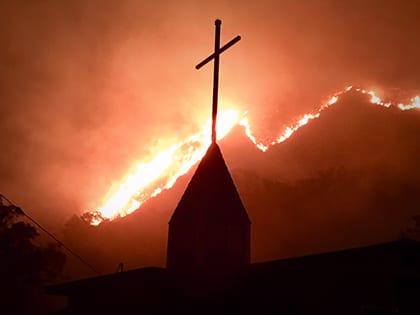 California's Thomas Fire Has Caused Massive Devastation, But Has Brought Communities and Churches Together.
"There were rolling walls of fire spitting out it's vengeance directly into our community." Pastor Doug Jones relates, "If you look at our property now, the entire perimeter was not touched, as if a huge band of angels draped themselves over the ground to protect us."
Pastor Doug leads Springs of Life Church located in Casitas Springs, California. The community of around 1,100 is located in the foothills behind Ventura and near the center of the massive Thomas Fire. The fire began on December 4th and has burned more than 250,000 acres and it's still roaring. It is California's largest wildfire of 2017 and could become the largest in state's history.
The Pastor chose not to evacuate but stay with his people and assist in the firefighting efforts. "I felt safe because I was with the strike team." The church became a command post for the emergency responders. But he was not idle. "I walked along the backyards of those against the hill and used hoses to keep the area wet and or actually put out flames."
Doug also went to a few of his church members homes. He found one couple who stayed. "I sat in the backyard with them battling. The man is a retired master sergeant but the flames began to lick the side of 'bunker' as he calls it. At one point, he thought it was a lost cause so he left so he didn't have to watch it happen. I stuck around for a little longer and God once again intervened. With a little grace and water the fire died down. Yet another miracle."
Pastor Doug was not alone. Several of his church members were part of the firefight. "I've never been so proud of a body of believers! When evacuations were in order, some stayed behind and literally saved an entire mobile home park from flying palm branches. They made sure everyone was out and watched over the most frail and vulnerable."
He tells us that there are so many God stories from that time. The following Sunday the church came together to give thanks. "It was a sweet moment to look out and see folks weeping on their knees, saying thank you. It was a real moment."
Springs of Life is going through a replanting season and this is not their first disaster. "In the last two years, we have sustained two major mudslides on the property and we've dug out our neighbors as well. Now we are in a situation where there is no groundcover at all. It's kind of scary!"
The community is kind of a crossroads between Ventura and Ojai. It has a checkered past, once as meeting place for biker gangs. Just up the hill from the church is a home built by Johnny Cash, that was also spared. The pastor tells us that the trailer park in particular, "houses some of the poorest in ‪Ventura county" and ‬has all kinds of needs.‬.
Meanwhile, Down the Mountain
As the fire moved in all directions, initially the city of Ventura was threatened. The fire crews had to make a stand. Nick Acker is the pastor of Grace Church that sits right at that line of mandatory evacuations.
"I looked out the window of the church parsonage and saw flames coming up over the hill. It's about two to three miles from us." Nick and his wife Rebecca have only been at the church for five months. He tells us, "We're from south Texas and there are brush fires, but nothing like this. We looked out and saw those fires coming up over the hill. The sky was reddish and you could tell there was a lot of flames. So we just grabbed documents and computers and the kids and left because we just didn't know. My wife is pregnant with our third, so we weren't just going to wait around."
The fires never crossed the line but several hundred structures near the foothills of the beach community were destroyed, including an entire apartment complex. Nick says that three families that he's connected to lost homes including an artist, who lost more than a residence. He lost his studio. "Being displaced because your home burned is one thing, but to have your means of income burn up is a big hit. I don't how many works were consumed but those were works that he had done, and was waiting to sell. I can image that being a hard punch in the gut."
Nick tells us that the entire community has been effected in some way and local churches are responding. "Earlier this week the pastors came together. We met at Mission Church and just sat down and kind of put together a game plan." That plan includes about 30 churches across denominational and cultural lines. They are taking in donations of all kinds and finding our specific needs of the victims. Each church is then given their assignments.
"I think that God's going to use this fire to bring the church in Ventura together and to show the city and the state that the church is here and loves the community." Pastor Nick says that the first need, from those of us outside the area is prayer. "Pray that the church would maintain this community that has been birthed out of this and also that this may have an impact nationally and globally."
Coming Together
Although the fire is stills raging and the smoke is very prevalent, churches are coming together to coordinate relief efforts. Mission Church has become a hub of support. Jim Sheldon is the church's executive pastor, "The past 10 days have been heartbreaking, devastating, overwhelming and hope-filled all at the same time. Hundreds of families have lost their homes and thousands are still displaced all while our brave firefighters are still working to contain the fire. As a church, it has been our great privilege to be in a position to bring help and hope to our community."
The church has turned the facility, once a 16-screen movie theater, into a one stop shop for volunteers and victims to come together. Jim stresses that this is not a single church effort. They are working, together with many area churches, to identify and meet the needs.
He says, "We have a long road ahead of us, but we believe in a God who brings beauty from ashes and promises to bring good out of the mess of our lives. What an incredible opportunity we have to introduce people to the love of God just by showing up, being present and offering practical help!"
One of Ventura's largest fellowships is City Church. Michael Roberts is one of the executive pastors. He tells us that they are also answering the call. "We are working with over 70 contacts which represents 219 individuals directly to help meet their immediate needs. So providing money, gift cards, toiletries, food, clothes, etc. We've also helped financially nine Sheriffs Department employees who were first responders and lost their homes."
He tells us that the timing of the fire also comes with a special need. "We are doing a giving tree to provide gift cards for families who lost their homes and have no Christmas gifts for their children."
People can give at MissionVentura.com/relief or directly to individual churches like Springs of Life, Grace Church or City Church.