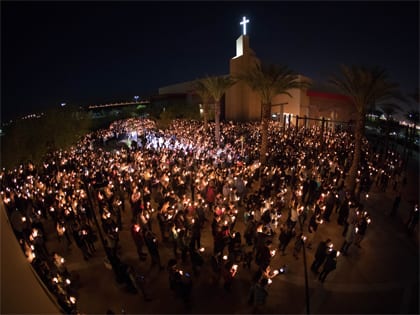 "It's a huge privilege to be trusted to speak into that moment, to pastor people in that moment."
"God bless America, my home, sweet home!" the crowd sang loudly as cheers roared out on the night of October 1 at Las Vegas' Route 91 Harvest country-music festival. Less than an hour later, the crowd was pierced with gunfire from across Las Vegas Boulevard, less than a mile away from the "Welcome to Las Vegas" sign. A gunman, perched at a window on the 32nd floor of the Mandalay Bay Resort and Casino, did the unthinkable.
For pastors in Las Vegas, the news of the worst mass shooting in modern U.S. history did not arrive until early the next morning. Most were completely unaware of the chaos that had unfolded the night before, leaving 58 victims dead and more than 500 injured. Every Las Vegas congregation was affected in one way or another.
I spoke with Lee Coate, executive pastor of The Crossing Church Las Vegas (a 2017 Outreach 100 church, No. 35 Fastest-Growing) and a long-time resident of Las Vegas; and Jake Musselman, lead pastor of Sought Church, a three-year-old church plant in the Arts District of downtown Las Vegas.
Both pastors initially learned of the tragedy from friends. Musselman had been hosting a pastor from east coast who woke him up before dawn. Coate received text messages from people around the country who wanted to know what was happening and if he was safe.
"We immediately gathered our staff together. We dealt initially with just them, asking, 'How are they processing?'" Coate says. "So we mobilized ourselves, at least mentally, to figure out what proper things we needed to be doing at the moment."
[Don't Miss: 5 Ways to Pray for Las Vegas]
First, the team at The Crossing opened the church, which is located just a 10-minute drive from Mandalay Bay, for prayer. They then began to reach out to their community network to find out how the church could help.
"Part of our learning as a church over the last 17 years is that we understand our role is to really partner with our community," Coate says. "That was helpful: having built those relationships leading up to what we experienced [this week]." The team brought food and water to local hospitals and agencies, and determined to be of service in any way they could.
Musselman's first response was to check on his 30-member congregation. Then the call went out that the blood bank was running low.
"So me and another pastor-friend went down to give blood. We waited for a few hours to do that," he says. "We didn't have anyone that was a direct victim as part of our congregation. We do have people that were nearby. They were shaken up, understandably."
The Crossing did have one congregation member who was directly affected.
"We have one 18-year-old young gal who was hit, and there's a crazy story of her dad, who literally drove through barricades in his pickup truck to get into the festival grounds," Coate says. "He loaded her into the back with a fireman to take her to the hospital." She is still recovering in a local hospital. The Crossing team thanked the hospital by providing its entire 500-member staff with lunch on Thursday.
Another question that came up for The Crossing was how to handle a worship concert that had been scheduled for Wednesday, October 4.
"We previously had scheduled to have a night of worship that we do quarterly with worship artist Matt Redman," Coate explains. "We had to deal with that right away: How does that work? Do we just cancel it?" The church decided, along with Redman and his team, that they would turn the worship night into a prayer vigil. Coate believes this was a divine appointment.
Redman agrees. "It was actually a very powerful and poignant time from beginning to end," the English singer, songwriter and worship leader says. "We started with lighting candles. The people who were lighting the candles were people who had been there on the night of the event. As the night went on, we had some individual stories, and we got to honor the first responders, who were at the event with us, and pray for them.
"There were some very, very powerful moments, and of course, we brought some music into the moment. One of the songs we sang was 'Blessed Be Your Name,' which I wrote shortly after 9/11 with my wife, Beth. It was written in a very similar environment, so that song really seemed to connect. I think the most special moment for me was afterward, when a few thousand people gathered outside for a candlelight vigil. We rang a bell 58 times to honor the memory of those who lost their lives. We sang some songs and prayed over the city."
Redman was originally slated to perform songs from his new album, Glory Song, but the team decided to change the set list and retitle the event "Heal Las Vegas."
"I don't take these moments lightly," Redman says. "It's a huge privilege to be trusted to speak into that moment, to pastor people in that moment through music." The concert was also streamed live so that victims could watch from their hospital rooms.
Musselman says he has shifted his plans for future weekend services to make room for discussions on hope in the midst of tragedy.
"We've put our sermon series on hold," he says. "I'm going to talk about how to have hope in the face of circumstances like this. We're going to leave a lot of time in our gathering for questions and answers." Musselman says this will be an effective format for his smaller congregation. He's preparing to answer some difficult questions.
Because few pastors have ministered in the aftermath of a mass shooting, Musselman says that other leaders who have can be huge support.
"I talked to another pastor who was in Aurora, Colorado, when the shooting in the theater occurred," he says, referring to the 2012 shooting at a movie theater in which 12 victims died. "We talked through how he felt and what he processed."
Coate reached out to pastor from Orlando, who led a congregation during the aftermath of the 2016 Orlando nightclub shooting that resulted in the deaths of 50 victims.
"If you have a network of people that are pastoral and are in Vegas, reach out to them," Coate says. "Those things are much more valuable and affirming and encouraging than you will ever know. Those gestures are not swept away. Those gestures are important."
Both pastors encourage churches outside Las Vegas to continue to pray for the city, the victims and their families, and to let this tragedy serve as a reminder. Churches need to be prepared to react when an event occurs and make connections within their communities before there's a time of need. Begin to network with other churches in your area, because a day may come when you'll need to come together.
Another unique fact about this tragedy is that only about 10 percent of the victims were from Las Vegas, making this more than just a local event. There were people in attendance from as far away as Europe. Musselman says, "What happens in Las Vegas rarely stays in Vegas." He believes this tragedy will ultimately draw people closer to God, but the healing will take time.
Jeff Chaves is a freelance writer and pastor. He has been married to Peggy for more than 32 years, and they have four children. He is the pastor of Northpointe Community Church in Las Vegas, Nevada.