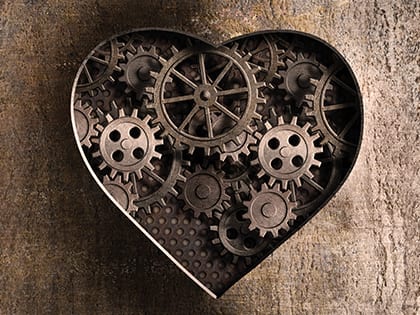 "To achieve our mission of reaching the world, we need to partner with and help equip other churches."
Have you ever looked up a word in the dictionary, thinking you roughly knew the meaning, only to find out it meant the opposite of what you thought? Maybe I shouldn't admit it, but this happened to me when I looked up the words "centrifugal force."
Merriam-Webster says it is "the apparent force that is felt by an object moving in a curved path that acts outwardly away from the center of rotation." As it turns out, I was thinking of centripetal force, which is "the force that is necessary to keep an object moving in a curved path and that is directed inward toward the center of rotation."
As my online physics lesson continued, I learned that these forces are two different perspectives on the same activity. From the outside, it can be easy to see the centripetal force keeping an object in rotation, but we can miss the force pushing outward.
We may have the same perspective when we look at the fastest-growing and largest churches. You can imagine a growth spiral with such an inward centripetal force that the church doesn't have time for anyone else.
It is true that it takes a massive amount of time and effort to keep up with rapid growth and to keep new believers and attendees in a discipleship process. But for many churches, there is also an outward focus that goes beyond outreach and evangelism. It is a partnership with and an investment in other churches and ministries in the gospel.
Every year, LifeWay Research, in association with Outreach magazine, surveys churches from across the country to discover the nation's fastest-growing and largest churches. These numerical outliers fascinate us. What is so different about these churches that their growth is so high? Better yet, what about their story would allow us to see God's activity that defies the experience of most churches?
[The 100 Fastest-Growing Churches in America, 2017]
As we gather numbers, we also explore patterns that may be helpful to other churches. This year's survey led us to a theme: the relationships and investment in other churches and ministries. We won't claim all fastest-growing and large churches have this bent, but as we asked about their interactions with other churches, stories of collaboration quickly surfaced.
Previously, LifeWay Research has found a similar pattern with church plants. As we surveyed church plants across 17 denominations and church-planting networks, we found that one of the most consistent predictors of a church plant having higher attendance, seeing more new commitments to Jesus Christ, and reaching financial self-sufficiency is its financial and time investment in other new churches.
It seems a little counterintuitive. At the very moment the viability of your own church is at stake, one of the best ways to foster its health is to invest in other churches. That same principle holds true for some of the largest churches in the nation.
Investing in Other Churches
Motivations for partnering with other churches vary, but one of the most common is tied to a church's vision.
For BridgePoint Church in St. Petersburg, Florida (No. 89 Fastest-Growing), connecting with other churches is essential to its vision of seeing gospel saturation in Pinellas County. In addition to a goal of planting 10 churches in 10 years, Lead Pastor Tim Whipple realized it's not just about BridgePoint expanding itself.
"We are better if we equip and come alongside existing churches that may need some energy and vision and direction, and let them help us reach the people and saturate the county at a much more rapid pace," he says. "We realize we can't do it by ourselves."
At Fairhaven Church in Centerville, Ohio (No. 84 Fastest-Growing), Lead Pastor David Smith saw a natural opportunity to give back to the community in which the church had previously been located, and to extend the vision of the church to not just be a church in a community but "really be a part of it."
"We have missionary in our middle name [the church is affiliated with The Christian and Missionary Alliance], so we do pretty well in sending people all over the world," Smith says. "But what about this local community of people? And how do we help churches in those underserved communities find hope and walk alongside them?"
Fairhaven didn't just give this idea lip service. The church gathered pastors together and asked what the biggest challenge was in addressing problems in the community. This informed how Fairhaven would do ministry—and it also built relationships. Church leaders learned how to make the community stronger, how to strengthen other churches and how to address issues of poverty and racial polarization.
Steve Hutmacher, executive pastor at CedarCreek Church in Perrysburg, Ohio (No. 56 Largest), said it this way: "Obviously, one church cannot reach the entire world, so we believe in multiplying churches. We have five locations, soon to be six. But we really believe that to achieve our mission of reaching the world, we need to partner with and help equip other churches to do the same thing."
Remembering the Starting Point
Red Rocks Church in Littleton, Colorado (No. 4 Fastest-Growing; No. 26 Largest), once had about 50 people attending. Offerings were only at $200 to $300 a week, when a missionary in Africa asked if the church would buy him a van.
The leadership asked the congregation that weekend to do something crazy: collectively give $10,000 for the van. And they did. Lead Pastor Shawn Johnson said, "I didn't know whether to be happy or mad that our church could actually give that much [but hadn't been]."
Later that week, Red Rocks' commitment to buy the van was challenged. First, they didn't have the money to pay their $2,500 rent. Second, the fire marshal inspected a renovation to their small meeting place and demanded the stage be replaced with fire-retardant wood at a cost of $6,000. They literally could not meet again without this repair.
The five church directors knew the missionary in Africa would understand if they couldn't follow through on the commitment, but one of them asked, "Didn't we say that is who we are?" They agreed. "Let's do what we felt like God called us to do, and let's let God take care of that stuff."
They sent the money to the missionary, knowing they would need to contact the congregation to say they were shutting down. But a pastor whom they hadn't talked to in years called the next morning and said, "I was praying this morning and God told me to send you some money. Do you guys need money?"
The pastor sent the amount they needed, almost to the penny. Red Rocks paid the rent and fixed the stage, and the church met the next weekend. They continue to meet today, and they continue to show the same generosity.
Other churches remember what it was like to struggle and not have anyone offer help. Whipple recalls BridgePoint's experience as a church plant. "We were a 'beggar' church looking for people who would invest in us and invest in the vision and mission that we felt called to do here in St. Petersburg," he says. "And the truth was that not many churches were willing to make that investment. We got a lot of 'we'll pray for you' quotes. We got a lot of pats on the back. But we didn't get a lot of support."
In fact, one church even told them they could identify with where BridgePoint was, because 10 or 15 years prior, they had been there. But they still didn't help. Whipple told someone after that meeting, "If God blesses us and we have an opportunity, we will never do that. If somebody comes to us with a vision and mission and purpose and wants to reach people for Christ, we're going to come alongside and support in whatever way we can."
Developing Two-Way Partnerships
Helping other churches can take many forms. Fairhaven Church has replaced a heating, ventilation and air conditioning unit for a church that was stuck in the heat as it hosted community events, led a prisoner re-entry program and hosted high school students. They have helped a church with its electric bills, supported block parties, and purchased backpacks for another church to fill and give to students in their underserved community.