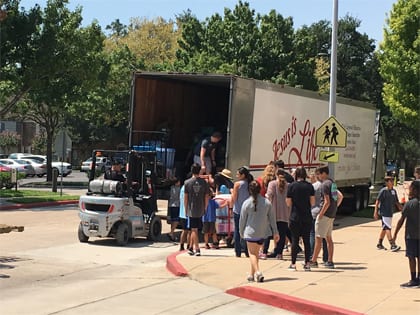 Houston's First Baptist Church offers physical and spiritual aid in the wake of the historic natural disaster.
Outreach Inc., this magazine's parent company, is offering a FREE 3-by-8-foot banner to churches in the Houston area that are participating in Hurricane Harvey disaster-relief efforts. For more information, go here.
In the wake of Hurricane Harvey, churches across Houston are playing an integral role in the relief efforts—including Houston's First Baptist Church.
"When the waters recede, the love will rise," says Gregg Matte, senior pastor of Houston's First, a congregation of more than 7,000 weekly attendees with five locations in the Houston area. "There are tens of thousands of homes that need help. We're seeing great loss, and that has created great trauma."
Matte says the aftermath of one of the nation's largest natural disasters is as bad as it looks on the news, and it's hard to comprehend from the outside.
"Houston has been totally rocked," he says. "We have hundreds of church members whose houses are flooded. We have staff members who've had to be rescued by boat." Matte's own son, Greyson, was part of a boat rescue. "It's just surreal," Matte says. "My executive pastor is my right-hand guy, and I really depend on him—and my 15 year-old-son was part of rescuing him."
As the record-setting rains coved the region, evacuations occurred in all parts of the city. Members of Houston's First (an Outreach 100 church—No. 64 Largest) came together and opened their homes and their hearts. As scenes of boat rescues and open doors played out all over Houston, church members were right there in the mix.
According to Matte, one church member had no idea where he was going to take his family. "I said, 'Get over to my house right now,'" Matte says. "He pulled in at 1 o'clock in the morning with everything he owns in his car, along with his wife and mother-in-law and three of the cutest little kids, all under 9."
Matte mentions another rescue effort involving John Bisagno, pastor emeritus and former senior pastor of Houston's First. Bisagno and his wife, Uldine—who is going through cancer treatment—are both in their 80s. The church received a call and learned that "Brother John" and Uldine needed to be rescued. They got in touch with a young man, Truett, who had already participated in more than 100 rescues, to assist the Bisagnos.
"It broke my heart to see a picture of them, sopping wet in a boat, after pastoring our church for 35 years," Matte says. "We've got them in a house now with a deacon, and they're safe."
Houston's First has five campuses across the region, and all were spared from the floods. "That has been a blessing from the Lord, because now our campuses are becoming strategic ministry centers to launch the relief efforts," Matte says.
One campus is still under an evacuation order, but when that has lifted, it, too, will become a place to give and receive supplies. All five of the campuses are going to serve as housing spots for relief workers.
"We have our first team of 50 coming in from the Southern Baptist (Convention)'s North American Mission Board to our Loop campus," Matte says. "Thirty counselors from the Billy Graham Evangelistic Association are coming to our downtown campus. Samaritan's Purse is coming to our Cypress campus and parking their trucks there."
In addition to offering physical aid, the church is using this opportunity to share the gospel. "We want every box to go out with Clorox and a Bible," Matte says, laughing. He's been going on Facebook Live every day to speak to his church family and to help them identify and meet needs. He's encouraging them to become the "pastor of their own street."
This Sunday, members are invited to bring tote bags to collect and take home supplies that will be available at the church. Matte says that if the members don't need the supplies, they are encouraged to hand them out to someone who does. They want to be a blessing to the entire city.
From a leadership standpoint, Matte says he is stressed out—but he has seen God come through in so many ways. He says God has inspired him to temporarily reassemble the church's leadership structure.
"I was getting into bed, and it hit me that we cannot just do this from the mission arm of our staff alone," Matte says. "I made the decision that we are going to reassign every one of our staff members for the month of September. Every staff member is on disaster relief. We no longer have a youth minister. We have a disaster-relief ministry that involves our youth."
This means that every staff member has the ability to make decisions in their area. It also means that certain responsibilities have to be streamlined, "I don't want to see anybody with a clipboard trying to figure out how many bottles of Clorox we have," Matte says. "Just get in and get it out."
While the church had disaster-relief plans in place before Hurricane Harvey hit, Matte says the enormity of the situation has forced them to alter their strategy. "In all honesty, Harvey was so big [our former plans] didn't really help us," Matte says. "This is just bigger than we could have ever imagined."
Another outcome he never imagined was how well the church would naturally come together. He says that many small groups have reached out to each other without being prompted. "They are not waiting for us organizationally to tell them where to go," he says. "They are ministering to one another, and that's been a great thing."
Matte says that the people of his church "serve well and suffer well." He mentions one deacon who ended up in a shelter. The church found an open home for the man and his wife, but when Matte called him, "He said, 'No, don't come get me. The [opportunity for] ministry is too good in the shelter. I don't want to leave,'" Matte says.
How can churches outside the affected areas help?
"Prayer, obviously, is No. 1," Matte says. "No. 2 is making a gift financially to any church in the Houston area. That would be great." Matte says they are working with churches from all denominational and ethnic spectrums. "We've got a bunch of great friends from a lot of different theological lanes and places," he says. According to Matte, just about every church in the area is participating in some kind of effort, and every church's resources are stretched thin.
Finally, Matte says that the city is going to require plenty of support for the long haul. Supplies have been rolling in, but now they are in a new phase. The support they need at this moment is supplies found in a hardware store: items like tools, cleaning supplies, lumber and paint.
The biggest resource the victims of Harvey are going to need, however, is people. "As you start planning mission trips, keep thinking of us," Matte says.
You can learn about all the specific needs and even sign up to serve at HoustonsFirst.org/lovefirst, or download the church's smartphone app. Check out Matte's Facebook Live updates at Facebook.com/HoustonsFirst.
In addition to churches like Houston's First, there are several worthy organizations you can partner with to assist in the Hurricane Harvey relief efforts. Here are a few of them:
Jeff Chaves is a freelance writer and pastor. He has been married to Peggy for more than 32 years, and they have four children. He is the pastor of Northpointe Community Church in Las Vegas, Nevada.