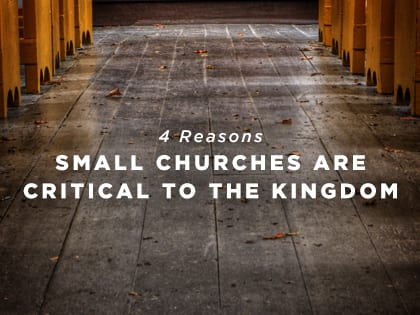 "God used small churches to launch Christendom throughout the entire world and is still using them today."
At Outreach magazine, we are encouraged and spurred on by the growth and outreach of churches. We research large churches and even do a special issue on the 100 fastest-growing churches in America. We believe that it's important and valuable to analyze church-growth metrics.
However, we would be remiss if we ignored the largest majority of churches in America: small churches. We want to emphasize—with research—the value, importance and promise that small churches hold in God's work in the world.
1. Small churches are the norm.
When we talk about small churches and small-church issues, we are actually talking about the average church, which, in the English-speaking, Western world, has fewer than 100 congregants. To love and care for the church as a whole means we must bear this fact in mind. This doesn't necessarily mean that most people in the U.S. attend these churches, but rather most churches in the U.S. fall in the under-100 category.
If we want to talk about the broader church in the West, small churches need to be represented in the conversation because they are the norm.
2. Small churches are fruitful churches.
It may seem counterintuitive, but a consistently small church can be a thriving, outreach-focused church. At different times, places and seasons in a church's life, it is appropriate and healthy to be small. In fact, many churches will remain small forever and still continue to be faithful and fruitful. Reasons for a lack of numerical growth in the midst of a healthy environment can include geography, community dynamics and even socioeconomic or political shifts that can be completely out of the control of a local community.
For instance, churches around military bases can fluctuate drastically in attendance, based on geopolitical climates, permanent changes of station and even city councils that may support or reject a military presence in their city. So a military church can experience drastic swings in numbers yet still remain faithful to God's mission and fruitful in the community.
3. Small churches are faithful churches.
Regardless of who is on the platform at church conferences, small churches really do have a significant impact on God's work in the world. What we have to consider in measuring success for churches as a whole is faithfulness in life and ministry. If that is the case, then we have to value the fidelity of small churches.
This is one reason why we are doing a small-church research project: We want to help churches be more evangelistically effective. My hope is that small churches and small-church pastors would not look at big churches and their leaders with awe or envy, but be thankful for their own unique and valuable mission that Jesus sends them on in a small-church environment.
4. Small churches matter in God's mission.
When we look in the New Testament, the churches are—without exception—small. When the book of Acts talks about numbers like 5,000 here or 4,000 there, they weren't considered churches—they were crowds of new converts who ended up in house churches.
Churches were considered "churches" when they met in small groups in homes and held each other accountable through the deep, abiding, interpersonal relationships that only a smaller community could provide. God used small churches to launch Christendom throughout the entire world and is still using them today. Some people long for a smaller church because, in a sense, it feels like coming back home. And maybe they are right. We have a lot to learn about the simplicity and sustainability of less-complex structures, and we see statistically that God is still using small churches to accomplish a big role in his mission.
Small is beautiful, because small churches have value and worth in God's kingdom. They can be good, faithful and fruitful and still have relevance in our context today. We want to value the small church today, tomorrow and into the future.
Ed Stetzer holds the Billy Graham distinguished chair of church, mission and evangelism at Wheaton College and the Wheaton Grad School, where he also oversees the Billy Graham Center for Evangelism.