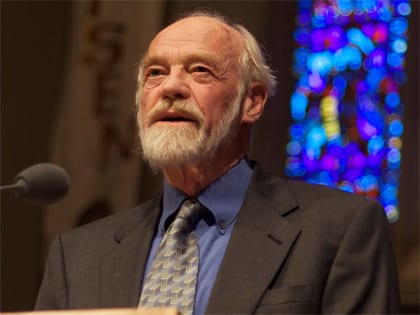 The author of "The Message" Bible shares his views on a number of significant issues in a three-part interview.
Update: Since his interview with Religion News Service was published, Eugene Peterson has released a revised statement clarifying his views on homosexuality and same-sex marriage. Read his statement here.
In addition, be sure to read interview Jonathan Merritt's response to Peterson's revised statement.
In a three-part interview with Jonathan Merritt of Religion News Service, Eugene Peterson—retired pastor, translator of The Message Bible, author of more than 30 books and professor emeritus of spiritual theology at Regent College in British Columbia, Canada—expressed his thoughts on a number of significant topics, including whether he fears death, the state of the American church, the state of American politics and same-sex marriage.
"I think the thing that's most disturbing is the megachurch because megachurches are not churches," Peterson, 84, said regarding the American church. "My feeling is that when you're a pastor, you know the people's names. When 5,000 people come into the church, you don't know anybody's name. I don't think you can be a pastor with just a bunch of anonymous people out there.
"In the megachurch, well, there's no relationship with anybody. I think the nature of the church is relational. If you don't know these people that you're praying with and talking with and listening to, what do you have? I feel pretty strongly about that."
In the interview, Peterson, whose most recent book, As Kingfishers Catch Fire: A Conversation on the Ways of God Formed by the Words of God, also expressed his views on homosexuality and same-sex marriage.
"I wouldn't have said this 20 years ago, but now I know a lot of people who are gay and lesbian and they seem to have as good a spiritual life as I do," Peterson said. "I think that kind of debate about lesbians and gays might be over. People who disapprove of it, they'll probably just go to another church. So we're in a transition and I think it's a transition for the best, for the good. I don't think it's something that you can parade, but it's not a right or wrong thing as far as I'm concerned.
When asked whether he would perform a same-sex wedding ceremony if he were still pastoring, Peterson said, "Yes." (Note: Be sure to read Peterson's revised statement here.)
Follow the links below to read all three parts of the interview. What do you think about Peterson's comments? Share your thoughts below.