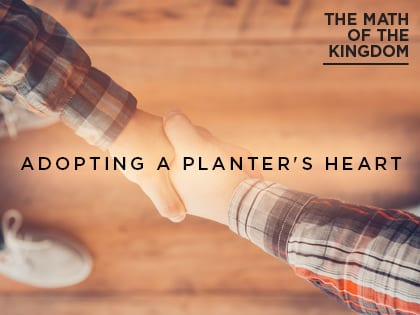 "It can be a huge encouragement for a planter to know that they have other church leaders in their corner."
If you aren't planting a church any time soon, is there anything you can glean from the church-planting movement that will help you transform your established church into an establishing church?
For a series we call The Math of the Kingdom, we reached out to several church-planting networks and posed this question to some of their seasoned, in-the-trenches planters. Their responses revealed six strategic themes that any pastor can implement in any context: know your community; be known by your community; pursue diversity; develop leadership; make disciples; and adopt a planter's heart.
No matter the age or size of the church you lead, it factors into the math of the kingdom. Explore these strategies, ideas and insights to see how they can contribute to multiplication in your church.
Principle No. 6: Adopting a Planter's Heart
MATT McGUE, One Church in Jackson, Mississippi: First, get to know a church planter in your city. They are typically hungry and will jump at the opportunity for you to buy them lunch. Genuinely get to know them and ask lots of questions to see if there might be any way your church can come alongside them. Your church might have unused resources that could be a great asset to a church plant.
Ask around if there might be a network of church planters in your region that you could get to know. Research church-planting organizations online or through your denomination. Make plans to attend the largest national church-planting conference called Exponential, which provides an East Coast and West Coast option.
Make strides to include and increase church planting in your annual budget. Adopt a national and international church plant to pray for and support in some tangible way in the next year, and keep them before your congregation. Create your own network of churches regionally that can begin to dream about planting a church together.
KEVIN STAMPER, Restoration Church in Trinity, Florida: Other pastors and churches have an enormous role within each church plant. No church is an island. We received financial support from all over the country from churches who do not have "planting" DNA, but have kingdom DNA. These churches have supported us simply by giving us their platform and about five minutes to share what God is doing. That is enough for people to feel a prompting to give and support our story from a distance.
Other pastors have been extraordinarily helpful in lending leadership capital toward our church. I have a management team made up of pastors from other churches who are willing to invest their wisdom and time to guide our leadership team and hold us accountable. We are incredibly grateful for these churches and their leaders who've made our church their priority, as well.
JOSEPH VELARDE, Riverbend Community Church in Allentown, Pennsylvania: Look for those who are planting in your area and make time to pray for and invest in those church planters. I would call or email them and take them out to lunch, your treat. They will be blown away that you are reaching out to them.
As you get to know these planters, see what they need and how your church could help. This could look like a lot of different things. You could let them use your building or printer, or purchase one-time items they need. And consider an ongoing partnership over time.
I would encourage you to mention them in your sermon and other communications. This will help them to see how you are living for King Jesus and his kingdom as a church.
DAVID PARKER, SummitLIFE in Sedona, Arizona: Begin injecting this statement into your church DNA: "We're more concerned with sending capacity than we are with seating capacity." In other words, who from your congregation can you be raising up to send to plant or send to join a church-planting adventure? This is a great measure to help answer the question: "Are we making disciples who make disciples?" Who have you sent? Who are you going to send?
WON KWAK, Maranatha Grace Church in Englewood Cliffs, New Jersey: If there's a church planter in your neighborhood, get to know him and befriend him. This will encourage him, and his wife and family will benefit (if he's married), as will his budding community of faith. Not only that, you may learn from this planter, and your church ministry may be challenged and even refined by this new work.
But let me play devil's advocate for a moment … let's say he planted the church without doing the right and respectful thing of reaching out to you prior to planting. Humbly reach out to him nonetheless, and remind him that you're his brother and seek to serve him. In our sinful lack of kingdom-mindedness, we pastors tend to lead church "turf wars" that do not please or honor God, and certainly do not provide a faithful witness to the onlooking world.
Lastly, get behind an actual church plant, a denomination and/or a church-planting network through prayer and financial resources.
JOSE ABELLA, Providence Road Church in Miami: Perhaps the easiest way to actively get involved in church planting is to identify a church planter in your city or region and consider coming alongside them with the goal of leading your church to adopt the church plant.
Additionally, you can investigate if your denomination or network is actively involved in church planting. If they are, chances are they have training and equipping for pastors and leaders who are interested in church planting. A good example of this is the North American Mission Board (NAMB) of the Southern Baptist Convention. NAMB's primary purpose is church planting. Any church that wants to get involved in church planting can catch the vision, be equipped and take advantage of all the resources available to them in order to become a sending or supporting church.
JUSTIN DAILEY, The Action Church in Winter Springs, Florida: Look into ARC (Association of Related Churches). This organization saved my life. I found an authentic relationship with Jesus at their first church plant, Church of the Highlands (Birmingham, Alabama). Years later, I was given an opportunity to develop my calling at Bayside Community Church (Bradenton, Florida), another ARC plant.
ARC has planted over 600 churches at a 93 percent success rate, and in my opinion is the best church-planting organization in America. If you have a passion to reach people, connect them to their purpose and change a city, then look no further than ARC. It's a relational and financial resource to the church planter and a great investment to anyone looking to expand the reach of the gospel.
RYAN McCAMMACK, Gospel Hope Church in Atlanta: First, you can make a personal investment in a church planter. Pray for them regularly. Take them to lunch. Offer them counsel and support. Like all ministry, church planting is challenging. It can be a huge encouragement for a planter to know that they have other church leaders in their corner.
Another way to be involved in church planting is leading your congregation to provide both prayer and financial support to a church plant. Not only is this a great way to help a new church get off the ground, it also greatly enhances the missionary mindset in your own congregation. I believe strategic partnerships between established churches and church plants are far from a one-way street, but rather a mutually beneficial, kingdom-building relationship.
Read more insight from church planters regarding The Math of the Kingdom »