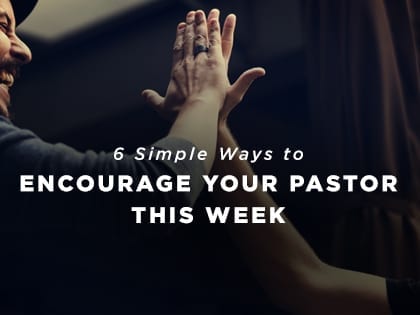 "One pastor said he wasn't sure anybody in his church really cared about him. I hope your pastor doesn't feel that way."
Being a pastor is a high calling, and pastors often face loneliness and discouragement. Surprisingly, some surveys reveal that up to 80 percent of pastors face regular discouragement in ministry.
If that statistic even remotely reflects reality, then your pastor probably needs your encouragement. Yet, it seems so rare. The influential writer Henry Nouwen even wrote these insightful words:
There is little praise and much criticism in the church today, and who can live for long in such a climate without slipping into some type of depression?
If your pastor needs encouragement, should you offer it to him or her, or should they just suck it up? If you do want to encourage them, what's the best way to do it? I suggest some practical ways here.
I'm convinced that we all need encouragement, even the strongest believer and most mature pastor. In fact, the apostle Paul admitted he needed it and often referred to those who refreshed his and other people's spirits. At times he even asked for it. A key person in the Bible, Barnabas, was known as the "Son of Encouragement."
Hebrews 13:17 speaks to this need and admonishes followers of Jesus to respond to their leaders in such a way as to make their work a joy. These translations bring out the meaning:
So don't make them sad as they do their work. Make them happy. (CEV)
Let them do this with joy and not with grief. (NASB)
Give them reason to do this joyfully and not with sorrow. (NLT)
Let them do all this with joy and not with groaning. (ESV)
In the research I did for my book 5 Ministry Killers and How to Defeat Them, I surveyed hundreds of pastors and asked them how people in their church encouraged them. These were the top six responses.
Show tangible appreciation, such as small gifts like a gift card to a coffee shop.
Let them know that they have spiritually influenced you life, such as sending an email to him or her about a recent message that helped you grow.
Pray for them, and send a note telling them that you prayed for them.

Accept and understood them, care for them and be there when they need you, such as communicating in a genuine way that you know how difficult it is to be a pastor and that you truly care.

Support their leadership, defend them from criticism and trust them, such as going out of your way to tell them that you truly believe in them and trust them.

Minister to their spouse and/or family, such as remembering his or her kids' birthdays.
The pastors who responded to this survey shared many touching stories—and sad ones, as well. One pastor even wrote that he wasn't sure anybody in his church really cared about him. I hope your pastor doesn't feel that way.
If you're a pastor, would sharing this statistic with your church in an appropriate way open the door for the encouragement you desperately need in your life right now?
If you aren't a pastor, what is God prompting you to do this week to encourage your pastor?
Charles Stone is the senior pastor of West Park Church in London, Ontario, Canada, the founder of StoneWell Ministries and the author of several books. This post was originally published on CharlesStone.com.