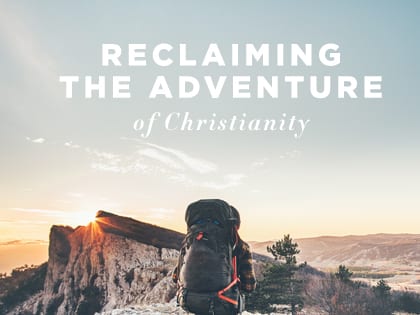 "As the church, we need to seek the adventure that comes with sharing the message of Jesus."
"Sorry! I don't want any adventures, thank you. Not today. Good morning! But please come to tea—any time you like! Why not tomorrow? Good bye!" —Bilbo Baggins, The Hobbit by J.R.R. Tolkien
The words of Tolkien's lovable Hobbit could very well be a reflection of the 21st Century church. Like many people, we want a faith that is safe and a church life that is comfortable. We would rather have people come visit than go to them. For many of us, we don't want any adventures.
Unfortunately, we are in a culture that is starved for adventure. You can see it in the types of movies, video games and even sports that people are attracted to. In fact, it may very well be the perceived lack of adventure and excitement that is making some turn away from—or even outright disregard—the church. It is time for the church become a bit more daring. It is time to reclaim what is right there in Scripture.
As we look at the New Testament, we see something different than modern-day, Western Christianity. Especially in the Book of Acts, we see some brave members of this new "way," who simply followed Jesus' command, "Go therefore and make disciples of all nations …" (Matt. 28:19). And off they went. We see that same intensity and dedication in the missionaries of old like Hudson Taylor or Brother Andrew, "God's Smuggler."
Fortunately, there are many people today who still see Jesus' Great Commission as a call to action and a call to adventure. We caught up with three intrepid Christians who have made adventure their ministry.
On the Frontline
Tim Keesee is the executive director of Frontline Missions International (FMI), a group whose mission statement is "advancing the gospel in the world's most difficult places."
Keesee says that the lack of adventure in the church is not just a 21st-century problem: "Every generation of Christians in every cultural context risks becoming passive, comfortable and quiet," he says, pointing to Jesus' words:
"If anyone would come after me, let him deny himself and take up his cross and follow me. For whoever would save his life will lose it, but whoever loses his life for my sake will find it." (Matt. 16:24-25)
"Jesus says if we try to have a safe, risk-free life, then we are going to lose it," Keesee says. "But if we give our lives fully to him, then we are going to find out what glory and purpose our lives were meant for—and who they were meant for. This kind of adventure is not driven by adrenaline but by the power of Christ's endless life working in us and through us."
For the last 20 years, Keesee has been working to bring reports from the mission field to churches, because he believes that the local church is critical in mobilizing members.
"Some of those people may go and live the adventure of gospel ministry in other lands," Keesee says, "but the adventure starts here, with all of its hard work and heartache that leads to the joy of seeing new life spring up out of hard ground—and the thrill of knowing that Jesus is with them."
Keesee also points to the events recorded in Acts as a great motivator: "Paul is indeed a great model for us," he says. "He understood that his salvation—and the life and ministry that flowed from that—had a purpose, not only in his time, but in our time, as well."
Keesee says that, like Paul, FMI's team has a similar drive to the share message of Jesus. "His endless life and unbroken grace working in us and through us and for us is what gives us the readiness to risk and the eagerness to act in the cause of the gospel," he says.
You can catch a glimpse of Keesee's adventures in the latest installment of the video series, The Fourth Man. This 10th episode features believers "from the megacities of Arabia to refugee camps near ISIS terror." You can also see Keesee in action in a DVD series called Dispatches from the Front. The videos follow missionaries in the field, from China to Africa. For more information, go to FrontlineMissions.info.
At the Top of the World
At the time of this writing, Alex Harris had just concluded a stunning adventure. He and his team climbed to the top of Mount Kilimanjaro—the highest mountain in Africa—and then rode bikes from the summit to the sea in just under 24 hours, to set a new record.
Harris has a resume that includes more than 20 expeditions, from climbing Mount Everest multiple times to reaching the South Pole unsupported, on foot. The latter adventure was turned into a Bible-study DVD series called Surrendered and Untamed.
Harris would call himself a "Christian explorer" and sees the lack of adventure in the church as a series issue.
"Christian men have become a shadow of what God intends us to be in the outdoors," Harris says. "We live in a far-too-protected world, and our culture does everything to minimize risk. However, risk is in our DNA, and we serve a God who is all about risk."
Harris says he thinks that parents need to be a bit less protective of their children.
"As parents, we need to carve out a 'safe' place for our kids, but expose them to the natural hazards, and thus, learn dependence on God," he says, adding that we need to expose children to different heroes: "The role models of youngsters should be explorers who are living in an untamed world, not the highly-paid sports stars who typically bend to convention and worldly pleasures."
A native of South Africa, Harris also believes that churches need to broaden the scope of men's ministries to do more challenging things.
"The church is big on men's weekends and adventure camps, but they never venture farther than the local hills," Harris says. "The church should be pioneering climbing and caving expeditions, and taking the gospel to really remote places as part of an adventurous calling. Deserts, arctic regions, mountains, seas—every natural system has been made by God for our pleasure. These should be the playgrounds of Christian men."
Harris' risk-taking has led him to some amazing destinations, but the adventures have also led to many open doors for public speaking. He is often asked to recount his experiences, which allows him to share his testimony. You can follow him on Facebook or at XploreThisWorld.com.
A Rugged Faith
Jack Ward agrees that men's ministries should include more adventure. Ward is the founder of Rugged Faith Ministries, an outdoor-adventure ministry based in Northwest Arkansas. He's written a book called Adventure with a Purpose, which weaves biblical principles in with his trek along the Jesus Trail in Israel, a 40-mile path from Nazareth to Capernaum. The book also challenges us to "seek out regular times of adventure."
Ward says that a call to adventure is exactly what is needed in the church today.
"Many in the church see men's aggressive nature, type-A personality, entrepreneurial spirit as something to be feared," Ward says. "In reality, the church needs the 'divine restlessness' found in men's DNA in order to grow, expand and thrive."
He points out that church planters, missionaries and evangelists especially need this risk-taking call.
"Adventurous Christians are sensitive to act when God nudges them and places divine appointments in their paths," he says. "Risking rejection and ridicule, they aren't afraid to share the gospel."
Quoting Charles Spurgeon, Ward says, "The wilderness was the Oxford and Cambridge for God's students." Rugged Faith Ministries leads adventures like backpacking treks though the Ozark Mountains, ATV trips along the Lewis and Clark National Historic Trail, or their annual 10-day hike along the Jesus Trail.
"We have seen God do some amazing things in the lives of men as they spend time in the great outdoors," Ward says, adding that adventure can reach people in unique ways: "The outdoors is a powerful tool for reaching lost men and for equipping the saints. When we ignore creation as a tool of evangelism, we risk missing those men who might not attend a traditional church."
Learn more about the organization at RuggedFaith.net.
Let the Adventure Begin
So, what's stopping us? Are we holding back for reasons of comfort? Or maybe the bigger question is, Who are we stopping ourselves from reaching?
If we are really about fulfilling the Great Commission, it's time to stop seeking the comfort of our familiar surroundings. It's time to stop hiding in our Hobbit hole. We need to seek the adventure that comes with sharing the message of Jesus. It may be found among a tribe on the slopes of the Himalayas, an igloo in the Arctic—or it may be as close as our own neighborhoods.
Come on, church. Let's go!
Jeff Chaves is a freelance writer and pastor. He has been married to Peggy for more than 32 years, and they have four children. He is the pastor of Northpointe Community Church in Las Vegas, Nevada.