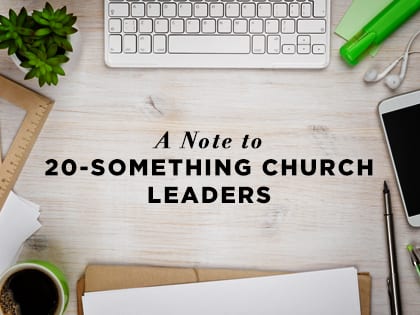 "Working in a church setting will always involve leading alongside others who are not like you."
If churches are to grow and develop in the next 100 years, we will need to raise up younger leaders. If you are a 20-something, perhaps you aspire to, or are on a trajectory toward, church leadership. As someone who has had to grow into a position of senior leadership, I want to share a few thoughts with you in the hopes that you will walk this path carefully—always in step with the Holy Spirit and the way that God has wired you.
But first, here is an important observation about how older leaders see you. Often, many older leaders lack faith in the ability of younger leaders to last for the long haul. Let me be honest and say sometimes their fears are justifiable. As a younger leader, you will need to demonstrate godliness, faith and commitment through your ministry involvement.
But the future of our churches depends on the transmission of our faith from one generation to the next. It's true that leadership can be a gift of the Lord, regardless of age, but I also firmly believe that it is something that can be developed in every person's life if he or she is intentional and committed to the process.
Although people from all generations may agree that we need younger leaders in our ministry settings, having a younger leader like you doesn't guarantee success in ministry. Age and leadership limitations can be barriers to church growth at any stage, and that needs to be acknowledged and dealt with for the glory of God and the good of the church.
The primary question is: How do you develop yourself to be the kind of leader who is honoring to God and uplifting to the church, regardless of age, culture or background? Let me share some thoughts I have on younger leadership, and what is most important for all of us to grow into the fullness of what God has designed for the church today and into the future.
Patterns to Follow
First, the Bible doesn't exclude young leaders from participating and from leading; however, the Bible does establish parameters and sets a direction for leaders to follow. Young leaders often fail because of a lack of humility and respect that is commanded in Scripture. Additionally, the Bible acknowledges that anyone can lead, but only those who abide in God will endure in leadership. Churches need to risk developing 20-something leaders for the future of the church. We are called to challenge you to a higher standard of godliness, excellence and mission that is modeled through authenticity and personal interaction.
Intentional Development
Second, leadership requires constant learning and flexibility. Leadership comes naturally for some people. One of my close pastor-friends is a naturally gifted leader. This was evident from a young age, and he learned and applied himself in his context.
I'm not this way. Leadership didn't come naturally for me, so I had to dig in to leadership literature to gain insights that may come naturally to others who are gifted.
There's a temptation among younger leaders to believe that you're gifted (or that you're God's gift to the church). There's a lot of arrogance that can come with youth. The damage that comes from younger leaders who are neither gifted nor willing to learn can sometimes be irreversible. Our churches are filled with potential young leaders: Some are gifted but need to apply their minds to learning, and others have knowledge but need to apply themselves to ministry to gain experience and wisdom.
Staying at It
Third, finding your voice in the choir of leadership is essential for growth and longevity in ministry. As a young leader, I had to find the leadership style that worked with my God-given personality, gifts and skillset.
Former U.S. President Harry S. Truman once said that leadership is getting people to do what you want, in the way you want to do it, when you want to do it—with them thinking it was their idea. Since I'm not gifted in this way, I had to work hard by allowing processes and conversations to shape my gift of persuasion and leadership.
Your growth as a young leader requires being completely honest about who you are and who you aren't. Don't pretend to be something that you aren't, and don't think that your personal traits or the way you're wired will automatically adapt when you are given leadership responsibility.
Thriving in Diversity
Finally, working in a church setting will always involve leading alongside others who are not like you. Churches should always be intergenerational and intercultural, and in areas where the community is mostly homogeneous, still strive for diversity. If you're going to survive and thrive in a church setting where there are older people, you are going to need to become versatile, humble, focused and self-motivated.
You need to learn to love all people and appreciate their gifts and overall contribution to the ministry of the church. If you're called to lead people who are older than you, you will need to learn to lead differently. You will need to help people discover what God is calling them to, help them grow with you and support your ministry endeavors.
No congregation is looking for a 25-year-old to tell them what to do. You must take a different approach of learning to lead. Spend time talking about consensus leadership and servant leadership, and model a way for people to follow this. And never forget that this was the approach Jesus chose, as well.
Leadership is never an easy task, especially in environments where your age can become your greatest barrier. If we are to lead beyond our years and leave a legacy beyond our experience and ability, we need to heed the advice of Paul to Timothy, of Jesus to his disciples and of the Holy Spirit to the church.
I leave you with these questions that are critical for you to ask yourselves as you develop as leaders:
What authentic relationships do you have with leaders who are at least one generation ahead of you?
What is your growth plan as a leader?
What are your strengths and weaknesses, and how can you work with these toward attaining the purposes of God?
Ed Stetzer holds the Billy Graham distinguished chair of church, mission and evangelism at Wheaton College and the Wheaton Grad School, where he also oversees the Billy Graham Center for Evangelism.