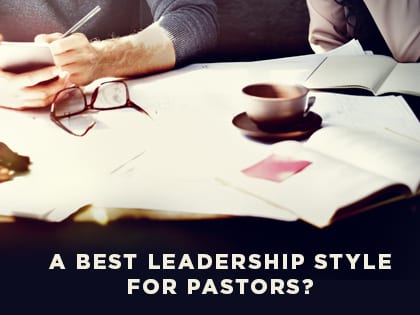 William Vanderbloemen: "Nobody is a perfect leader, but there is one thing that all successful pastors have in common."
When you work with as many pastors and churches as we do at the Vanderbloemen Search Group, you quickly learn that there is a vast array of leadership styles represented in the church. I often get questions from pastors who want to know what type of leadership is best. Unfortunately for all of us, there's not an exact answer. It's difficult to discern which type or style of leadership is right for your church and your team.
While we can all take comfort from the fact that nobody is a perfect leader, there is one thing that all successful pastors have in common: Simply put, they lead with authenticity. They lead with genuineness from their strengths and vision. It all comes down to you and your team doing the best you can with the strengths and weaknesses you have.
The type of leader you are and the vision you strive toward depend on your church's mission and the type of staff culture you're trying to create. It's not an exact science. The important thing is that that everyone on your staff is working toward the same ending point and is unified in culture and vision.
If you lead authentically, your team will follow. And what all pastors need to realize is this: Authenticity can only happen when self-awareness comes first.
Related: The one common factor of effective church leaders »
As I've interviewed thousands of candidates, I've come to discover that most people have a serious lack of self-awareness. People don't like looking at themselves in the mirror and being honest. When you see it, it's a rare gift—especially in a leader.
Take an honest look at yourself and what you want for your church. On our team, we decided early on what type of staff culture we wanted. To that end, we created nine core values for our team, and we regularly emphasize them. We utilize a personality assessment tool that adds to our culture of collaboration and effective communication, where everyone is in a role that complements their natural strengths. Making these decisions early on in our organization has shaped the hires we've made and helped determine the style of leadership we use.
These same decisions need to be made for your church. Do you want your church to be community focused? Missions focused? Is there a niche ministry you feel God specifically calling you to? What kind of church staff culture do you want? What are your vision and your values? Be honest about yourself as a leader and your church. Hire based on the answers to these questions. Develop team members to empower them to achieve the vision. It all starts with the self-awareness to figure out where your church is, where God is moving it and how God can use your authentic strengths to lead the church along the way.
No one can force you to be self-aware and honest, and many leaders stick their heads in the ground and make decisions without feedback. As a church leader, it's your responsibility to strive for self-awareness and to figure out the status of your team culture. Your own willingness to honestly self-evaluate is often the only way to build your team effectively and unleash their potential.
My answer when asked which leadership style is best for pastors: Be honest. Don't try to be someone you're not. If your team knows you're authentic and knows where they're going, they will follow.
William Vanderbloemen is the president and CEO of The Vanderbloemen Search Group.