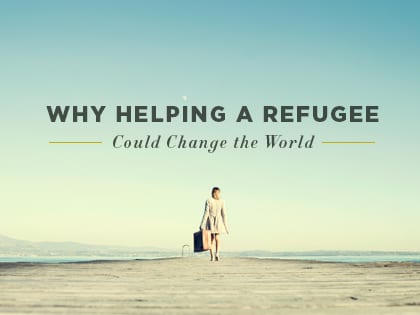 Rich Stearns: "This is why the local church matters. Politicians see problems; we see people, created in the image of God."
It's real-time news from the Mediterranean: Desperate families crowded into flimsy boats, daring an escape across an angry sea. Oppression and violence is behind them; the possibility of a new life is ahead—if they make it.
Your church is probably praying about the global refugee crisis and considering how to respond. Perhaps you're hindered by how complicated and politicized the issues facing refugees are, or you're overwhelmed by the enormous scope of the crisis—65.3 million people worldwide.
But what if you knew that the refugee you helped would go on to do great things and bless others? I'd like to challenge you with the power of one person's story, one example of the body of Christ doing what it does best, loving and welcoming the stranger—in this case, a child the world didn't care about—with remarkable results.
This story starts with a scene just like we see in the news today: tens of thousands of people fleeing their homeland. In the late 1970s, desperate families fled the communist takeover of Vietnam. Many took their chances on the South China Sea, seeking safe harbor in another country. Just like today, they were unwanted, unwelcome and unloved.
Related: The refugee crisis is a leadership moment for America's pastors »
In July 1979, a 3-year-old boy named Vinh Chung was one of them. Along with his parents and eight siblings, Vinh was aboard a leaking boat overloaded with 93 passengers. Vinh's once-wealthy family had lost everything to the communists, and they fled because they feared further persecution for their Chinese ancestry.
You can read about their dramatic journey in Vinh's compelling book, Where the Wind Leads: A Refugee Family's Miraculous Story of Loss, Rescue, and Redemption, but here's the gist. The family survived all the dangers of the high seas: pirates, rough waters, searing heat and thirst. They reached Malaysia only to be cruelly turned away. Finally they were relegated to a derelict fishing vessel and set adrift—left to die. Vinh's parents and others began to consider drowning as a kinder death for their children than slow dehydration.
Then, one afternoon, God's mercy ship appeared on the horizon. It's no exaggeration to describe the 1,000-ton freighter called Seasweep that way. When the ship left the dock a few days earlier, the crew listed its destination in spiritual rather than geographic terms: "Sailing for God's greater glory." It carried food, water, medical staff and pharmaceuticals—and Vietnamese-language Bibles for those who were interested. This was a rescue mission in every sense.
My predecessor, World Vision President Stan Mooneyham, launched Operation Seasweep in 1978, when the plight of the "boat people" was in all the newspapers and TV broadcasts. Here's a key point: He was prompted to act by a pastor. Dr. E.V. Hill of Mt. Zion Missionary Baptist Church pushed one of those articles under Stan's nose and said, "What are you going to do about it?"
"I couldn't get [the refugees] out of my heart," Stan later wrote. "'Why me?' became 'Why not me?'"
Stan shrugged off considerable criticism to initiate Operation Seasweep. But once under way, Christian donors sustained it. A Michigan woman contributed her cultured pearl necklace and bracelet to the cause. A Virginia farmers' association donated the proceeds and labor costs of several days of tomato-picking, an effort dubbed "Operation Tomatosweep."
Prompted by a pastor and powered by Christian generosity—that was the ship that rescued Vinh and his family 37 years ago this month.
Seasweep's crew cared for the passengers' immediate needs and transferred them safely to a Singapore refugee camp. And then another caring group of Christians stepped up.
Our Redeemer Lutheran Church, a small church in Fort Smith, Arkansas, sponsored Vinh and his family to come to America. The congregation provided a place to live and basic supplies for their new life. Vinh's hardworking father took it from there, working in a factory and opening a restaurant, and putting all of his kids through school.
In time the family joined Grand Avenue Baptist Church in Fort Smith, which held Vietnamese services, and they all committed their lives to Christ. The decision grew out of their refugee experiences, including Vinh's father learning about Jesus from Stan Mooneyham.
Today, it's impossible to miss the point that Vinh was saved for a purpose. He excelled in school, went to Harvard, and became a life-saving skin cancer surgeon in Colorado Springs, Colorado. He and his wife, Leisle, have four children, including a boy they adopted. Vinh serves on World Vision U.S.' board, and he and Leisle give generously to World Vision, with a special concern for programs protecting children at risk, just as Vinh once was.
Vinh sees parallels between today's refugee crisis and his own history—the fearfulness, the political tensions. But he urges Christians to see beyond their fear.
He explained to Leith Anderson on a recent NAE podcast, "For my family, we weren't rescued by a political leader, we weren't rescued by someone in a position of power to fix all the political problems, but instead, my family was rescued because there was a small group of Christians who acted when they saw suffering in this world."
This is why the local church matters. Politicians see problems; we see people, created in the image of God. We see people with God-given potential to become a teacher, a doctor like Vinh, a leader like Nelson Mandela, or a peacemaker like Martin Luther King Jr.
We can't know the long-term results of helping those fleeing war in the Middle East or Africa today. But Vinh Chung's story gives us hope in what God is doing through us when we reach out with love for a refugee.
Here are six ways you can show Christ's love to refugees today:
1. Pray for refugees and encourage your congregation to do the same.
2. Hold a Refugee Sunday at your church to help your congregation better understand the crisis.
3. Connect your congregation to communities like We Welcome Refugees.
4. Encourage your congregation to ask our national leaders to lead with compassion for refugees
5. Encourage your church member to become "Refugee Responders" and provide care for refugees around the world.
6. Encourage your church members to hold fundraisers of their own for refugee care.
Richard Stearns (@richstearns) is the president of World Vision U.S. and the author of four books, including The Hole in Our Gospel and Unfinished.