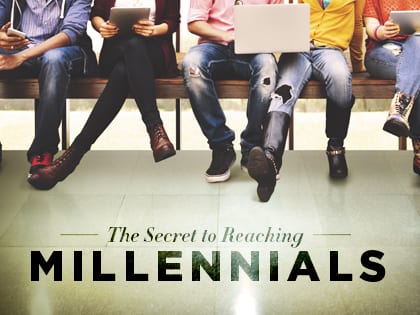 William Vanderbloemen: "You can either connect with millennials quickly and constantly, or risk losing them."
Several years ago, a light bulb went off for me while I was at a Willow Creek conference. I had been pastoring and doing fine—but then Bill Hybels preached about a bigger vision. It lit me up. Over the years, I've gleaned valuable wisdom from him on more than one occasion:
"Always be the leader of the cause."
"If you're in trouble, you have to preach your way out of it."
"Always link the cause to your weekend messages."
So as you can guess, I've been a big believer in preaching about the cause.
More than ever, it's important to preach cause and vision. Why? Millennials are the largest sector of the U.S. workforce today, and they are driven by cause. Whether they are on your staff or in your congregation, you have two options when reaching millennials—you can either connect with them quickly and constantly, or risk losing them.
Harsh? Maybe. But that's the reality, and it can ultimately influence how well your church lives out the calling God has for it. Churches need to start embracing this reality and find the key to connecting with this young generation.
What's the secret to making that connection?
Cause and vision.
A Deloitte study conducted in 2014 found that for 6 in 10 millennials, a "sense of purpose" is part of the reason they choose whether or not to work for their current employers. They want to know the how and why behind the jobs they give themselves to. The same goes for churches. You can have the best facilities, staff, programs and opportunities in the world, but if you don't have clarity and excitement in your vision, it'll be wasted on cause-hungry, young people.
I've seen this played out at Vanderbloemen Search Group, as 63 percent of our team is part of the millennial generation. They are some of the hardest-working friends I've ever been around. They've taught me more lessons than I can count, but the biggest one might be that millennials want to make a profit, but they want to make a difference while doing it.
This passion to make a difference is no different for churches.
The issue isn't that millennials don't want church, nor is it that they care less than other generations about seeing the kingdom expand and advance. They simply want to know the cause behind the vision—why is it that we do what we do? When the book of Proverbs says, "Where there is no vision, people perish," it's affirming that vision and cause are synonymous. If your church isn't seeing the commitment to the kingdom that ought to be there, it's time to start infusing vision and cause into the DNA of your congregation.
Knowing the cause or the "why" behind the dream will always lead people toward action, especially millennials.
Read more from William Vanderbloemen »
William Vanderbloemen is president and CEO of The Vanderbloemen Search Group, and is the co-author (with Warren Bird) of Next: Pastoral Succession That Works. For more information: Vanderbloemen.com