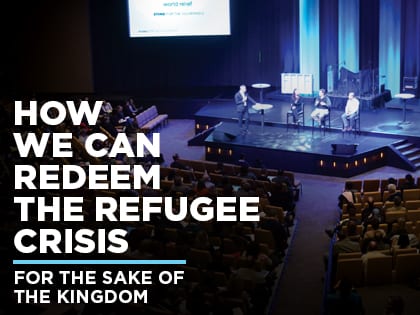 "It would be tragic to miss this opportunity to see God's kingdom expand among people who might otherwise never consider Christ."
[God] executes justice for the fatherless and the widow, and loves the foreigner, giving him food and clothing. You also must love the foreigner, since you were foreigners in the land of Egypt. (Deut. 10:18-19)
In early September 2015, the world watched in horror as the body of a young Kurdish boy named Alan Kurdi washed up on the shore of a Turkish beach. He was fleeing war in Syria with his family and the raft they were trying to escape on broke apart and he died, along with his brother and mother. For a moment, the concern of the world was directed toward refugees. That concern, however, quickly turned to fear in light of the terrorist attacks in Paris.
In all of this the church has struggled to know how to respond. Concern, fear, uncertainty and a lack of know-how have clouded our ability to move and have left us paralyzed and unsure how to proceed. This is why we held the GC2 Refugee Summit on Jan. 20. We wanted to highlight the great needs of this crisis—as well as the groups working with refugees—to help catalyze churches to show and share the love of Jesus to refugees around the globe.
This is likely the second largest refugee crisis in history. According to the United Nations High Commissioner for Refugees, there are 59.5 million forcibly displaced persons worldwide. This includes 19.5 million refugees and 38.2 million internally displaced people. A full half of those who have been displaced are children. The scope is simply too big for us to ignore.
God has historically used migration as a means of advancing his gospel around the world. Tom Houston said it well: "God controls these movements. The Bible is full of examples, from Genesis to Revelation, of God using them for his purposes." It would be tragic if we, as Christians, missed this divine opportunity to see God's kingdom expand among people who might otherwise never consider Christ.
It is encouraging that we already have evidence of how God is uniquely using contemporary migration in North America to build for himself a coalition of disciples. According to Dr. Timothy Tennent, "Eighty-six percent of the immigrant population in North America is likely to be either Christian or become Christian. That's far above the national average. The immigrant population actually presents the greatest hope for Christian renewal in North America."
It's important to acknowledge that Tennent is speaking here of Christians in the broadest sense, including Protestants, Catholics, Orthodox, etc. His point, however, is significant in that it indicates that God is working among those who are migrating to North America.
For the sake of the gospel, the Great Commission and our identity in Christ, let's hope that this is a key historical moment that God will use to see his kingdom expanded in ways we could otherwise only dream about.
Micah Fries is vice president of LifeWay Research and pastor of teaching and mission at Fairview Church in Lebanon, Tennessee.