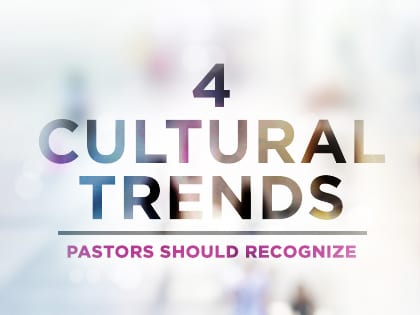 Ed Stetzer: "God is calling us to help people move from an attractional mentality to an incarnational one."
An author friend of mine claims our modern church methodology can reach only 30 percent of people in the West. Further, he says we have already reached those 30 percent and that we need to explore other ways to reach the 70 percent who would not attend a church gathering.
Re-read that last sentence and let it marinate for a moment.
There is no research to validate that claim (and I told him that). However, the percentages have gained some traction among pastors, who are now rethinking their evangelistic strategies and the role their church plays in reaching others.
That's probably a good thing.
And, I think he is on to something. I just don't like stats without evidence!
In reality, the most effective evangelistic methodology right now is probably people bringing their friends to a church gathering. But we should examine the current trends to see where the church and culture are headed.
1. People Are Still Receptive to the Church
A significant percentage of the population has genuine goodwill toward Christians and toward churches, and sees church attendance as admirable. We should seize the opportunity of that goodwill and unashamedly seek to reach people by utilizing what some call an attractional method, which is a "come and see" approach to reaching those outside of your church.
Most people who hear about the church I pastor either don't care, or they have positive feelings towards it. And, since I want to engage as many people as possible, I should invite them to church. I don't have to hide that we are a church. We should use this general receptivity as an opportunity to have evangelistic intentionality in our communities.
That's true in most places in the English-speaking Western world.
But, it's changing …
2. The Receptivity Trend Is Cooling
Over the next few decades, however, I think this general goodwill toward churches will dissipate. As that happens, we must adopt a more incarnational, go-and-tell type strategy to evangelize effectively.
The current trajectory, if I am right, ends with low goodwill towards the church. Thus, attractional ministries will become less effective, and incarnational ministries will be more necessary.
We don't need to overreact to this trend. The leak will be slow. Churches in the West, particularly in the United States and Ireland, but also in most of the English-speaking world, still enjoy favor from the culture.
While we are still experiencing some measure of good will, we should intentionally and unashamedly seek to reach as many people as we can. Goodwill should be viewed as capital we can reinvest in the people we encounter.
3. It Worked, and Still Works, but Will Work Less
Churches in the 1980s and 90s embraced the attractional model. It worked then. The growth of the mega-church movement makes it obvious. When something works—big events, on-campus conferences—people begin to rely on that strategy.
Now, as the culture becomes more negative toward the church, fewer people come because of those invites. So, such churches today can resemble bears fed by tourists to the point their foraging behavior is unnatural.
The church grew accustomed to new people coming for an attractional emphasis. As this culture is shifting, I don't think the church needs to abandon all attractional efforts; we aren't there yet.
But, as the trend shifts over the next decades, with fewer people open to on-campus events, discerning churches will become more strategic about doing evangelism though people who are living incarnationally in their workplaces, the kids' sports leagues, and elsewhere in their communities.
4. Churches Must Promote Good Will
So, is there place to even promote that goodwill?
There seems to be some mention of that in the scripture. Such actions won't evangelize the world, or overcome the stumbling block of the cross, but it can (and does) impact people's perceptions in a less-than-enthusiatic world.
For example, in John 13:34-35, Jesus explains:
"I give you a new command: Love one another. Just as I have loved you, you must also love one another. By this all people will know you are my disciples, if you have love for one another."
As it has been paraphrased, "They'll know we're Christians by our love."
"All people will know…" Indeed they will.
When people see a Christian as a loving and caring person, even though they may no longer see the church as a loving and caring organization, they can grow to view the church in a better light.
Another example is that our good works often lead to a better hearing. Acts of service in ministry can be a significant validator. I'm not talking about substituting "doing stuff" for proclaiming the gospel. I'm talking about ministry and message together—the "good works" written about more than a dozen times in the epistles. For example, Titus writes as if looking directly at our time:
"Those who have believed in God might be careful to devote themselves to good works. These are good and profitable for everyone."
The church is involved in good deeds because we are joining Jesus in his mission. And, in that moment, people can see our "good deeds and give glory" to God (Matthew 5:6).
Trends don't become cemented over night, but pastors and church leaders should be aware of them so they can respond appropriately and accordingly when the time comes.
As the culture shifts, God is calling us to prepare, and part of that preparation is to help people move from an attractional mentality to an incarnational one.
Ed Stetzer holds the Billy Graham distinguished chair of church, mission and evangelism at Wheaton College and the Wheaton Grad School, where he also oversees the Billy Graham Center for Evangelism.