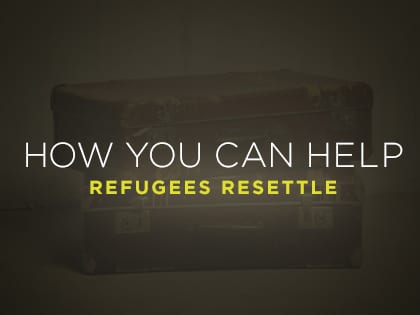 Helping refugees in the U.S. is much easier than most think. All it takes is a little initiative to get involved.
One thing was clear when I worked with refugees at World Relief Chicago (WRC)— your average person doesn't know anything about the refugee process. I sure didn't until I started working with refugees.
I had the pleasure of working at WRC with refugee youth for a few years. I had a strong desire to work with refugees when returning to Chicago after living abroad in Bolivia with my husband. After two years of living in a different country, I could identify with some of their experience.
I knew what it felt like to be a foreigner, to be out of my element and how important it was to be taken in by friendly people. My Bolivian friends who made me feel comfortable and treated me like family were probably the only thing that kept me going at times. I wanted to pay it forward in some way.
When I came home, I got to work researching how to get involved with refugees. This is a major difference between my experience and a refugee's: I got to go home. Refugees do not. They are refugees because, after an extensive interview and screening process that usually takes a few years, it is officially deemed too dangerous for them to return home.
I often think back to a particular conversation with an Iraqi friend about all the terrible things he experienced, including his son being shot at school during an al-Qaida raid (he survived and I got to know him well). I'll never forget how he looked at me straight in the eyes and said, "Elsa, I hope you never, ever experience the horrors that I have."
I loved my job at World Relief and I often found myself chatting with people about it. It quickly became clear that there are some misconceptions out there—the most common one being that refugees are illegal immigrants. This is not true.
Refugees are granted legal permission to live and work in a host country like the U.S. After the interview and screening process, they are accepted ahead of their arrival, meaning that they are legally here the second they step foot on U.S. soil.
"We Welcome Refugees" is an informative article from World Relief on the screening process, the difference between refugees and immigrants, and how agencies can be sure refugees are not in fact terrorists, while giving a biblical framework for why to help refugees.
Once the refugees arrive, the government agrees to help subsidize housing and supply medical insurance through Medicaid for 90 days after their arrival. This means that refugees are expected to be able to stand on their own—with a job, steady income, place to live and ability to speak English—within 90 days. If you've ever lived in a foreign country, you know that this is an incredibly difficult feat to achieve.
This is where refugee resettlement agencies come into play. Organizations like World Relief Chicago come alongside newly arrived refugees to administer federal funds and provide extra support as they get used to their new home.
Family and individual refugee cases are assigned to refugee resettlement agencies that start by picking up new families from the airport and bringing them to their new home, which the agency has located and furnished. Other services offered by the agency include English as a second language (ESL) classes, job training and resume help, case management, furniture and clothing donations, youth services and more.
That's where volunteers come in. All of these small daily tasks are too much for refugee resettlement agencies to handle. The reality is that these agencies are usually understaffed and operating with very little money. They are helping so many people that it gets to a point where they have to taper off services so they can help the next ones arriving.
Refugee resettlement agencies make helping refugees easy by providing a wealth of volunteer opportunities. For example, you can volunteer at the agency's office, tutor children, help adults with English, donate furniture and clothing, mentor families by helping them establish relationships in their community, and more.
Here are some steps you can take to help refugees assimilate to their new surroundings:
1. Google refugee resettlement agencies in your city.
If you live in a reasonably large city, you probably have one close by. Maybe even five of them. Locate them and read about their philosophies to see if you could be a good fit for them.
2. Read about volunteer opportunities offered by a particular refugee resettlement agency and identify one that suits you.
Do you have education experience? Maybe you could tutor adults or children. Do you have a group ready to mobilize and find donations? Volunteer to set up a new apartment. Are you good at building relationships and resolving issues as they come up? Then volunteer to mentor a new family. Maybe you are in a position to give money or raise money.
3. After identifying which area you might be able to assist, contact the agency to let them know you want to volunteer.
You can usually find the right contact person from their website. Keep in mind that they may be understaffed so you may need to be the one to pursue them.
4. Get to it!
And expect to be flexible. There will surely be some moments that are confusing, but others that are purely joyful.
It's actually a lot easier than you think to help newly arrived refugees. It can be as simple as becoming a friend. All it takes is a little initiative to get involved.
Elsa Johnson is a stay-at-home-mom who is committed to serving refugees. This article was originally published on Johnson's blog, Life Worth Writing Down.