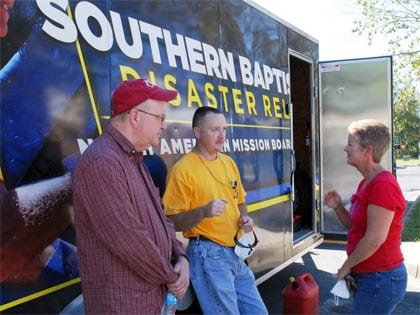 Volunteers from 15 states rally together for restoration efforts after Hurricane Joaquin.
ALPHARETTA, Ga.–Hundreds of veteran Southern Baptist Disaster Relief (SBDR) volunteers joined local college students to respond to the needs of flood survivors in South Carolina caused by the devastating Hurricane Joaquin in early October. Relief teams traveled from 15 states including Alabama, Georgia, Florida, Kentucky, Louisiana, Mississippi and North Carolina to aid in the efforts.
College-aged volunteers looking for ways to get involved donated time during fall breaks and weekends to make a difference. Students received on-the-job training from veteran SBDR volunteers to perform activities such as mud outs, which entails removing damaged items from a flooded home to prepare for rebuild, minor clean up duties and supplying meals.
"I am so thankful for the volunteers from many states who are willing to provide the help needed in the recovery process for those affected by the flooding," said Mickey Caison, North American Mission Board interim executive director for Disaster Relief. "The government leaders and emergency managers in the communities affected have expressed their deep appreciation of Southern Baptist Disaster Relief's ministry and volunteers who are so compassionate."
Nearly 493 homes have been evaluated for either recovery, mud out or rebuild, and close to 70,000 hot meals have been prepared for survivors. Volunteers will be working in the affected areas for months to restore and rebuild. In addition to meeting physical needs, volunteers have used the opportunity to share the gospel with flood victims.
Volunteers helped save the only affordable housing community in Summerton, South Carolina, from permanent closure. The apartment complex took on more than two feet of floodwater, and its 150 residents were rescued by emergency workers. Auburn University students, Southern Baptists and volunteers from Americorp worked alongside SBDR teams from Brushy Creek Baptist Church in Easley, South Carolina, and North Rock Hill Baptist in Rock Hill, South Carolina, to tear out sheetrock, pull up carpet and flooring, and haul out debris.
"I thank the crews from Southern Baptist because when those guys came in, there was a knock on the door, 'Can we do this?' and 'Do you need this?'" said Ruby McElveen, a Columbia, S.C., resident. "The help was just tremendous. It was nobody but God. You could see the love of God in all this."
Along with the American Red Cross and The Salvation Army, SBDR is one of the three largest providers of disaster relief volunteers in the United States. The North American Mission Board is responsible for coordinating national Southern Baptist disaster relief responses. They utilize partnerships with Baptist conventions in 42 states to gather together volunteers.
"Time and again, when disaster brings the worst, Southern Baptists respond with the best," said NAMB president Kevin Ezell. "During this flood relief, we have served alongside our partners, assisted our fellow Southern Baptist volunteers and helped survivors in every way we can. Our prayers are with the people of the Carolinas."
Currently, there are 65,000 trained Southern Baptist volunteers and about 1,550 mobile units used to bring relief and resources including shower, laundry, mud-out, water purification and power generation.
Those wishing to donate to SBDR relief can contact the Baptist convention in their state or visit donations.namb.net/dr-donations. For phone donations, call 866-407-NAMB (6262) or mail checks to NAMB, P.O. Box 116543, Atlanta, GA 30368-6543. Designate checks for "Disaster Relief."
Church leaders can explore more about how NAMB can assist their churches in discovering its next missional opportunity at www.namb.net.
ABOUT THE NORTH AMERICAN MISSION BOARD
The North American Mission Board exists to work with churches, associations and state Baptist conventions in mobilizing Southern Baptists as a missional force to impact North America with the gospel of Jesus Christ through evangelism and church planting. It accomplishes that through Send Network, which mobilizes churches to plant churches in 32 Send Cities and across North America, and through the mercy and compassion ministry opportunities of Send Relief.