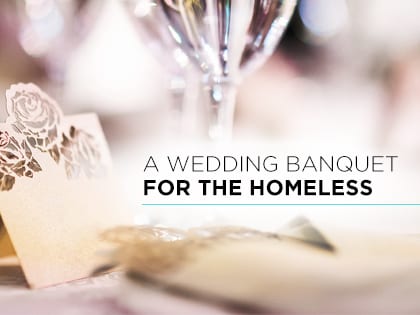 In the News: A contemporary take on a timeless parable.
SACRAMENTO, Calif.–A woman once planned a great banquet to celebrate her daughter's wedding and invited many. And at the time for the banquet she sent an associate to say to the groom, "Come, for everything is now ready."
But the groom wouldn't come, for he had decided to call off the marriage.
So the associate came and reported this to the woman. The woman became resolved and said to the associate, "Go out quickly to the streets and sidewalks of the city, and bring in the poor and crippled and blind and lame."
And the associate said, "Ma'am, what you asked has been done, and still there is room."
And the woman said to the associate, "Go out under the freeways and in the darkest alleys of the city and compel people to come in, that our banquet hall may be filled.
"For I tell you, if this wedding will not be taking place, we can give hope—and a hot meal—to those who don't normally have anything to celebrate."
This real-life variation on Jesus' Parable of the Great Banquet played out in Sacramento, California, last week, when Kari Duane and her family found a way to salvage their daughter's $35,000 wedding banquet after the groom decided he didn't want to get married.
According to the Associated Press, rather than cancel the nonrefundable dinner, Duane invited the city's homeless to share in a meal that featured appetizers, salad, salmon and tri-tip. About 90 people attended, and some even dressed up for the occasion.
None of the sources that reported this story mention Duane's faith, but her generosity in this instance was undeniably Christ-like. One can't help but wonder what could happen if churches were determined to find creative and compassionate ways to bring the teachings of Jesus to life in our contemporary experience.