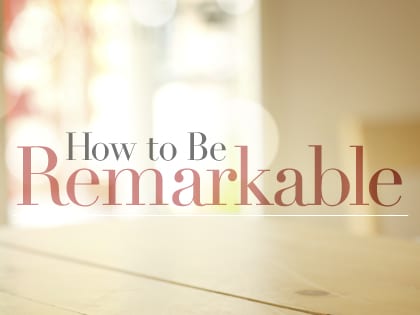 Brad Lomenick: "The great news is that being remarkable doesn't require a huge budget or hundreds of staff members."
Recently I visited a restaurant in Atlanta that a friend had said was "remarkable." No research. No looking it up online. I just took his word for it. After taking it in, I totally agreed. It was, as he said, "remarkable."
What really is remarkable? Webster's defines remarkable as "notably or conspicuously unusual; extraordinary. Worthy of notice or attention; striking."
It's what you remember. What you talk about. What you retweet. What you share. What you post about on Facebook. The ideal pic shared on Instagram. The news that we text to our friends and family.
Normal is normal. Normal restaurant. Normal concert. Normal phone call. Normal church. Normal service. Normal youth gathering. Normal sermon. Normal is fitting in. Normal is average. And average doesn't get talked about or shared.
But being remarkable is the add-on. The extra. The special sauce that makes something stand out.
"What really blew me away was _______." As Seth Godin says, remarkable is "the extra that fills in that blank." Remarkable goes above and beyond.
Being remarkable means others talk about it. Customers, attendees and visitors commenting, sharing and recommending—just like my friend in regards to the restaurant. People want to talk about remarkable. In actuality, they are making remarks—they remark on you, a product, a service, an experience. They remember it. Otherwise, it's probably just average.
Remarkable may cost more, add more work to the plate and require more effort, but it's worth it.
Is your organization remarkable? Your church? Your business? Your family? You personally?
Here are a few ways to be remarkable:
1. Set a standard of excellence that scares the daylights out of you.
2. Serve your community—without being asked. Find a need and meet it.
3. Write a handwritten note to someone who had an impact on you recently.
4. Reach out to a leader or organization that has been critical or passive regarding your church, and invite them to lunch.
5. Identify five key things in your church that need to be improved. It could be the sound system, the seats in the auditorium, the lobby furniture, your preaching, your website—the list goes on.
6. Be great in the "insignificant." Show a ruthless passion for exceeding expectations in the normal and seemingly ordinary.
7. Open yourself up for constructive feedback. Ask for input. Invite in other leaders and industry experts. Give them permission to tell you what you need to hear, but may not want to hear.
8. Innovate. Be willing to step out and take risks. Seth Godin describes being remarkable as "going for the edges"—the outlier areas where there are few in the conversation. LifeChurch.tv is a great example of creating remarkability because of their pursuit of constant innovation and risk-taking.
The great news is that being remarkable doesn't require a huge budget or hundreds of staff members or a skill level that exceeds most. Leaders can simply be remarkable with three pursuits: intentionality, a commitment to go beyond average and ultimately living and leading like Jesus. The greatest news for those of us who follow Jesus is that he is remarkable. Being more like him means living a remarkable life.