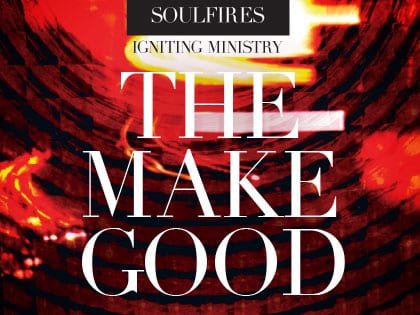 "Joseph's heart called out, 'If you look down and see something in me that you still want, please save me, and I will give you my life.'"
SOULFIRES | IGNITING MINISTRY
In our Soulfires series, we share the stories of people who have encountered God in powerful ways and responded by initiating significant ministry projects.
Joseph stands on a stage and asks for the house lights to be turned on. He has just told the story of his life in a packed 4,000-seat arena that has the eerie sound of an empty room. But 4,000 teenagers, mostly with tears in their eyes, stare back in stunned silence.
"Please bow your heads and close your eyes," he says. The sniffling starts in pockets here and there. "How many of you have thought about killing yourself?"
Hands from every corner lift into the dim light—about 200 in all. "Now," he continues, "how many of you have already written the letter to your parents?" About 60 keep their hands in the air.
"Now, how many of you were going to give your parents your letter tonight—how many saw this concert as your last stop before you killed yourself this weekend?" Fifty percent of the kids put their hands down, leaving around 30 teenagers reaching into the night for something—or someone—to save them from what they were about to do. Thirty lives, 30 imminent deaths.
The night that started as an exciting concert by the band Seventh Day Slumber, for which Joseph is the front man, turned into a solemn display of the extraordinary pain that teenagers experience every day.
And while all the hands in the air might be a surprise to some in attendance that night, the only thing that was a surprise to Joseph Rojas was that there weren't more.
*****
Raised in Victoria, Texas, the last childhood memory Joseph had of his father was when he was 3-and-a-half years old. It was the night he watched his dad beat his mother into a bloody mess in the family kitchen. Joseph's dad was arrested by the police later that night. He never returned home again.
It set a tragic course for young Joseph: He believed his dad's absence meant that he wasn't good enough to keep him. Food became the go-to to numb his pain. His growing girth turned him into an outcast immediately and came with the embarrassment of never being chosen for any sports team. He turned to the streets and began doing drugs and alcohol and vandalizing, and by 12 years old, he began to contemplate suicide. At 14, he was addicted to cocaine.
Over the next seven years, Joseph's life was a never-ending cycle of getting high, stealing and getting high again. He earned himself a rap sheet sprinkled with everything from minor beefs to felonies including criminal trespassing and grand theft, and had been in and out of jail more than 20 times. He also had a $400-a-day cocaine habit that he supported by selling on the streets—and he thought about suicide every day.
His mother remained his true north. There were only two things that he knew for certain: that he was a worthless drug addict and that his mother loved him more than he could understand. Meanwhile, she suffered through every single day of Joseph's incomprehensible slavery to the white powder—which kept him stealing, even from her.