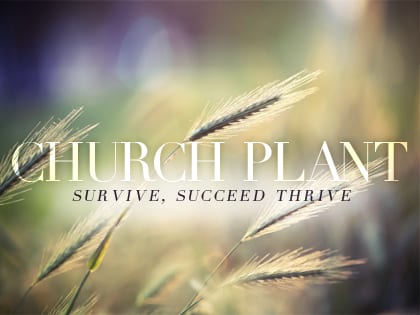 Predictors and practices for church plant success
Best Predictors for Church Plant Survivability
Realistic expectations. The chance of survivability increases by more than 400 percent when a church planter's expectations meet reality. Of those who said their expectations were realized, 87 percent of their churches survived. Only 61 percent of church plants survived among those who did not have their expectations met.
Church member leadership development. When church planters provide this, the odds of survivability increase by more than 250 percent. Of those church planters who provided leadership training to church members, 79 percent of their churches survived compared to only 59 percent without the training.
Church planter peer group. The church planter who meets with a group of church planting peers at least monthly increases the odds of survivability by 135 percent. Those who were part of a peer group saw 83 percent of their churches survive, compared to 67 percent among those who did not have a peer group.
Stewardship plan. Having a proactive stewardship development plan toward financial self-sufficiency increases the odds of survivability by more than 178 percent. Of church plants with a plan, 81 percent survive, compared to 68 percent for church plants without one.
—North American Mission Board
68%
of national and regional denominational agencies have a formalized church-planter assessment system in place.
75%
of church planting networks have defined processes for assessment, training and assisting the church planter with a new plant.
—LifeWay Research and Leadership Network
In Successful Church Plants …
88% have church planting teams.
63.3% have a core group of 26-75 people.
75% use a contemporary style of worship.
80% put 10 percent or more of their budgets toward outreach and evangelism.
16.8% have a higher rate of full-time pastors than struggling church plants.
63% of fast-growing plants, compared to 23 percent of those that are struggling, raise additional funding.
—Planting Fast-Growing Churches by Stephen Gray. Gray is the director of church planting for the Western region of the Free Methodist Church (USA).
Know Your Metrics
Celebrate en mass what you are asking people to be about individually. "Look for stories of life transformation to celebrate in your large gathering and email blasts. Outreach can often get bypassed for the tyranny of the urgent. There is so much required of teams post-launch that our eyes can accidentally turn to internal ministry teams, set up/tear down, children's ministry and service production. These are great things, they're just not the only things. Keep the metrics in front of your people so they don't become bankrupt of energy to be missionaries and make disciples in their spheres of influence outside the church family."
—Alan Briggs, director of Frontline Church Planting and multiplying pastor at Vanguard Church in Colorado Springs, Colo.
New Church, New Faces
"Dozens of denominational studies have confirmed that the average new church gains most of its new members (60 to 80 percent) from the ranks of people who are not attending any worshipping body, while churches over 10 to 15 years of age gain 80 to 90 percent of new members by transfer from other congregations. This means that the average new congregation will bring six to eight times more new people into the life of the body of Christ than an older congregation of the same size."
—Tim Keller, in the handout that accompanied his 2002 sermon, "Why Plant Churches?" Keller is the senior pastor of Redeemer Presbyterian Church in New York City.