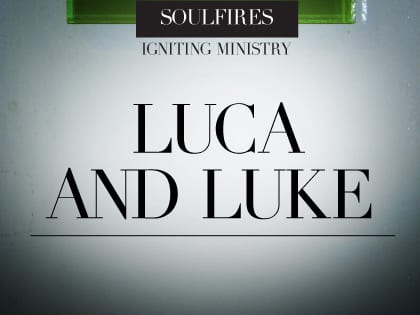 "'I choose to trust you, Lord,' I said, not knowing what might become of saying such a thing."
SOULFIRES | IGNITING MINISTRY
In our Soulfires series, we share the stories of people who have encountered God in powerful ways and responded by initiating significant ministry projects.
The doctor turned off the sonogram and took the instrument that he'd been gliding atop my large, seven-months pregnant belly and placed it next to the machine. With a very deliberate turn of his body and a solemn expression on his face, he looked at me square in the eye. "Mr. and Mrs. Meador, I'm afraid I have some bad news," he began. "Your baby's heart has stopped beating."
He gave us a moment to digest it. "I'm so sorry," he said.
Chris and I just looked at each other quizzically, not saying a word. I think the first thing that happens is you assume news like this couldn't possibly be true, even though I suspected that something was wrong since she hadn't kicked me all morning.
We hugged each other in silence, then pulled back and looked at each other again. "I need a moment," I told him.
I walked into the restroom and, with one hand steadying myself on the counter, started to tremble. Tears began to burst from my eyes and my body heaved up and down uncontrollably. I wrapped my arms around my baby girl still inside my belly and fell to my knees.
"Why, God, why? Why take my Luca!" I screamed, my voice echoing off the walls. My worst nightmare was being realized. Could this really be happening to me? My mind quickly darted back six months to when Chris and I sat side by side on our couch, name books in hand. "What about Luca?" I remember saying.
"Luca," Chris said slowly and thoughtfully. "That's a cute name. What does it mean?"
"Bringer of Light," I replied. He looked around, trying it on in his mind.
"Luca—Bringer of Light," he said. "I love it."
It was the happiest I had ever seen Chris. As for me, it was the most excited I had ever been. We had miscarried once before. God was so good to give us another chance. Our little Luca had certainly lived up to the meaning of her name and brightened our lives.
Now as I lay crying on the bathroom floor, all I could think was that my daughter's light was extinguished forever.
"Lord, why take my sweet girl?" I pleaded with God to answer.
It was then that something happened that I can only describe as a miracle because I am not capable of manufacturing anything like it, and certainly not at a moment like this. "You can keep asking me why, Michelle," I heard a voice inside my head say, "but it will be a long, painful road and you may never know the answer. Or you can just trust me."
I looked at my swollen face in the mirror. I rubbed my belly again. And suddenly I said it. Perhaps more significantly, suddenly I meant it. "I choose to trust you, Lord," I said. It was all I had.