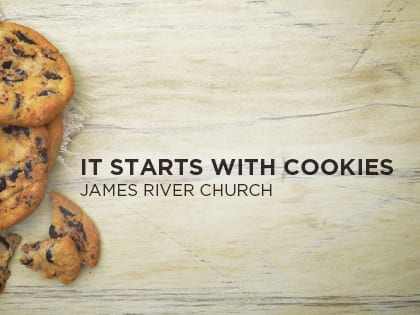 Missouri church employs cookies and hospitality to retain first-time guests.
Todd Yearack, director of events, assimilation and communications at James River Church, shares how the church makes its guest experience memorable beyond the worship service.
What's James River's retention strategy?
One of the things we talk about constantly as a team is providing a memorable one-day experience for our guests that sets the tone for them to feel welcome and at home at James River Church. You have one opportunity to capture someone's attention. When new friends drive into one of our campuses, we want to be rolling out the red carpet for them. When they turn into our driveway, they're going to see people waving at them with a sign that says "Welcome Home." We want to engage people and make them feel comfortable, even out in the parking lot well before the worship and preaching starts. We want to share the gospel—that's the goal—and that starts happening in the parking lot.
Then, as they come inside the church, we take them to the Connect Center to meet some of our staff and volunteers, and help them, if they are parents, to take their children to our kids' areas before Mom and Dad go into service. Then we take them to the service. Get them seated. Make sure they're comfortable. Our goal would be that they would come back to the Connect Center after the service. They can take a tour of building. Ask questions of our staff and volunteers and find out ways to get connected.
What happens after that first day?
Essentially from day one our lead pastors, John and Debbie Lindell, established that on Monday nights our pastoral staff would go out and visit folks who visited the church the previous weekend and filled out a Connect Card to let us know they were interested in finding a church home. We take them a dozen cookies that are freshly baked on Monday. That's become a cornerstone in our effort to connect with and establish relationships with new people God is bringing to the church. You may not expect it at a church of any size, but you might even think it's impossible at a larger church. That's really helped us in coming alongside what new visitors experience at our services. People are so happy to see us when we come, and it's a great time. My wife and I often bring our son, and we'll visit three or four families that evening. We go to their homes and visit with them. We get to know them, answer any questions they may have, find out how they enjoyed their time at the church and then see how we can further connect them into the life of the church.
What's the typical next step?
We encourage them to visit our Newcomer's Dinner and our Connection Class. Both of those events give us a chance to share a little bit more about the history of the church, our philosophy of ministry, what we believe, why we believe it and so forth. The Connection Class is an entry point for people who want to become a volunteer. We offer those classes each week alternating between our campuses, and that gives people a chance to jump in any time, and then get started serving. When people are attending a service, serving during a service and are a part of a Life Group, those are the keys to them being whole and healthy in Christ as a part of the life of the church.
Can you share a story about how someone became fully involved?
There are times when we attempt to make a cookie visit but people aren't at home. That was the case for a gentleman named John who came to the church for the first time back in mid-July. We left him the bag of cookies and a hand-written note to welcome him to the church. I also called to leave him a message. The next day, he contacted me back to thank us for coming by to visit. Ironically, I ended up discovering that he was at the church that evening while we were visiting his home just a few minutes away! A couple days later, we met in person at the church and had a great visit. Within his first four to five weeks at the church, he has gone from being a newcomer, to giving his life to Christ, attending out Connection Class, getting baptized and now serving weekly as a part of our Red Carpet auditorium team. He's a completely different person, all because of what Jesus is doing in his life!
JAMES RIVER CHURCH
Ozark, Missouri
Senior Pastor: John Lindell
Twitter: @JohnLindell
Website: JamesRiver.org
Founded:1991
Affilitation: Assemblies of God
Locations: 2
A 2015 OUTREACH 100 CHURCH
Attendance:8,384
Largest: 46