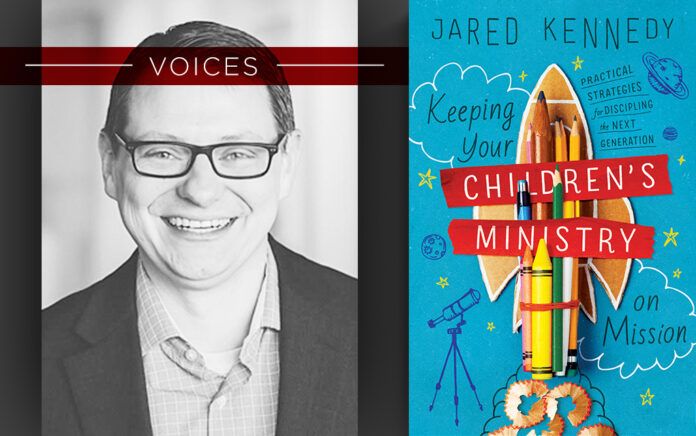 "There are at least four ways the simple gospel message shapes our goals for children's ministry."
Keeping Your Children's Ministry on Mission
Crossway, 2022
By Jared Kennedy
WHO: Jared Kennedy, managing editor of Gospel-Centered Family.
HE SAYS: "There are times when my worry over doing children's ministry well has revealed a misplaced faith."
THE BIG IDEA: This book offers a strategy for gospel-centered, missional children's ministry that equips parents, ministry leaders and volunteers to engage children, point them to Christ and the larger church community, and then send them on mission.
THE PROGRESSION: In Part 1, "A Gospel-Centered Vision for Children's Ministry," the author explores how the gospel moves both parents and the church community to pursue the next generation, discusses the history of children's ministry and addresses the temptation to let cultural assumptions eclipse the gospel. 
Part 2, "Creating Welcoming Environments," examines including kids and families while offering safety and security. Part 3, "Connect Kids to Christ," emphasizes teaching gospel-centered lessons with excellence.
In Part 4, "Grow with Kids and Families," shows readers how to help kids develop a gospel-formed life. The book wraps up with Part 5, "Go! Send Kids and Families on Mission," empowers families with a gospel-fueled witness.
"There are at least four ways the simple gospel message shapes our goals for children's ministry."