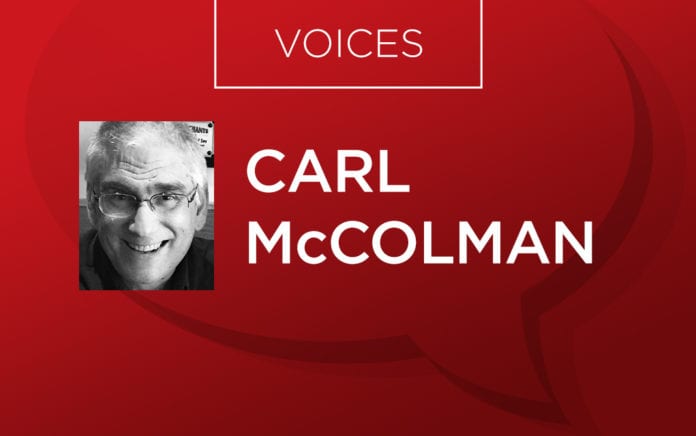 Why Wisdom Can't Be Taught (and Why That's Okay)
Unteachable Lessons: Why Wisdom Can't Be Taught (And Why That's Okay)
(Eerdmans, 2019)
WHO: Carl McColman, a member of the LayCistercians of Our Lady of the Holy Spirit, a contemplative community under the spiritual guidance of Trappist monks.
HE SAYS: "We still need to do the work of living, of praying, of loving, of trusting, of listening to the silence—for ourselves."
THE BIG IDEA: Although wisdom of the past is worth reading, hearing or reading others' experience of God is no substitute for opening our own hearts to God.
THE PROGRESSION:
This book is full of stories that show readers that God is present and available to experience if they just open their hearts.
"I've come to see that unteachable lessons are available to just about all of us—and I suspect that the more we need these unteachable lessons, the more likely they are to show up in our lives."
Order this book from Amazon.com »
Read an excerpt from this book »
A CONVERSATION WITH CARL McCOLMAN
What do you mean by "unteachable lessons"?
There are some lessons in life that can only be learned through experience—even the most eloquent teacher and the most insightful book cannot replace the wisdom that comes only through life itself. Take love, for example: You could read books about love until you're blue in the face, but they'll never teach you the fullness of what it means to truly love, and be loved, by another person. You have to put the book down and take the risk of loving (and accepting love). What does it mean to trust God? What does it mean to grieve? To pray? How can we learn to balance head and heart? These are all unteachable lessons. That's not to say we shouldn't read, or write, or talk about these things, but just to remember that books and words will never replace the wisdom that comes only through life and through experience.
Pastors are often avid readers, especially of spiritual classics. What advice would you give them about looking to their own experiences of God instead of just the wisdom of the past?
The first thing I would say is to keep reading. Experience, by itself, can sometimes lead us astray. Think of people who imagine they have received a special message from God, but without testing their experience by the wisdom of Scripture and the community of faith, such messages could turn out to be evidence of self-delusion rather than of holiness. I think the key is in balance. Scripture is very clear that the Holy Spirit has been poured into our hearts (Rom. 5:5), so if we refuse to listen to our hearts, perhaps we are ignoring God's call from within. But listening to our hearts does not mean anything goes—the heart can also deceive us (Jer. 17:9). So when we listen to our hearts, we rely on the wisdom of the past and the counsel of our faithful sisters and brothers to discern, and confirm, God's call.
"Everyday" people wouldn't normally think of themselves as wise. How would you convince them otherwise?
People who do not think of themselves as wise might just be, in fact, those who are humble—and true wisdom and authentic humility go hand in hand. Rather than trying to convince someone that they're wise, I'd simply encourage them to trust that same Holy Spirit who has been given to us. We may not be wise in and of ourselves, but both Isaiah and Paul include wisdom in their list of the gifts of the Holy Spirit. We sometimes speak of people who are wise beyond their years—another hint that sometimes the best teacher of wisdom is the experience of a life well lived—but as Christians, perhaps we should all trust that the Holy Spirit can give us wisdom beyond our capabilities—regardless of our age, educational level, etc. Frankly, I would distrust someone who made a big deal about how much wisdom they had! "Knowledge puffs up, but love builds up" (1 Cor. 8:1). Wisdom has just as much to do with love as with knowledge (maybe even more so). So true wisdom is never puffed up: it's down to earth, which is another way of saying it's humble.