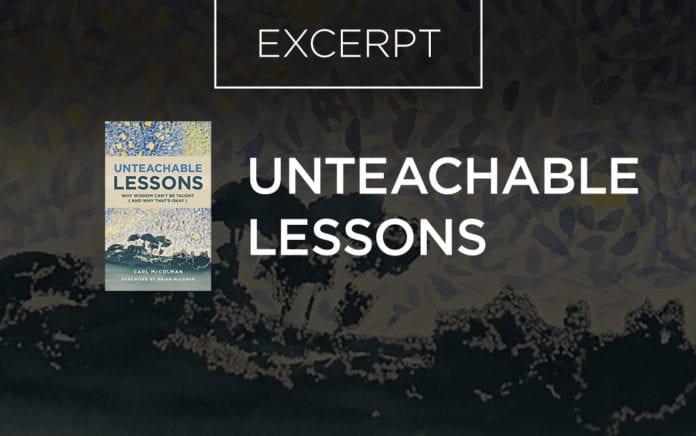 Words are good, but often insufficient to explain our experience of God.
Excerpted From
Unteachable Lessons
By Carl McColman
I'd like to share with you a story that shows up from time to time in my email inbox or my social media feed. I don't know if this actually happened or if it is a myth. If it really happened, I couldn't tell you where or when. But if it is a myth, that's okay, for like all great myths it is still a true story, in the deepest (if not literal) sense of the word.
The story goes that a gathering of Buddhist and Christian authors and monastics took place. The authors—an assortment of theologians and dharma teachers representing a variety of lineages and traditions—held a conference where they delivered papers and engaged in various conversations concerning interreligious dialogue. In a separate but nearby building, the monks and nuns also came together, where they devoted most of their time to meditation and contemplation.
By the end of the week, both groups gathered for a closing interfaith ceremony. It became obvious to all who were present that the various authors, while polite and civil toward each other, had not really formed any kind of relationships, at least beyond their professional collegiality. On the other hand, the various monastics were all hugging one another, filled with warmth, smiles, and a clear sense of bonded charity—as if they had been friends for ages.
When I lived in Washington, D.C., I took several classes on Christian meditation—what others might call contemplation or silent prayer—at the Shalem Institute for Spiritual Formation. In Shalem's library hung an old framed print featuring a Quaker proverb: "Speak only when your words are an improvement upon silence."
Some fifteen hundred years ago, Saint Benedict said something similar in his Holy Rule: "There are times when good words are to be left unsaid, out of esteem for silence."
What Benedict and the Quakers—let alone the monks and nuns from our little interfaith story—are trying to say is simply this: sometimes words get in the way.
This is a very alarming thought for people who make their living, like I do, from writing and speaking.
In the Christian faith, language, which is to say words— or at least the Word—occupies a place of almost singular honor. We do more than merely believe in God—we believe in a God who speaks. He Is There and He Is Not Silent proclaimed the title of a book by a famous twentieth-century evangelical, Francis Schaeffer.
The Christian God is a God who talks. And this God-talk reaches its zenith with the incarnation of Jesus Christ, the second person of the Holy Trinity, the Son of God, who is indeed one with God, the Logos, the Word of God. Spirituality invites us to imitate God, and it's obvious Christians worship a God who talks, for we are likewise a very chatty bunch. Even when God is not talking to us, we're busy doing plenty of our own talking. We talk to God (prayer), and we talk about God (theology). Literally hundreds of thousands of books on theology have been written over the ages. Not only do we mortals love a talking God, but we sure love having God to talk about, too.
If language is good enough for God, why should monks and nuns and Quakers run around telling us to be silent? I'm not sure I can answer that question because the answer can't be put into words.
Every time I sit down to write about silence, I just get amused by the sheer irony of it all. But over the years, in between writing books and a blog and various opportunities to speak and teach and lead retreats, I've come to recognize something that is very humbling: at its heart, Christian spirituality and faith simply cannot be taught. The lessons of spirituality are unteachable lessons.
Now, I don't want to suggest that God has made a mistake by giving us Jesus the Word or that the Bible is somehow deficient because it is filled with all sorts of words. (Here's a fun bit of trivia: the Old and the New Testaments contain a combined total of well over ten thousand unique words.)
I don't mean to imply that verbal communication is somehow bad or even deficient. But some things simply cannot be communicated by words or at least cannot be communicated as well by words. Words are the map, not the territory; they are the finger pointing to the moon, not the moon itself.
You could even say this about Jesus: as the Word of God, Jesus shares with us not only himself but also the One who sent him: One whom even the Word of God ultimately cannot put into words.
Mark Twain is supposed to have said that a person who carries a cat by the tail learns something that cannot be learned any other way. That pretty much sums up what I'm trying to say here.
Fortunately, not all unteachable lessons are of a cat-by-the-tail variety. Some unteachable lessons involve wonder or rapture or joy. They involve moments of time (or of eternity) that cannot be put into words, indeed, cannot even be put into thought. But stumble across one of those moments and you'll never be the same. When you learn a lesson that can never be taught, don't try to teach anyone else, either. Maybe the best you can do is tell your story or point somebody in a direction and say, "This way."
Tell me more about this book »
Order this book from Amazon.com »