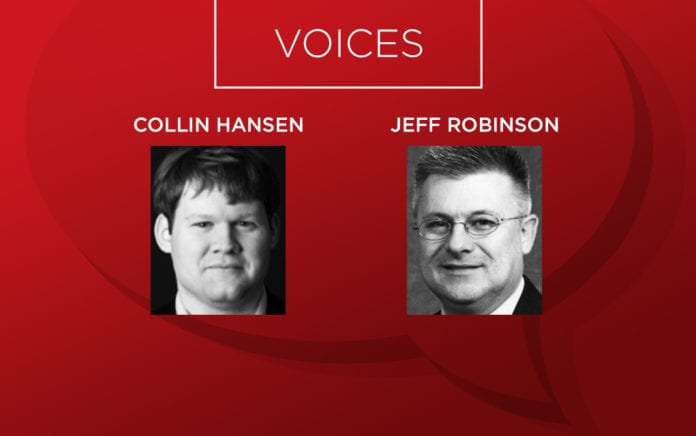 The Joy of Shepherding People for a Lifetime
Faithful Endurance
(Crossway, 2019)
WHO: Collin Hansen, editorial director for the Gospel Coalition, and Jeff Robinson Sr., senior editor for the Gospel Coalition and lead pastor for Christ Fellowship Church of Louisville.
THEY SAY: "This book is needed to encourage pastors that quitting is not the only option. Faithful endurance with the long-term in view, even in the face of difficult circumstances, is an excellent, God-honoring way."
THE BIG IDEA:. Encouragement from veteran pastors to young pastors to press on in ministry and do not quit.
THE PROGRESSION:
Each chapter begins with a letter from a young pastor and advice from an experience one. Contributors include Tim Keller, D.A. Carson, Dave Harvey, Mark McCullough and John Starke. The topics include dealing with criticism, serving in a small church, dealing with financial difficulties and doubting your calling.
The book concludes with an interview with John MacArthur.
"By God's grace, as you embrace the challenge, you will put the power of the gospel on display. Through the gospel the lost will be converted, the church will be strengthened, and most importantly, God will be glorified."
Order this book from Amazon.com »
Read an excerpt from this book »
A CONVERSATION WITH JEFF ROBINSON
What are some causes of burnout among pastors?
I have a friend who recently turned 80 years old and served in pastoral ministry for more than 50 years, and he told me that he would hate to be pastoring a church today because of the myriad challenges we face from inside the church and outside it. This means that pastors have many enemies that could keep them from enduring over the long haul in ministry. Here are a few things that could easily lead pastors to flame out prematurely:
Unreasonable/false expectations. This may be the greatest danger, especially to younger or new pastors. A pastor may expect his work to always be a satisfying middle-class living in which he spends most of his time helping others and making them happy. That's not really true. In 2 Corinthians 4, Paul called pastoral ministry a death sentence—death to self and all a pastor's wants and desires. Sure, you will spend a lot of time helping your people, but your efforts won't always be appreciated and, sometimes, they'll even be met with criticism and worse. A young pastor may expect to be like his ministry heroes with a growing church and much recognition, but he's more likely to labor for the Lord in obscurity, but that's the way it supposed to be. After all, Paul reminded the Corinthians that "we preach not ourselves, but Jesus Christ as Lord, with ourselves as your servants for Jesus's sake" (2 Cor. 4:5). We are always ambassadors of Christ, never of ourselves. We are building his kingdom, not ours. Remembering that will help keep the burnout away.
Responding poorly to criticism and conflict. Leaders of every organization, including the church, will be criticized. And as a pastor, you're called to shepherd saved sinners who will sometimes behave like unsaved sinners. A faithful pastor must learn that criticism and conflict are merely part of the calling, and he must learn to respond with humility and grace. He must have the hide of an alligator and the heart of a lamb. Look at what Paul endured in 2 Corinthians 10—that's your resume, pastor.
Not getting proper rest. Pastors tend to over spiritualize their work and feel guilty when they take time off. This can be caused by congregations who think their pastor is being lazy if he takes regular time away from ministry. But pastors, like all humans, need regular times of rest and even time away from the rigors of ministry. Not getting regular periods of rest is one of the most prevalent paths to burnout for the pastor. I'll admit this is not my strong suit. I'm bi-vocational, so 70-plus-hour work weeks are fairly standard, and I'm certain that I'm not alone among pastors in that. However, thanks to the advice of pastoral friends, I'm learning to take regular seasons away, even if it is just a long weekend here and there and normal vacations with my family. Sometimes, I think that's all that keeps me sane!
Letting your devotional life slide. A pastor is most fundamentally a Christian. Like those whom he is called to lead, he is a follower of Christ in the middle of his sanctification. With weekly sermon prep and other teaching duties that come with pastoral ministry, it's easy for him to think he doesn't need daily time focused on prayer and Scripture meditation. This is an absolute must as a priority. If a pastor stops growing in grace, he is not long for the ministry. As Robert Murray M'Cheyne famously said, what a pastor's congregation needs most is his holiness. We must never, ever forget that.
A failure to embrace suffering as part of the calling. John MacArthur, whom we interview in our new book and who recently marked his 50th year at Grace Community Church, said it powerfully and soberingly: "Those [pastors] who don't embrace their suffering are more likely to defect from ministry, fall on the hillside before they get to the summit, or abandon the faith altogether." Pastor, you are weak, not strong. God works his power through weak vessels: "For the sake of Christ, then, I am content with weaknesses, insults, hardships, persecutions, and calamities. For when I am weak, then I am strong" (2 Cor. 12:10).
What advice do you give pastors who are depressed and want to quit?
I think the first thing I would encourage them to do is to be honest with their congregation and consider taking some time away. Ask for a paid sabbatical if at all possible. Also, realize that the measure of success in ministry is faithfulness not necessarily a growing church, being asked to write for leading blogs, getting a book contract, and certainly not notoriety. It's not about you. It's about Jesus. And remember your call. God is with you. He won't quit on you, so you must not quit on him. If you're in the midst of a storm, most of them pass quickly, all of them are temporary, and God designs them all for your good and his glory.
Too often, pastors fall into depression over self-pity or unbiblical notions of success. God has your life and ministry in his hands. He's sovereign and is in charge of the results. I've found two biblical texts that have helped drive away the unholy ghost of anxiety for me on many occasions and what do we need more than God's all-powerful Word? These texts are Matthew 6:25-34, where Jesus reminds us that each day has enough anxiety of its own, and Mark 4:26-29, which helps liberate us from ministry success syndrome. The latter is a pithy, powerful reminder of who builds God's kingdom. It's not us.
In editing this book, were you surprised by any of the advice the contributors offered? If so, what was it?
No, not really. I think one of the most pleasant surprises was the chapter written by my longtime friend, Mark McCullough, who has served for decades at First Baptist Church of Frisco City, Alabama. Mark is absolutely the model we want to commend to our readers. He has labored faithfully in a small place in less than ideal circumstances with profound joy without ever being tempted to find "greener pastures." Most pastors, myself included, seem to flirt often with the notion that there's always something better out there—a better church, better people, a better town or region, better circumstances, but Mark's chapter reminded me again that I am called to be faithful and grow where God plants me. I stopped several times while editing Mark's chapter and wiped away tears. I won't go into it any more, but it's exceptional, so buy the book and read it, along with all the other incredible chapters.
How can pastors best combat negative thinking?
Martyn Lloyd-Jones once said, rightly, that the most powerful preacher in all of our lives is us. We are always preaching something to ourselves, but the most important thing we should ask about these messages is the same query we should make of our Sunday sermons: are we preaching the truth? We must preach what is true to ourselves, which means priority one for the faithful pastor is that he always be immersed in the Word of God. In 1 Timothy 4, Paul told Timothy that the young pastor should be busy training himself for godliness, "for while bodily training is of some value, godliness is of value in every way, as it holds promise for the present life and also for the life to come."
Paul told his son in the faith to immerse himself in these things. Pastor, don't forget your first love. Immerse yourself in the Word of God and keep a close watch on your life and doctrine. Think often about Christ and his redeeming love for you and your flock. Saturating yourself daily in Christ and his glorious gospel will enable you to preach truths to yourself that will drive away the ghost of despair and put steel in your backbone for the war that rages both inside you an out.