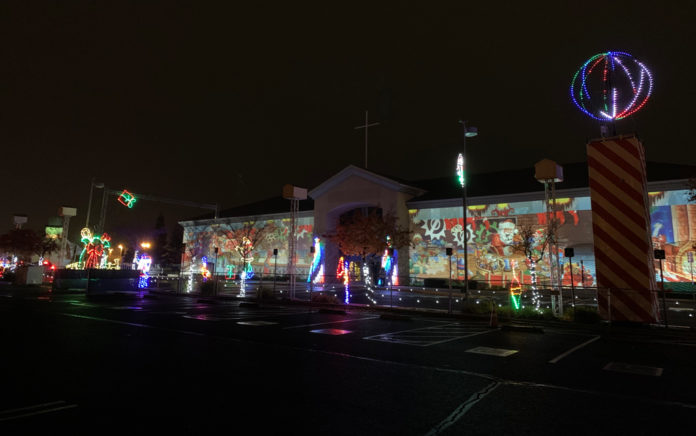 California church puts on mile-long Christmas lights display.
Five years ago, Ray Johnston, senior pastor at Bayside Church in Sacramento, California, was inspired to provide an unparalleled multizone, drive-through Christmas light show for the community. Bayside Church is one of the largest in the area and has multiple campuses in the region. Taking advantage of the outdoor space at its Adventure Campus in Roseville, the church set up the mile-long display and was blown away by the overwhelming community response.
"We didn't advertise the event much, and yet the first night we opened we had five-mile backups in every direction," says Jud Boies, executive pastor of operations at Bayside Church. "It was crazy."
Each year, as word of the display has spread, popularity has increased. Because the themed display attracts such a high volume of visitors, local authorities told the church that they needed to implement a free ticket admission system in order to control traffic flow. Last year they had more than 104,000 people and 27,000+ cars come through. This year, due to the pandemic, they are anticipating record numbers since this festive holiday activity is COVID-19 friendly.
"It's totally safe. Nobody needs to get out of their car or even open windows," says Boies.
The lights display requires unique installation and technology. According to Tass Souza with Alive Media and Melissa Wilkins at Sharp NEC Display Solutions, one of the features of the drive-through experience is a video display covering the entire front face of a building.
"In order to achieve this size of video projection, we utilized four Sharp NEC Display Solutions PA-853W projectors with 41ZL lenses," says Souza. "All four projectors are sitting in enclosures 15 feet off the ground. The brightness and image shaping capabilities of these projectors are what make this display possible. Utilizing lens shift and cornerstone correction, we are able to perfectly map the image to the dimensions of the building."
They used four projectors, all networked together, and are using Sharp NEC Display Solution's NaViSet software on a local computer to monitor and control each one. Via NaViSet, they are able to schedule startup and shutdown each evening, monitor signal and operating temperature, and make adjustments, as needed.
"By adding in a remote management software tool, we can do all of those functions remotely, utilizing visual feedback from various webcams installed throughout the display," says Souza.
The display, which takes about half an hour to cruise through, includes a display for the fill area while cars queue for entry, a 300-foot tunnel, a forest of trees, and a North Pole toy land. It's become a great activity and tradition—not only for families but for groups, too. For instance, they have a bicycle club, with around 100 riders, that comes through together as well as 150+ members of a Mini Cooper club. Plus, a ton of busses from assisted living facilities and children's homes visit each year.
This month-long event is actually a year-round endeavor as the church starts building displays in mid-January, typically making 20 new displays annually. Their setup and construction team starts erecting the displays in early October, working four to six hours a day right up to Thanksgiving. Were it not for the nearly 400 volunteers who coordinate, organize and run the event, this magnificent display would not be possible.
Bayside Church, Adventure Campus is located at 6401 Stanford Ranch Road, Roseville, CA 95661. Closed December 24–25, the lights display will run through December 31. For more information, visit https://BaysideOnline.com/lights/