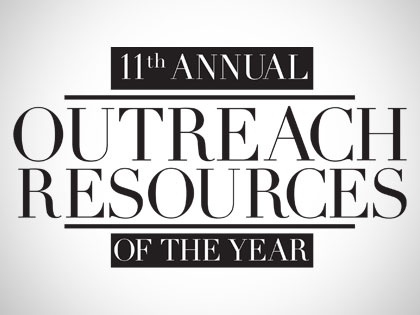 The experts who selected the best outreach-oriented resources in their fields
APOLOGETICS
Evaluated by Clay Jones, associate professor in the Master of Arts in Christian apologetics program at Biola University and a contributing writer for the Christian Research Journal.
LEADERSHIP
Evaluated by Bill Easum, a longtime pastor and church consultant and founder of 21st Century Strategies; recipient of the 2009 Donald A. McGavran Award for Outstanding Leadership in Church Growth; author of numerous books, including Preaching for Church Transformation, Ministry in Hard Times, Go Big: Lead Your Church to Explosive Growth and Effective Staffing for Vital Churches: The Essential Guide to Finding and Keeping the Right People.
CULTURE AND THE CHURCH
Evaluated by Gabe Lyons, founder of Q Ideas, a nonprofit that helps believers engage in the redemption of culture; author of The Next Christians: The Seven Ways You Can Live the Gospel and Restore the World, a 2011 Outreach Resource of the Year; and co-author, with David Kinnaman, of unChristian: What a New Generation Really Thinks About Christianity … and Why It Matters.
CHURCH HEALTH
Evaluated by Todd Engstrom, executive pastor of campuses and communities at The Austin Stone Community Church in Austin, Texas; director of church planting for The Austin Stone Institute; and a speaker, writer and consultant for the Verge Network.
GLOBAL OUTREACH
Evaluated by Robert L. Gallagher, department chair, director of the Master of Arts program in intercultural studies, and associate professor of intercultural studies at Wheaton College Graduate School in Wheaton, Ill.; past-president of the American Society of Missiology; and co-editor of Footprints of God: A Narrative Theology of Mission, Mission in Acts: Ancient Narratives in Contemporary Contexts, and Landmark Essays in Mission and World Christianity.
COMPASSION
Evaluated by R. York Moore, national evangelist for InterVarsity Christian Fellowship/USA; author of Growing Your Faith by Giving It Away (IVP) and Making All Things New: God's Dream for Global Justice (IVP); a national speaker primarily as a "justice evangelist"; and a modern-day abolitionist who has conducted "justice invitationals" in conjunction with several anti-slavery nongovernmental and nonprofit organizations.
JUSTICE
Evaluated by Mae Elise Cannon, senior director of advocacy and outreach, Middle East for World Vision USA; former executive pastor of Hillside Covenant Church in Walnut Creek, Calif.; and author of Social Justice Handbook: Small Steps for a Better World, a 2010 Outreach Resource of the Year, and Just Spirituality: How Faith Practices Fuel Social Action.
NEW BEGINNINGS
Evaluated by Vince Marotte, Internet pastor at Gateway Church in Austin, Texas; a communicator, futurist, speaker and consultant; and author of Context and Voice: Communication Design in Our New Media Culture.
CHRISTIAN LIVING
Evaluated by Mark and Linda DeYmaz, planters of the Mosaic Church of Central Arkansas in 2001, where Mark continues to serve as directional leader. He is a recognized leader in the emerging multiethnic church movement; the executive director of Mosaix Global Network; author of four books, including Building a Healthy Multiethnic Church and Leading a Healthy Multiethnic Church; and an Outreach magazine online editor. Linda is a wife, mother and author of two books, including Mommy, Please Don't Cry.
MISSIONAL LIVING
Evaluated by Knute Larson, a pastor for 46 years, including 26 as senior pastor of The Chapel in Akron, Ohio, until his retirement in 2009; a pastoral coach and consulting pastor; creator of the Adult Bible Fellowship system; and the author of two Bible commentaries and multiple books, including The ABF Book, The Great Human Race: How to Endure in the Marathon of Life and You Decide: Five Beliefs That Changed My Life. His website has many notes available to pastors for free download.
BIOGRAPHY
Evaluated by David Lambert, the author of 10 published books and numerous award-winning magazine articles and short stories published in such places as Virtue, Moody, Story, Christian Parenting Today, Sweet Sixteen, Decision, Montana Magazine, Campus Life, Outreach and others; a veteran of 30 years in youth ministry; a former editor at Zondervan; an editor at Howard Books; a member of the editorial board of Jerry Jenkins' Christian Writers Guild; and editorial director for Somersault, a new publishing services bureau.
SMALL GROUP CURRICULA
Evaluated by Mark Howell, pastor of communities at Canyon Ridge Christian Church in Las Vegas; blogger at MarkHowellLive.com; and consultant and coach helping churches launch, build and sustain healthy small group ministries.
CHILDREN
Evaluated by Steve Adams, children's pastor at Saddleback Church in Lake Forest, Calif., with more than 20 years of experience as a children's pastor.
YOUTH OUTREACH
Evaluated by Russell St. Bernard, youth minster at Reid Temple AME Church in Maryland; youth ministry trainer/coach/consultant; and author of After the Music Stops, a youth ministry handbook, and the 31-day student devotionals Fresh and What is Love? God's View on Love and Relationships.
Read the news release about the 2013 Outreach Resources of the Year.