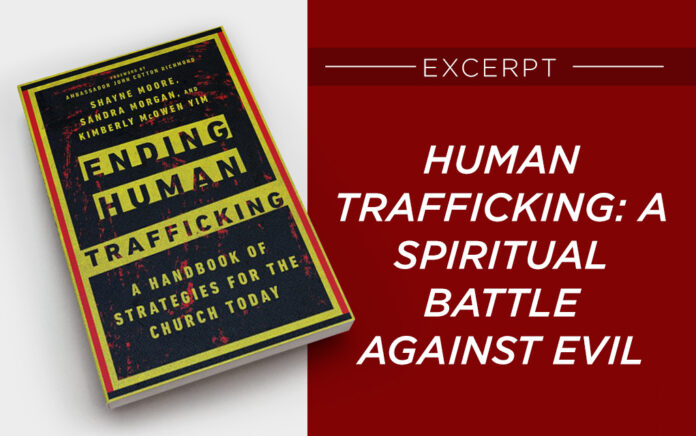 This is not easy work. It is going to get difficult and messy, and we will experience tears and anger. Prayer, both individual and corporate, is essential in the fight against human trafficking.
Excerpted From
Ending Human Trafficking
By Shayne Moore, Sandra Morgan and Kimberly McOwen Yim
Human Trafficking: A Spiritual Battle Against Evil
For our struggle is not against flesh and blood, but against the rulers, against the authorities, against the powers of this dark world and against the spiritual forces of evil in the heavenly realms. (Eph. 6:12)
It is not a mental leap to understand the truth of the verse above when one is learning the magnitude and pervasiveness of human trafficking. Slavery, both historically and presently, is evil. The dehumanization of another human being is a dark stain on humanity. Suspending recognition of the imago Dei in another person, treating them as a commodity to be bought and sold, is clearly not how God created us to live. The sinfulness of human trafficking does not need to be explained or unpacked. It is clear. It is not from God but the evil one.
It is likely that as we learn what is ours to do in response to the global problem of modern-day slavery, we will become overwhelmed. It is overwhelming. It is dark. The stories we encounter will be horrific, and the experiences survivors have endured will break your heart. We might know this on an intellectual level, but at some point (or at many points) it will rock our soul to the core. This is not easy work. It is going to get difficult and messy, and we will experience tears and anger. Prayer, both individual and corporate, is essential in the fight against human trafficking. The expression "fight against human trafficking" is not just an expression; it is truth. This is a fight. There is a battle being waged, and although we might not see the spiritual battle around us, we do see the physical consequences of the battle when we hear stories, meet survivors, and begin to plan strategically to engage in the fight.
We need to first recognize it is a battle. This is more than a battle of flesh and blood—although our practical call is to care for the flesh and blood of other people, it is essential that we also engage the spiritual side of this battle through prayer. Knowing we are in a battle, we must prepare for warfare. We cannot be lazy, we cannot cut corners, we must be in shape, we must be strategic, and we must act.
Therefore put on the full armor of God, so that when the day of evil comes, you may be able to stand your ground, and after you have done everything, to stand. Stand firm then, with the belt of truth buckled around your waist, with the breastplate of righteousness in place, and with your feet fitted with the readiness that comes from the gospel of peace. In addition to all this, take up the shield of faith, with which you can extinguish all the flaming arrows of the evil one. Take the helmet of salvation and the sword of the Spirit, which is the word of God.
And pray in the Spirit on all occasions with all kinds of prayers and requests. With this in mind, be alert and always keep on praying for all the Lord's people. (Ephesians 6:13-18 NIV)
Notice that this passage of Ephesians does not direct us into physical battle. Instead it reminds us that we are to stand our ground, and in order to do so we must have the right protective armor. God is the one who is ahead taking charge. We are to stand firm with appropriate armor, with a mind that is alert, and we are to pray. We battle with the spiritual weapon of the Word of God, and we battle when we pray in the Spirit.
Prayer often brings our hands up in praise and lowers us to our knees in desperation. Prayer reminds us we are not God. Prayer is humbling. It does not always bring about images of superheroes who defeat bad guys and rescue damsels in distress. But this does not mean we dismiss the power of prayer and its foundational essentialness. There is absolutely no victory against the evil of human trafficking without prayer. No laws, no governments, no intervention strategy, no unique logo, no passionate speech, no documentary will ever defeat the evil manifestation of human trafficking without prayer being our foundation. This unique and powerful work can be done only through God's people. Only human beings created in the image of God, indwelt with the supernatural power of the Holy Spirit in prayer, can join God's heavenly army and once and for all put an end to human trafficking. When the church does what only the church can do, heaven will be ushered in in miraculous ways on earth and justice will be restored.
As Oswald Chambers says, "Prayer does not fit us for the greater works; prayer is the greater work."
We believe prayer is not an afterthought but the most important work the church can undertake. Prayer is the lane the church is most equipped to be in. It is so natural for the church and its members to pray that sometimes we overlook its essential work and power. For some people, praying individually or corporately might not look or feel exciting. We don't often get to see immediate results after praying, and sometimes we don't see the results of our prayers in our lifetime. Again, Chambers beautifully reminds us that "it is the labouring saint who makes the conceptions of his Master possible. You labour at prayer and results happen all the time from His standpoint. What an astonishment it will be to find, when the veil is lifted, the souls that have been reaped by you, simply because you had been in the habit of taking your orders from Jesus Christ."
Our calling to pray is true of both the local church and the church universal. The church is uniquely created to pray and is strategically positioned for prayer in the battle against evil. The church can be found across the world in neighborhoods, government agencies, places of work, mission fields, businesses, schools, and our own homes. We have enough bodies strategically positioned that we need to be adequately equipped and willing to engage courageously.
Excerpted from Ending Human Trafficking: A Handbook of Strategies for the Church Today by Shayne Moore, Sandra Morgan, and Kimberly McOwen Yim. Copyright © 2022 by Shayne Moore, Sandra Morgan, and Kimberly McOwen Yim. Published by InterVarsity Press, Downers Grove, IL. IVPress.com.