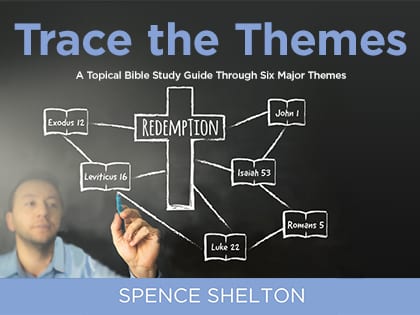 Free Small Group Bible Study Available
Zondervan is making Trace the Themes: A Guide to Unpacking the Bible's Major Motifs six-week Bible study free for order or download. Based on the new NIV Biblical Theology Study Bible, the study features a 36-page study guide and six video introductions by Spence Shelton, lead pastor of Mercy Church in Charlotte, North Carolina.
Trace the Trends can be ordered from ChurchSource at 800-727-3480 (mention ISBN 9780310453567 for a pack of 25), or downloaded in a printable format at TraceTheThemes.com. Additional assets to promote the Bible study for small groups, including free social media images, are available online.
The NIV Biblical Theology Study Bible, which was previously published as the NIV Zondervan Study Bible, allows readers to ponder the individual stories and themes of Scripture while observing how they all fit together in God's grand biblical narrative. The Bible also includes articles introducing biblical theology and 25 articles unpacking key themes of Scripture.