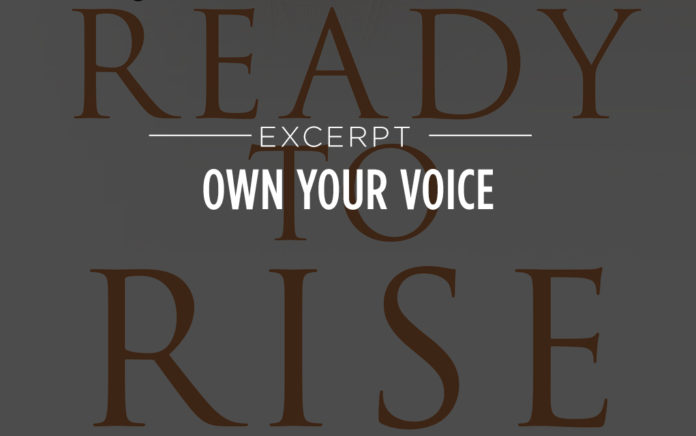 Create the culture you want to see.
Excerpted From
Ready to Rise
By Jo Saxton
"If you want to go fast, go alone. If you want to go far, go together." —African proverb
Ocean's 8 took a significant departure from its predecessors in the Ocean's film franchise. It was still a star-studded, glitzy, fun and fantastical heist movie, but for this outing, the lineup was all women. Their characters were not girlfriends or secretaries, sidekicks or henchwomen; the women were the masterminds of a brilliantly planned heist of the Met Gala in New York.
When the film was released, the press paid a lot of attention to the relationships among the leading women. They were Oscar winners, Grammy winners, YouTube stars, wildly successful writers and producers. Did they get along? Was there tension? The cast graciously sidestepped the assumptions behind the questions, assumptions that a group of powerful women couldn't possibly be friends. Of course, these questions were rarely (if ever) asked of their male counterparts, but in some interviews, they noted the professional impact of sharing time and space with women in their profession. They talked about agents and managers, experiences and expectations.
Actress Sandra Bullock explained:
"I realized there were so many questions I had and didn't know who to ask in the journey of my career. And here I sat in a room with seven other women who might have those answers. We all threw everything into the pot, and by the time we left, I felt like we had gone through college together."
Our professional peers are the people who are at the same stage as we are professionally. When we're trapped in competition and comparison with our peers, we're denied the benefits that conversations and collaboration can bring. If we can choose not to see those people as threats, we might discover they are colleagues, friends.
Over the past few years, I've spent a lot more time building relationships with professional peers. And as those relationships have grown, there's a brain trust developing—I even call some of them part of my "personal board of directors." Our conversations are honest, practical and vulnerable. Our topics range from self-care to professional contacts and opportunities. We even discuss what we're getting paid. Like all good relationships, they take time and effort. But they have strengthened and sharpened me. They have made me wiser and clearer on my calling. These women are in my corner, and I'm in theirs. We celebrate one another's gifts and opportunities and success.
What cements these relationships?
• Making room for more. Remember the scarcity problem, the idea that there's room for only one? These habits that help build professional peer relationships confront this mindset head on, acting in the opposite spirit. We can't always avoid or control the environment offered to us or the obstacles it places in our way, but I refuse to be defined by it. I don't want to see other talented, smart, fearfully and wonderfully made women as threats. So where scarcity is self-preserving and withholding, these habits are all about audacious generosity! Even if the landscape is scarce, I can still choose to live by abundant generosity and play my part in creating the culture I want to see.
• Celebrating and encouraging others. Who is out there in your world doing good work, making an impact? Who has succeeded against all odds? Who is soaring in their work right now? Celebrate them, congratulate them and tell them exactly how great they are. Remind them of how valuable their work is in the world. And do it regularly!
• Sharing. There are peers who would benefit from the lessons you've learned, the conversations you've had, the people you've met. There are introductions you could make, connections you could facilitate, advice you could give that could propel others forward. There is help you could receive.
• Staying open to new relationships. When we're not defined by scarcity, peers are not threats but rather opportunities for relationships and developing our networks of professional connections. Stay openhearted and be proactive in building relationships with new peers in your field. Their progress does not automatically mean your failure.
• Welcoming collaboration. Perhaps you don't have to undertake that project alone. Consider the people you can partner with to see a shared dream realized.
• Keeping it clean when competing. Is there ever a context when you have to compete? Perhaps it's because we've been burned by competitive attitudes in relationships that we might veer away from the idea. We rightly emphasize the value of collaboration, the benefits of celebrating others. Nonetheless, there are still going to be contexts where we must compete. It might be at work when two teams bid for the same account. It could be when you and a friend or colleague apply for the same position that you both see could change your quality of life and be strategic to your career trajectory and purpose. It might be tempting to downplay your ambition or avoid the opportunity so as not to hurt someone else's feelings. I'm not convinced that men are weighed down by the same confusion about the inevitable reality of competing with others in order to fulfill their professional ambitions.
If we are serious about living into our influence, there may be occasions when we have to learn how to compete well. In the world of sports, we see healthy, strong, ambitious athletes who know how to bring all their skills and training to the table but also know how to manage the sting of defeat with poise and grace as they congratulate one another and shake hands. Athletes who are friends with their rivals away from the sport. The athletes who make us cringe are the ones who are known to win by cheating or who have a reputation to be scathing and rude to other players. It's a good illustration for us. There are times in leadership when we may end up competing with others for an opportunity. Don't be the kind of leader who wins through underhanded manipulative means or by dragging others down, speaking poorly of them to make yourself look better. Be the leader who gives your all to the opportunity but is honest with others about what you hope and aim for and who treats your competition with poise, grace and maturity, whether you win or not.
Still the caveat here is that you might do all the right things and still get used. People might be fake, defined by scarcity and insecurity, and their actions will be at your expense. They'll work to win by ensuring you lose, badly. We human beings have a way of deeply misreading, mistreating and disappointing one another, particularly when we succumb to our insecurities and brokenness. We'll still need to exercise courage and wisdom as we usually do when building relationships. The benefits of healthy professional peer relationships reach beyond the risk.
Order this book from Amazon.com »
Tell me more about this book »
Excerpted from Ready to Rise: Own Your Voice, Gather Your Community, Step into Your Influence by Jo Saxton. Copyright © 2020 by Jo Saxton.