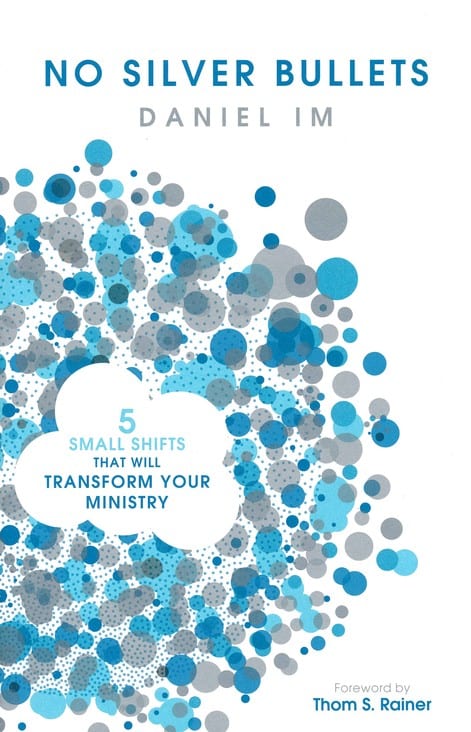 Daniel Im: Five Small Shifts That Will Transform Your Ministry
No Silver Bullets
Five Small Shifts That Will Transform Your Ministry
(B&H, 2017)
WHO: Daniel Im, director of church multiplication for NewChurches.com and LifeWay Christian Resources. He also serves as teaching pastor at The Fellowship, a multisite church in Nashville, Tennessee.
HE SAYS:"There are no silver bullets in discipling and shepherding a church. There are, however, important perspectives that will greatly impact how we lead and the direction and development of those we lead."
THE BIG IDEA:"What if the solution to unlocking new levels of maturity and growth at your church isn't a new model or a complicated strategy the church down the road is following? What if it takes only a shift in perspective?"
THE PROGRESSION:
The first section examines five shifts in perspective church leaders need to make, starting by looking at discipleship from a systems perspective then from the individual level. Next, the author unpacks issues surrounding technology and how we learn, leading into a discussion of four environments where discipleship occurs. This section concludes by comparing what happens when the end goal of discipleship is maturity and what happens when that goal is mission.
The next section focuses on implementing the different perspective shifts and how that challenges the church to consider its vision, strategy and values in order to unleash ministry toward greater kingdom impact.
"The only way change happens—significant, long-lasting, macro-level change—is through a series of small decisions, steps, or micro-shifts, that are put into action and complete one at a time."
Order this book from Amazon.com »
Read an excerpt from this book »
A 2018 RECOMMENDED OUTREACH RESOURCE OF THE YEAR—LEADERSHIP CATEGORY
"Start by appreciating Daniel Im's plans and diagrams for shifting to an outward focus in five areas of ministry. Then value 'The Path to Change' where Im weds his practical experience with proven change tools to result in a step-by-step strategy for ministry change."
Evaluated by Bob Whitesel, a speaker, coach, professor and author of 13 books.