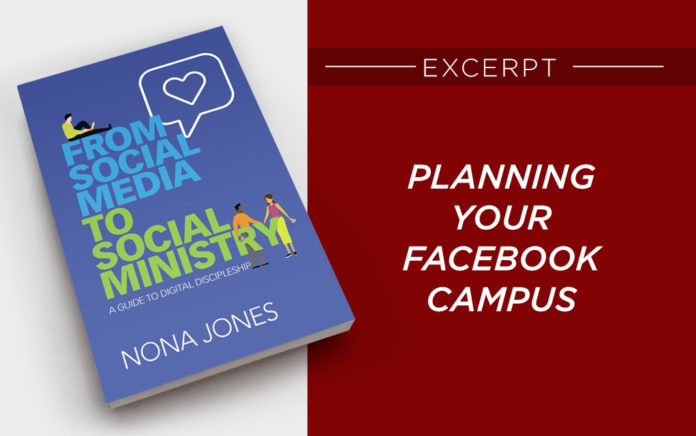 Excerpted FromFrom Social Media to Social MinistryBy Nona Jones As an executive and entrepreneur, I believe sustained success starts with a clearly defined vision by which opportunities are evaluated and from which decisions are made. To put it as Stephen Covey did in The Seven Habits of Highly Effective People, we should "begin with the […]
Excerpted From
From Social Media to Social Ministry
By Nona Jones
As an executive and entrepreneur, I believe sustained success starts with a clearly defined vision by which opportunities are evaluated and from which decisions are made. To put it as Stephen Covey did in The Seven Habits of Highly Effective People, we should "begin with the end in mind."
My intent for this chapter is to help you think about the "end" you are trying to achieve as you launch (or relaunch) your online church. To build a thriving community, your goals and tactics should be aligned to best prepare you to build a successful Facebook campus from the start. I know it's tempting to jump into the "how" when you've made up your mind about what you want to do. But before you implement plans, you should first consider what you want to accomplish, and most important, how will you know whether you've succeeded? While it is true that Facebook is a free platform, you are still making an investment of time, talent and energy that should yield a return for your church and God's kingdom.
There are a number of online platforms where you can virtually meet with your congregation, but Facebook is the only platform that has the necessary components of persistence and organization that will make the experience meaningful. For example, if you host a Zoom meeting, after you end the meeting, there is no mechanism for further conversation or connection. It doesn't have persistence. If you reach out to your members by text, the threads can become so long and cumbersome that important information gets lost. It doesn't have organization. Facebook is designed to help people connect after livestreams end and to keep content organized for later review.
Just as people launch local churches for different reasons, your online church could fulfill a purpose different from those of other online churches. Some people launch a local church as an outreach to specific areas of a city, while others launch a church to be a place for college students to explore faith.
Some launch a local church to be a gathering place for the homeless and hungry, while others do so because they want to serve as a community hub for low-income families. Similarly, your online church could be the digital gathering place for your existing church members, or it could be a place for your livestream viewers who live in other cities, states or countries. You could also create an online church out of necessity. I consulted with a church that had experienced a tremendous drop in attendance at its youth Bible study, so we created a youth Facebook group that allowed them to host their Bible study virtually.
Whereas fewer than ten youth attended the in-person Bible study, five hundred youth tuned in to the virtual Bible study in the Facebook group.
There's no right answer for the purpose of your Facebook campus, only your answer. And your answer matters a lot because other church leaders and colleagues will be looking to you to make the case for why the church should invest in something no one can put their hands on. But once you have your answer, the next step is to get buy-in from the key leaders and decision makers in your church. This part is crucial, and I have witnessed many ministries skip this step only to discover that people wanted to abandon the online campus a few months after it kicked off, because it didn't meet their expectations. Unfortunately, it's difficult to meet expectations that are never articulated, so before you get too far along in the planning process, invest some time into bringing people along.
Tell me more about this book »
Order this book from Amazon.com »
Excerpted from From Social Media to Social Ministry by Nona Jones. Copyright © 2020 by Nona Jones. Used by permission of Zondervan. Zondervan.com